NUR-SULTAN -- Kazakhstan is conducting various security exercises to maintain preparedness against any possible terrorist attack in the country.
Security personnel on July 5 conducted the Railway–Anti-terror 2019 exercise in Taraz, Zhambyl News reported, citing the press office of the Zhambyl Province traffic police.
The purpose of the training was to improve the co-ordination of Zhambyl Province counter-terrorism headquarters personnel in reacting to terrorism.
During the drills, personnel checked warning systems and the ability of provincial counter-terrorism headquarters to deploy forces and resources to the site of a terrorist attack.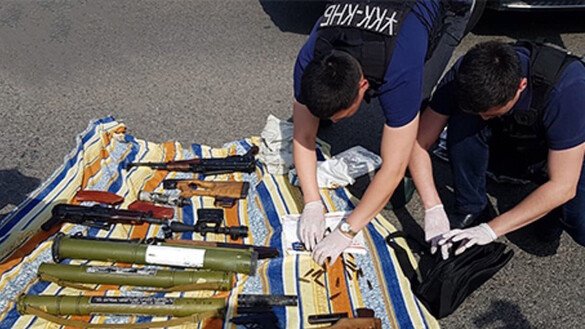 Meanwhile, the municipal counter-terrorism headquarters in Nur-Sultan on June 26 carried out its own exercises in the administrative building of KazCosmos, Kazakhstan's national space agency.
The purpose of the exercise was "to improve inter-agency co-operation and to practice joint actions of law enforcement and [other] government agencies in emergency response to terrorist acts", said Nur-Sultan counter-terrorism headquarters.
Such exercises do not faze local residents.
"The city authorities and law enforcement agencies warn the public in advance about counter-terrorism exercises," said Botagoz Kylysheva, a 26-year-old resident of Nur-Sultan.
"They block the roads and do not let civilians onto the site of an exercise," she continued. "When they say 'necessary', they mean it. We treat it with understanding. Such exercises are held for our protection."
Different workplaces in Nur-Sultan often hold awareness-raising meetings and discussions with employees in which law enforcement officials and theologians talk about the threat of terrorism and extremism and how to react in the case of a terrorist attack, she added.
The last major counter-terrorism exercises in Nur-Sultan took place last November.
Fight against illegal weapons
At the same time, security forces are working to prevent weapons and explosives from falling into the hands of potential terrorists.
In early June, the National Security Committee (KNB)'s Arystan (Lion) special force broke up a major channel for peddling illicit weapons, ammunition and explosive devices.
The investigation uncovered a six-member criminal gang, all of them Almaty Province residents, who for a long time trafficked in illegal firearms.
During the search, law enforcement personnel confiscated three grenade launchers, two Kalashnikov automatic rifles, five pistols, three silencers, a telescopic sight, 1,400 rounds of different calibres and components for manufacturing improvised explosive devices.
The searchers found a workshop for assembling and modifying weapons in one detainee's residence, said the KNB.
Earlier in May, the Almaty Province KNB Department unmasked a three-member gang that was selling hand grenades and fuses.