ALMATY -- Russia continues to create obstacles aimed at curbing Kazakhstan's ability to export goods to Ukraine and other European countries via Russian territory, Kazakh business owners and analysts say.
"Domestic businesses continue to suffer huge losses due to regular problems with the transit of goods through Russia," said Yevgeny Bolgert, deputy board chairman of the National Chamber of Entrepreneurs (NCE; also known as Atameken) in Nur-Sultan.
That situation continues "despite the official recommendations" coming from the Eurasian Economic Commission (EEU) against Russia's unilateral use of measures against Kazakh merchandise, he said.
Kazakh goods meant for Russian consumers are being targeted as well.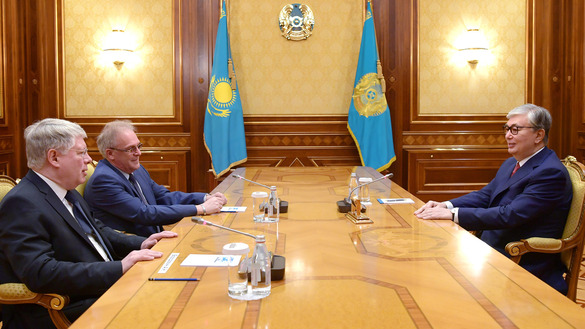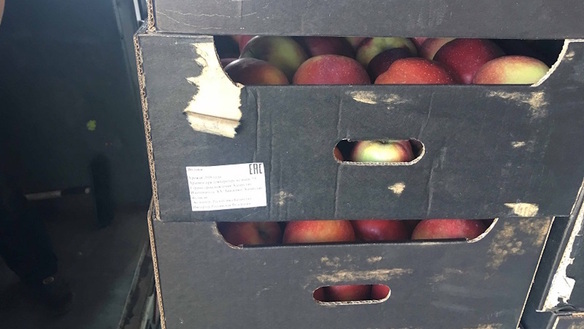 In one recent example, Russia's Federal Service for Veterinary and Phytosanitary Surveillance (Rosselkhoznadzor) announced that on June 28, traffic police and customs agents in southwest Russia stopped a truck carrying about three tonnes of apples.
The cargo was heading from Kazakhstan to Kurgan Province, Russia. Since authorities could not confirm the origin of the apples, they destroyed the whole lot on July 4.
Also earlier in July, Rosselkhoznadzor inspectors, citing violations of veterinary law, sent 30 tonnes of wool and frozen fish back to Kazakhstan even though the merchandise had veterinary certificates.
Rosselkhoznador officials wanted written documentation on laboratory tests of the merchandise, on its packaging and on its origins.
Kazakh companies suffer losses
The Russian measures affect a multitude of countries that would like to buy Kazakh goods.
Meanwhile, on the border between Russia and Ukraine, authorities have been holding 426 Kazakh railway cars loaded with coal concentrate heading from Karaganda, Kazakhstan, to Kryvyi Rih, Ukraine.
Russian authorities will not release the Kazakh cargo, citing an "absence of permission to export to Ukraine via Russia", Bolgert said in a July 4 NCE statement, without identifying the date when Russia impounded the cargo.
The Russian policy took effect June 1.
Kazakh entrepreneurs face daily losses of more than 5 million KZT ($13,000), not counting penalties written into their contracts, due to the detention of the railway cars in Russia, according to the NCE.
"Since the end of 2014, Kazakh entrepreneurs have been constantly confronted with restrictions and bans on importing goods [through Russia] into Kazakhstan from European countries and Ukraine, and since June 1 of this year, domestic exporters have had serious difficulties," said the NCE in its July 4 statement.
'Unfriendly' behaviour
"Despite the deepening of integration within the EEU ... businesses regularly have to deal on their own with problems that arise primarily from the absence of dialogue and of co-ordinated action when one of the EEU member states makes such decisions," Atameken said, apparently referring to Russia.
The EEU is a regional economic organisation formed in 2015. It consists of several former Soviet countries: Russia, Kazakhstan, Kyrgyzstan, Belarus and Armenia. Russia holds the rotating chairmanship at this time.
Kazakh exporters constantly complain about intentional obstacles caused by Russian authorities and the subsequent losses that the exporters endure.
Businesses and consumers in Kazakhstan and Ukraine are suffering from the prohibitive measures implemented by Russia, said Beibit Kebekbayev, a Nur-Sultan-based entrepreneur.
"In official statements, Russia declares friendship and co-operation, while in reality it behaves hostilely towards its partner countries," he said.
Eliminating competitors
Russia, in forming the EEU, never planned to create favourable conditions for all participating countries, analysts say.
While the EEU has fostered conditions favourable to Russian entrepreneurs, investments and goods, competing businesses from other EEU members are forced to operate under harsh and unequal conditions, said Ruslan Zhumaly, a political analyst from Almaty.
"Russia is using non-market mechanisms. Its regulators, who supposedly expose violations of health standards, are actually eliminating competitors," he said.
One illustration of this effort is the persecution by Russian authorities of Rakhat, the leading Kazakh candy maker.
Russian enterprises are constantly involving Rakhat in legal battles, while regulators regularly seize the company's products, Rakhat chief executive officer Konstantin Fedorets told journalists in Almaty in February.
Russian companies lean on friends in government to help limit foreign competitors, said Fedorets at the time.
"Russia prefers to act from a position of strength everywhere, including in retail," he said.
As a result of the moves by Russian authorities, Rakhat's exports to the country decreased by 2% in 2018.
Since Russian authorities regularly confiscate Rakhat merchandise, Russian shops selling the Kazakh candies have told the company they are doubtful about any future co-operation, Fedorets said.