CHOLPON-ATA, Kyrgyzstan -- Issyk-Kul, a high-altitude lake known as the "Pearl of Kyrgyzstan", is cementing its status as the country's top tourist destination.
About 900,000 tourists visited Issyk-Kul last year. Eventually, the lake region might attract 1.5 million visitors annually, according to the Kyrgyz Tourism Ministry.
In a country with few natural resources, the tourism industry is vital to providing economic opportunities that reduce the appeal of extremism.
Planes, trains and buses
Easier transportation to the lake has helped boost tourism. On July 1, charter flights began operating every Monday and Friday from Almaty, Kazakhstan, to Issyk-Kul International Airport, which is situated 35km away from the resort city of Cholpon-Ata.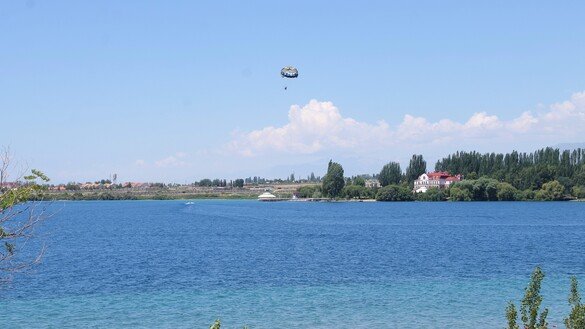 Now, only a 40-minute flight separates Almaty residents from a vacation at the mountain lake.
Meanwhile, charter flights from Tashkent to Issyk-Kul operate from June 27 to September 6. The US Agency for International Development helped to promote that route and trained travel agencies serving those passengers in accordance with international tourist industry standards.
Trains also are available from Tashkent to Issyk-Kul every Thursday during the summer. They make the trip from Issyk-Kul back to Tashkent on Saturdays.
This year, the first trip took place on June 6.
Intercity buses run from many cities in Kazakhstan and Uzbekistan to Issyk-Kul and usually take between 10 and 16 hours.
Residents of neighbouring countries have many options for getting to Issyk-Kul. For example, they can travel to the Kyrgyz capital, Bishkek, and from there take a bus and a train, which requires about three to four hours.
Improved services
Murod Nabiyev, who travelled to Issyk-Kul from Tashkent, said he and his wife and three children are enjoying their visit to the lake.
"We came here by bus, and we'll be staying for 10 days," he said.
"The last time we were here was five years ago," he said. "We're seeing changes for the better. New guesthouses of different categories are opening, from very basic to luxury, along with lots of cafés and stores and water rides."
"There are noticeably more vacationers here since our last trip. We've already been here a week, and we're really pleased," said Nabiyev. Vacationers might be reacting in part to the heightened presence of police around the lake during the summer -- meant to protect tourists from predators.