ALMATY -- Kazakhstan's armed forces are playing a bigger role in ensuring security and stability in international peacekeeping missions as they benefit from joint training exercises with the United States and other countries.
The United States conducted peacekeeping exercises in southeast Kazakhstan June 17-28 for military personnel from several countries who will participate in future peace and security operations in Central and South Asia.
The tactical peacekeeping exercise, dubbed "Steppe Eagle 19," took place at the Illisky Training Centre in Almaty Province.
Military personnel from Great Britain, India, Kyrgyzstan, Tajikistan, Turkey, Uzbekistan and the United States took part in the joint training, the Kazakh Defence Ministry said in a statement.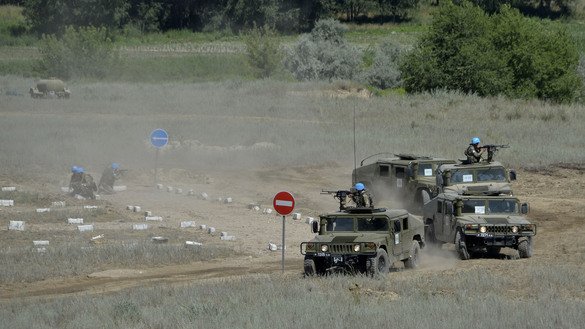 They completed tasks related to guarding checkpoints, escorting and convoying humanitarian supplies, negotiating with the local population, patrolling, clearing mined fields and roads, purifying and supplying water and providing medical aid.
The annual Steppe Eagle exercise has taken place since 2003 and is aimed at improving peacekeeping paratroopers' all-around skills. The training has been part of NATO's Partnership for Peace since 2012.
Kazakhstan's success in the programme has resulted in the West involving Nur-Sultan in more international missions, said Kazbek Beisebayev, an Almaty-based political analyst with 18 years of experience at the Foreign Ministry and in diplomatic missions in Europe.
"In addition, our paratroopers are acquiring valuable peacekeeping experience, including useful skills in conducting combat operations under various conditions," he said in an interview.
Co-operation despite language barriers
Kazakh Deputy Defence Minister Maj. Gen. Timur Dandybayev, along with foreign ambassadors, diplomats and military officers accredited in Kazakhstan, took part in the exercise's closing ceremony on June 27.
Capt. Kevin O'Brien of the Minnesota National Guard noted the high energy and enthusiasm of military personnel in the exercises.
"The Kazakhs are asking questions. They're learning, and they're very proactive," O'Brien said, according to a US Army statement.
In addition to military skills, the exercises provided experience in effective co-operation among representatives of different countries, accounting for language and cultural barriers.
"We try to work under an international rules-based system, but to make that work, the troops on the ground have to be able to mesh together," Rob Walisko, a Steppe Eagle lead instructor from the British Army, said on the US Army website.
During Steppe Eagle, the Kazakhs delegated authority to issue commands so that enlisted men could gain leadership experience and accomplish missions, said Walisko.
Exercise planners and co-ordinators reiterated the commitment of the United States, United Kingdom and Central Asian countries "to work collaboratively to improve regional stability and increase interoperability", according to the US Army statement.
Kazakhstan remains a significant contributor to security, they noted.
These type of training programmes help develop the Kazakh army's values and ideology, Maj. Gen. Kanysh Abubakirov, commander of Kazakhstan's Air Assault Forces and who was present at the exercises, said during the June 17 opening ceremony.
"When we train together with our partners and allies, we not only exchange our military experience, but also our cultural knowledge, and thereby we better our understanding of one another," he said according to another US Army statement
Service to peace
At the opening ceremony, Abubakirov noted Kazakh ground troops' growing role in peacekeeping and stability operations around the globe.
Last October, Kazakhstan sent its paratroopers to Lebanon for the first time. They served for six months near the border with Israel as part of the UN Interim Force before returning in May.
Kazakh peacekeepers with the mission in late March received UN medals for their work "in the service of peace", Kazakhstan's Defence Ministry said in a statement on May 17.
Prior to 2018 Kazakhstan could send only observers to UN peacekeeping missions, Georgy Dubovtsev, a military analyst from Nur-Sultan and chief researcher at the Kazakhstan Institute for Strategic Studies, said.
Now, it participates in most of them directly, he said.
"We hope that in the near future, soldiers, civilians and police officers from our country also will work in conflict zones. This will benefit Kazakhstan's international credibility," Dubovtsev said.
Kazakhstan has been expanding its participation in peacekeeping projects and security co-operation with the UN even further.
In January, the Kazakh Partnership for Peace Training Centre (KAZCENT) received a certificate from the UN for training peacekeepers from around the world, according to the Kazakh Foreign Ministry.