NUR-SULTAN -- Kazakhstan's recent high-level meetings with other Central Asian nations are part of long-term trend of warming relations that will boost regional trade and security, say observers.
Kazakh Prime Minister Askar Mamin conferred with Tajik President Emomali Rahmon and Prime Minister Kokhir Rasulzoda in Dushanbe July 11 on expanding trade and economic co-operation, said a statement from Mamin's press office.
"Kazakhstan aims to expand its mutually beneficial, multi-faceted partnership with Tajikistan," said Mamin at the meeting.
Kazakhstan is the second most important trading partner of Tajikistan in commodities, said Rasulzoda, adding that the two countries are working to increase their annual trade to $2 billion in the next three or four years.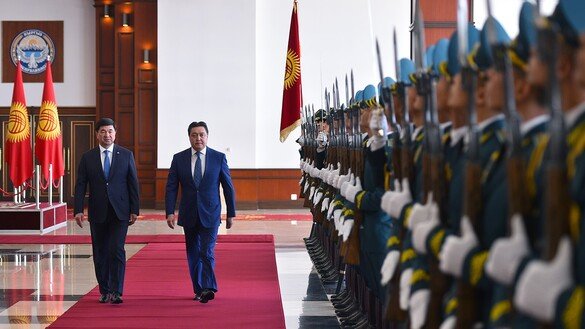 In 2018, trade between Tajikistan and Kazakhstan increased by 8.2% and amounted to $900 million, according to the Kazakh government.
As part of Mamin's official visit, the two countries signed 11 agreements worth more than $80 million to strengthen Kazakh-Tajik co-operation.
"Tajikistan is ready to offer Kazakhstan's investors a number of promising projects, including in the agro-industrial sectors and in energy, light industry, mineral processing, transport and communications," said Rahmon in a statement.
Kazakhstan, Kyrgyzstan
A day after the talks in Dushabe, Mamin headed to Bishkek to participate in a meeting of the Kazakh-Kyrgyz Intergovernmental Council and to hold talks with Kyrgyz Prime Minister Muhammedkaly Abylgaziyev and President Sooronbay Jeenbekov.
The council July 12 addressed 18 issues of co-operation in trade, investment, industry, transport, oil and gas, environmental protection, culture, tourism, education, health, hydro-power, customs and border co-operation.
Mamin signed memoranda of co-operation in agriculture, immigration and other areas.
"Kazakhstan is one of our main trading partners ... This year, the presidents of our countries held two meetings at which they confirmed their firm determination to expand mutually beneficial co-operation and strengthen the traditional principles of friendship, fraternity and alliance," said Abylgaziyev.
Trade between Kyrgyzstan and Kazakhstan amounted to $843 million in 2018 and increased by 7% relative to 2017, according to the Kyrgyz government.
In January through April this year alone, the trade amounted to $284 million.
Although trade between the countries rose, "the potential for expanding bilateral trade is much higher," said Mamin.
"The governments' objective is to bring [annual] trade to at least $1 billion soon. I think this is entirely achievable," said Mamin.
Mutually beneficial co-operation
"Everyone understands that it's beneficial to be friends with neighbours," said Bolatbek Isayev, a Nur-Sultan-based political analyst.
"In recent years, we have seen successful co-operation between Central Asian countries," Isayev said. "This primarily concerns trade, as well as matters of security."
Meanwhile, Kazakhstan's dealings with China and Russia "raise many questions and concerns, since these countries' far-reaching interests in the region are obvious", he said.
"At the Eurasian Media Forum held in Almaty in May, Ukrainian journalist and public figure Dmitry Gordon rightly warned Kazakhs: 'Watch out -- Putin may also come for your territory'... that shouldn't be forgotten," said Isayev, referring to Russian President Vladimir Putin and his irredentist moves, such as annexing Crimea illegally in 2014.
Above all, Kazakhstan needs to rely on co-operation with Central Asian countries, according to Isayev.
"The co-operation of the fraternal peoples of Kazakhstan, Uzbekistan, Kyrgyzstan and Tajikistan has a more honest basis [than does Russia's blandishments]," he said.
"We are not trying to impose political views on each other. We do not have territorial ambitions on the land of neighbouring countries," he said. "It's beneficial for us to co-operate and live in peace."