NUR-SULTAN -- A new highway linking Uzbekistan and Kazakhstan is bringing the two countries closer together.
Kazakh Prime Minister Askar Mamin and Uzbek Prime Minister Abdulla Aripov on July 17 opened the Beyneu-Akzhigit-Uzbek border highway at a ceremony in Mangystau Province, Kazakhstan.
Mamin highlighted the importance of the new road "for the development of transport infrastructure of Central Asia, increasing trade and transit capacity".
The road symbolises "intensive development of the strategic partnership defined by" Nursultan Nazarbayev, the former Kazakh president, and by Uzbek President Shavkat Mirziyoyev, according to Mamin.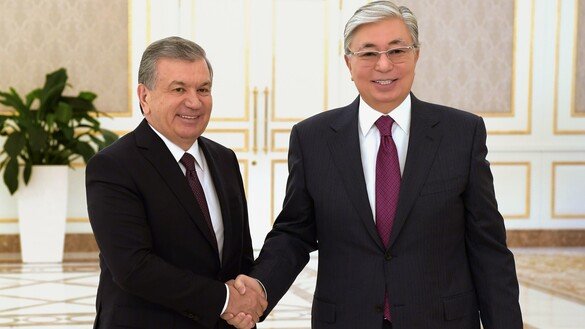 The visit of Kazakh President Kassym-Jomart Tokayev to Uzbekistan in April "provided further impetus to the development of bilateral co-operation", Mamin said.
"The new highway is of great importance for the further intensification of trade and economic relations between Kazakhstan and Uzbekistan," Aripov said.
'A gift'
In the past, the route that the new highway traverses was troublesome for motorists, according to local residents.
"The new 85km long, reconstructed highway is like a gift to us, especially to those who often drive this stretch in semi-trailer trucks," said Beibit Asenov, a 28-year-old Shymkent-based truck driver.
Anyone can deduce growth in cargo shipping between Kazakhstan and Uzbekistan by seeing the number of trucks on the highway, which "is growing every month", he said.
"This road is part of a major route from Tashkent to Samarkand and Bukhara, then to Atyrau, where you gain access to the Caspian region and the European Union countries," he said. "Construction ... took a year and a half."
"You could say that building this road is another step towards successful trade between our countries," Asenov said.
Stronger connections
The inauguration of the highway comes after Kazakh and Uzbek officials in June inked an agreement to build a high-speed railway between Turkistan, Kazakhstan, and Tashkent.
Officials signed the memorandum in Tashkent during the 18th meeting of the Joint Intergovernmental Commission on Bilateral Co-operation between Uzbekistan and Kazakhstan.
Meanwhile, Kazakhstan in late June began supplying electricity to Uzbekistan for the first time in many years, the Kazakh Ministry of Energy announced July 17.
Kazakhstan will export more than 1 billion kWh to Uzbekistan in 2019, the ministry said.
Trade between Kazakhstan and Uzbekistan, which amounted to $3 billion in 2018, has also grown in recent years -- a trend that has continued this year, according to the Kazakh government.