Central Asian countries are leading international efforts to bolster the repatriation of families of foreign fighters who were were captured or killed in Syria and Iraq after joining the "Islamic State" (IS).
The United Nations (UN)'s rights chief, Michelle Bachelet, in June called for countries to repatriate family members of suspected foreign fighters in Syria, including some 29,000 foreign children of IS fighters.
About 12,000 foreigners from as many as 40 countries -- 4,000 women and 8,000 children -- are being held in displacement camps in Syria, according to the International Rescue Committee.
In her opening address to the UN Human Rights Council in Geneva, Bachelet insisted that countries must take responsibility for their nationals caught up in Syria's drawn-out war.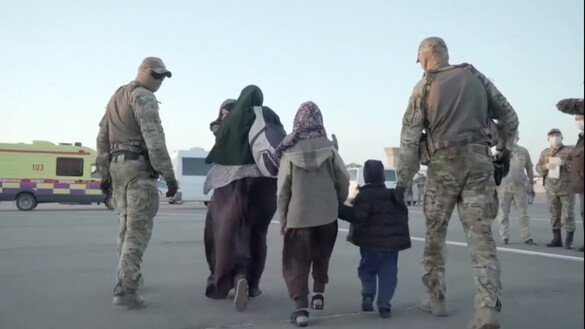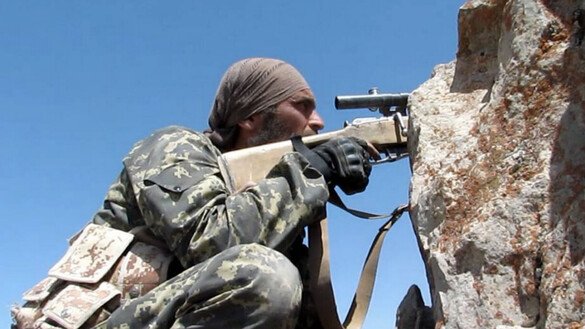 Even before her remarks, Central Asian countries already were stepping up efforts to bring their citizens home from conflict zones.
The Kazakh government on May 28-31 evacuated 67 women and 171 children from Syria as the final stage of Operation "Jusan" (Bitter Wormwood), which was aimed at bringing home the family members of militants who travelled there to fight with IS.
The evacuation was the third since the start of the year. In total, 524 Kazakhs -- 137 women, 357 children and 30 men -- have been repatriated.
On May 30, the Uzbek government announced it had carried out Operation Dobro (Good Deed), a humanitarian effort that brought home 156 Uzbek citizens.
Those evacuated included 106 children and 48 women. Two men were also part of the evacuation.
Returning home
More recent efforts are also under way.
In Kyrgyzstan, the government has set up an inter-agency working group to bring home Kyrgyz children from Iraq and Syria, 24.kg reported Monday (August 5).
A delegation from the working group is planning to leave for Baghdad in September to begin repatriation procedures, according to the government. Kyrgyzstan also intends to pay the fines for children who violated Iraqi visa rules.
More than 1,000 Kyrgyz women and children are languishing in camps in Syria and in Kurdistan, Iraq, Kubanychbek Toktosunov, a politician and civic activist, said during a news conference in Bishkek on August 1. Their husbands and fathers are presumably dead or imprisoned militants.
"There are cases of children being left in the camps without their parents," Toktosunov said, adding that volunteers are ready to bring home the women and children and to create a centre for their rehabilitation, all at the volunteers' own expense.
Meanwhile, the Tajik government has formed a commission to repatriate 48 Tajik women imprisoned in Syria and Iraq, Asia-Plus reported.
Marabou Olimi, deputy chairwoman of the government's Committee on Family and Women's Affairs, made the announcement on August 1 at a news conference in Dushanbe.
"The Tajik women in Syria and Iraq cannot be considered criminals," Olimi said. "They are victims... they travelled to Syria and Iraq at the insistence of their husbands. The government of Tajikistan wants to prove this and bring those women home."
A total of 158 Tajik women are incarcerated abroad, including 48 in Syria and Iraq, she said.
In Iraq alone, the total is 43 Tajik women and one child, said Tajik Foreign Minister Sirojiddin Muhriddin on August 2, according to Asia-Plus.
Syrian camps, as opposed to prisons, are holding 86 Tajik women and 468 children, according to Muhriddin.
The Tajik government earlier on April 30 brought home 84 Tajik children from Iraq. Their mothers were either imprisoned or awaiting trial.
Stories of starvation, disease
Countries are moving to hasten repatriation of their citizens as survivors recount the horrors they experienced while living among members of IS.
Rimma, 28, a Kazakh citizen recovering with her four children at a rehabilitation centre in Karaganda, described how widowhood, starvation, disease and despair befell families stranded in Iraq.
Her family's journey began in 2012, when her husband started religious study in Egypt and took the family with him, she said, according to a July 30 report by Radio Free Europe/Radio Liberty (RFE/RL)'s Kazakh service.
They eventually moved to Turkey, and only en route to Syria did he tell her where they were going. After six months there, as the terrorist group's fortunes deteriorated, they fled to Iraq, hoping in vain to find a safer life.
Forty days after the birth of their youngest child, a two-year-old boy, Rimma's husband was killed in combat.
As she struggled to keep her family together, "the food and money ran out ... people began to eat grass and grain husks," Rimma recalled. "[Their] bodies decayed even while they were alive ... I saw a woman sitting. She had worms on her."
She steadfastly refused to remarry, but some women whose husbands kept dying in combat remarried several times "as a matter of survival", arousing the contempt of other local residents, she said.
After Rimma and her children fled to a camp run by Kurdish forces, their turn for repatriation to Kazakhstan eventually came, she said.
"Women from other countries sat and cried, saying they had nowhere to go and that they would be jailed or killed if they went home," she added.
Central Asian militants scattered in Afghanistan, Syria
Defeated on many fronts, Central Asian militants are struggling to regroup in Afghanistan and Syria.
Several Central Asian groups affiliated with al-Qaeda operate in Badakhshan Province, Afghanistan, according to a UN report published July 15.
These include approximately 50 fighters with Imam Bukhari Jamaat, up to 100 with the Islamic Movement of Uzbekistan and up to 50 with the Islamic Jihad Union. The East Turkestan Islamic Movement has an estimated 350 militants and Jamaat Ansarullah has up to 30 Tajik nationals, said the UN.
Meanwhile, the local affiliate of IS in Afghanistan has a Central Asian contingent of about 200 insurgents, led by Tajik national Sayvaly Shafiyev, said the report.
Shafiyev is operating in Nangarhar Province, according to the report.
Separately, former Tajik riot police (OMON) commander Gulmurod Khalimov, Central Asia's highest-ranking defector to IS, leads a a group of 600 Tajik militants in Idlib Province, Syria, the report said.