TASHKENT -- Uzbek migrant workers boarding Russia-bound planes at the Namangan airport are being urged by clerics to be "vigilant" against potential recruitment efforts by terrorist groups in the country.
As part of the government's national anti-extremism campaign, the Committee for Religious Affairs is regularly conducting sermons at the airport for passengers departing to Russia for work.
One of these meetings took place on July 15 at the airport in Namangan, situated in the Fergana Valley.
During the meeting, which was recorded and posted online, an imam urged migrants leaving for Russia not to betray their homeland or to come under the influence of terrorist organisations.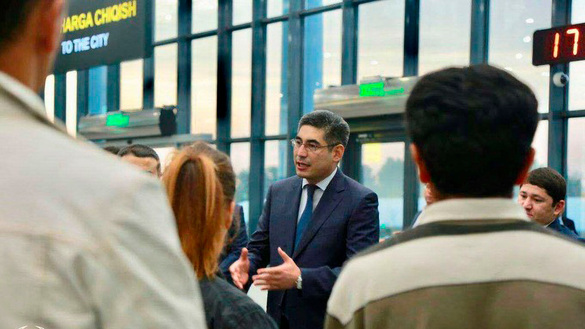 Imam Abduvosit in the video called terrorist organisations "one of the main threats of our time", urging migrants "to be vigilant against terrorist groups that act on behalf of Islam and try to perform brainwashing and recruitment online".
He observed that such cases occur with migrant workers in Russia and called on them to seek information about Islam and to obtain religious education from the websites of Uzbek religious organisations.
He pointed to such sites as muslim.uz, islom.uz and ravza.uz.
Targeted by terrorist recruiters
Such sermons are part of the national anti-extremism campaign, an airport spokesman told Radio Free Europe/Radio Liberty (RFE/RL).
"Since it's impossible to convene all the passengers outdoors, the sermons are conducted at the departure gate after check-in," the official said July 15 on condition of anonymity.
"It's no accident that Namangan was chosen as an experimental site for such sermons. This is where the most conservative Uzbeks, deeply pious Muslims, live," Tashkent-based political analyst Umid Asatullayev said in an interview.
"This greatly distinguishes Namangan from Tashkent, the more secular capital," he added. "It is also worth remembering that the Islamic Movement of Uzbekistan (IMU) ... was born here in the early 1990s."
Clerics giving the airport sermons address workers heading to Moscow, St. Petersburg, Yekaterinburg, Novosibirsk and other cities.
Migrant workers from Uzbekistan often are the target of extremist recruiters in Russia.
Uzbeks comprise the largest population of migrant workers in Russia, according to the Russian Interior Ministry (MVD). As of June 1, more than 2.1 million Uzbek citizens were living in Russia.
Uzbek migrants sent home more than $1.25 billion (10.9 trillion UZS) in remittances in the third quarter of 2018, according to Gazeta.ru.
"Generally, migrants in Russia live in a very tight-knit community," Tashkent-based sociologist Dilmurod Tashkhojayev said in an interview.
"They face harassment and injustice," he said. "Under such conditions, it is very easy for recruiters and extremists to say ... that their ideology will 'free' them or 'establish justice'."
Crackdown on extremist websites
The sermon campaign follows the Uzbek government's efforts to crack down on websites of extremist groups.
In May, the Ministry of Justice provided a list of extremist and terrorist websites that the government has banned and blocked.
"The procedure for identifying and blocking such websites was first defined by a government resolution last September, as part of the campaign against extremism," Tashkent-based lawyer Muslima Khakimova said in an interview.
"According to the document, in Uzbekistan a website can be blocked if it promotes war, violence, terrorism or the ideas of religious extremism, separatism and fundamentalism. Based on the results of the monitoring, a special registry of prohibited websites is being created," Khakimova said.
The registry includes 40 websites so far. Among them are the websites of Abu Saloh, the former leader of Jama'at al-Tawhid wal-Jihad, and of extremist TV channels like Al-Fatah TV, Hidoyat TV and others.
Uzbekistan not only blocks such sites from Uzbek cyberspace but categorises their owners as extremist organisations, according to the Justice Ministry.
"An application to recognise an organisation as extremist is submitted to the Supreme Court ... by the General Prosecutor," the Ministry of Justice said in a statement on its website.
Distribution and display online of the paraphernalia, symbols and any information from such groups are considered illegal, it said.