NUR-SULTAN -- Kazakh authorities are continuing efforts to curb recruitment by militant groups by blocking websites with extremist content.
Since the beginning of the year, the Interior Ministry (MVD) has identified and blocked about 4,700 websites that contain extremist content, the ministry said.
The MVD sent information about the illegal sites to the Ministry of Information and Social Development so it could block access for Kazakh internet users, according to the MVD.
Vice Minister of Information and Social Development Nurgul Mauberlinova said in July that her ministry identified more than 45,000 online materials that violated the law in the first half of 2019, of which 90% promoted terrorism.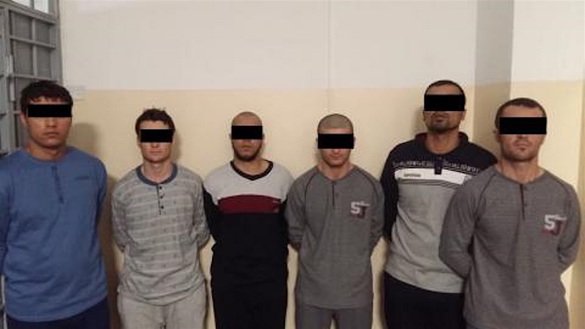 Meanwhile, Kazakh law enforcement agencies are continuing to arrest extremists, most of whom were recruited online.
In July, two men from Jezkazgan and one from Satpayev, whose names were not reported, received lengthy prison terms for plotting a terrorist act in Jezkazgan. Members of this terrorist group obtained their radical religious knowledge from the internet, Tengri News reported.
The National Security Committee (KNB) in January announced the detention in Almaty of an eight-member group of suspected terrorists.
Online, they received ideological indoctrination and instructions for manufacturing explosive devices from "Islamic State" (IS) militants, said the committee.
Main recruitment channel
The internet continues to be the main avenue used by terrorist outfits to recruit members, say observers.
"When we talk to former members of radical organisations and to convicted terrorists, in most cases we hear similar stories about the beginning of their radicalisation -- someone joined a religious community on a social network and listened to sermons on the internet," said Sanjar Suleimenov, a Taraz-based theologian.
Recruiters for these groups then connect with potential recruits through social networks and messaging apps and introduce themselves as co-religionists.
"They change others' world view from afar and deceive them, promising a supposedly just life, and persistently push them to donate money for 'jihad' or to go to war zones in Afghanistan and Syria," Suleimenov said.
Law enforcement agencies and internet users interested in religion search for online materials by using keywords and links from groups covering similar topics, he noted.
"The police are doing a lot of work," said Suleimenov. "They block thousands of groups in social networks and thousands of sites, but new ones appear. It takes very little time to register a new web page online, fill it with content and invite loyal users, with an explanation that the old page was blocked."
While the ease of creating new websites complicates the fight against online extremist recruitment, authorities are succeeding in Kazakhstan, he added.