MOSCOW -- Russia's military, whose reputation has been beleaguered by a series of deadly mishaps, was hit with yet another setback following an explosion at its main nuclear-research site while military personnel were attempting to develop new weapons.
The blast on August 8 occurred during a test of a nuclear-powered missile, resulting in the death of five staff members and releasing elevated radiation levels.
It is the third deadly incident to hit the country's military since July.
The closed city of Sarov in Nizhny Novgorod Province, about 500km (300 miles) east of Moscow, held a memorial service on Sunday (August 11) for those killed in the explosion, RIA Novosti reported.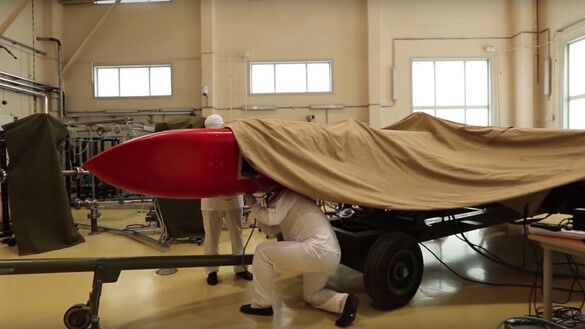 The decree identified the five victims as staffers of the Russian Federal Nuclear Centre.
During the Cold War, Sarov was a top-secret city known as Arzamas-16. The centre produced the Soviet Union's first nuclear weapons. It is still a closed city accessible only with special passes.
The accident occurred during testing of a missile on an offshore platform in far northern Arkhangelsk Province, Russia's nuclear agency, Rosatom, said.
Fuel exploded and the blast blew staff members into the sea, it said.
The blast was reportedly related to the 9M730 Burevestnik nuclear-powered cruise missile, known by NATO as SSC-X-9 Skyfall.
Authorities initially released few details of the accident at the Nyonoksa test site on the White Sea, used for testing missiles deployed in nuclear submarines and ships since the Soviet era.
Rosatom, the nuclear agency, Monday (August 12) honoured the memory of its five dead staffers, vowing to continue developing weapons.
"The best way to commemorate them will be our further work on the new weapons," Rosatom Director-General Alexey Likhachev was quoted as saying by agencies.
Iodine panic
The nearby city of Severodvinsk recorded elevated radiation levels following the accident, and panicked residents rushed to buy iodine, which can help prevent the thyroid gland from absorbing radiation.
"People started to panic. Within a matter of an hour all the iodine and iodine-containing drugs were sold out," pharmacist Yelena Varinskaya told AFP.
Russian online media published an unattributed video that reportedly showed ambulances speeding through Moscow to a centre that specialises in the treatment of radiation victims.
Ankit Panda of the Federation of American Scientists noted on Twitter that the missile "is suspected to have some sort of a miniaturised reactor in its propulsion unit" and added, "A crash likely resulted in not-insignificant radioisotope dispersion."
Researchers checked levels in Severodvinsk and confirmed a brief spike, Alexander Chernyshov, deputy chief of research at the Sarov nuclear centre, said in a video statement on Sunday.
Isotope power sources have potential dangers for those working with them, Boris Zhuikov, a chemist at the Institute for Nuclear Research in Moscow, told the independent RBK news site.
"If they are destroyed, people who are nearby could be hurt. Isotope sources use various types of fuel: plutonium, promethium or cerium," Zhuikov said.
In 1986, the Soviet Union suffered the world's worst nuclear accident at Chernobyl, a disaster that authorities initially attempted to cover up.
A multitude of military disasters
The explosion on August 8 is one in a string of disasters and accidents to hit the country's military and fans growing concerns over Russia's defence systems.
Earlier in August, the town of Achinsk in Krasnoyarsk Province suffered explosions on multiple days at an ammunition depot.
The first explosion August 5 killed one person. Multiple explosions August 9 during a mine clearance operation at the same site injured at least nine persons, according to Euro News.
Meanwhile, on July 1, 14 Russian seamen were killed in a fire on a deep submersible, the country's Defence Ministry said.
Of the 14 victims, seven were the high ranking naval officers, suggesting that it was not an ordinary assignment. It is unknown how many seamen were on board the sub.
The Novaya Gazeta newspaper cited sources as saying that the accident took place on a nuclear AS-12 mini-submarine, also known as Losharik, which is capable of going to extreme depths. Little is known about the AS-12, which was launched in 2003 and is designated for research, rescue and special military operations.
Russia's aging military equipment has been the focus of other deadly incidents, many of which occurred in the post-Soviet period.
In August 2000, the Kursk submarine sunk in the Barents Sea with the loss of all 118 aboard. An inquiry found that a torpedo had exploded, detonating all the others.
Putin, who stayed on holiday for several days after the disaster, was criticised for his response.
Moscow also controversially turned down foreign offers of assistance for the rescue effort.
In another accident in 2008, 20 Russians -- three naval officers and 17 civilians -- were killed by poison gas after a vessel's fire-extinguishing system was accidentally activated during trials in the Sea of Japan.
Then in 2011, one of Russia's biggest nuclear submarines, the Yekaterinburg, caught fire while undergoing repairs in dock in the northern Murmansk region.
Later it was reported the sub was armed with long-range nuclear missiles when it caught fire.