BISHKEK -- Uzbekistan and Kyrgyzstan are working to co-operate on wide-ranging issues as part of continued efforts to bolster their relationship.
Uzbek Prime Minister Abdulla Aripov on August 1 made a working visit to Bishkek, where he conferred with his Kyrgyz counterpart, Muhammedkaly Abylgaziyev.
Co-operation progressed on multiple fronts and reached a new level of strategic partnership, according to a statement from the Kyrgyz government.
Abylgaziyev also said, "Talks on completing the demarcation of the remaining [disputed] sections of the Kyrgyz-Uzbek border are continuing," according to the statement.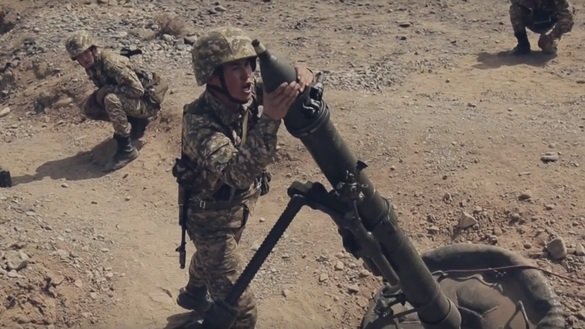 "I hope that soon the parties will be able to end up signing an ... agreement," Abylgaziyev said.
The border between Kyrgyzstan and Uzbekistan extends for about 1,400km. The two countries have delineated 92% of it and still need to reconcile 10 segments.
In 2017, Kyrgyz President Sooronbay Jeenbekov made his first official visit to Uzbekistan and signed a package of trade, financial, scientific and humanitarian agreements, the statement noted.
The Kyrgyz government expects Uzbek President Shavkat Mirziyoyev to make a reciprocal visit, said Abylgaziyev.
Warmer relations
During the rule of Islam Karimov, the first post-independence leader of Uzbekistan, Kyrgyz-Uzbek tensions were at their highest. Skirmishes between border guards repeatedly broke out in disputed areas.
In addition, disputes over water sources frosted relations between the two countries.
Such discord was counter-productive, given that both countries had to contend with hundreds of radicalised citizens joining "Islamic State" (IS). In addition, Uzbekistan borders war-torn Afghanistan.
Under Mirziyoyev, who took office in 2016, Uzbekistan has overhauled its foreign policy and has started to actively forge regional partnerships. That work has helped upgrade relations between the two Central Asian neighbours, which are now considered their warmest ever.
Kyrgyzstan and Uzbekistan have taken the right steps from the perspective of regional security and have resolved the demarcation of their borders for the most part, Edil Osmonbetov, a Bishkek-based analyst of security issues, said in an interview.
The two Central Asian nations regularly take part in joint military exercises to formulate a common strategy against security challenges, he added.
"However, even if they've teamed up, the Central Asian countries are unlikely to be able to completely guarantee security in the region," he said in an interview. "Here it's vital to reinforce co-operation with a potential security backer -- for Central Asia, the United States, which is playing the decisive role in guaranteeing security in Afghanistan -- is the power that best fulfills that function."
"Positive developments when it comes to the demarcation of the border between Uzbekistan and Kyrgyzstan will serve as a good model for the entire region," Farhad Tolipov, director of the Tashkent-based think-tank Caravan of Knowledge, said in an interview.
It is essential that the five Central Asian states work together on an initiative to create a regional system of collective security, said Tolipov.
Economic opportunities
During the meeting with his Uzbek counterpart on August 1, Abylgaziyev touched on economic prospects, saying that it was vital to create Kyrgyz-Uzbek joint ventures and projects, along with logistics centres where products can be processed, packed and exported.
"That will help boost manufacturing, create jobs and will raise the standard of living of our populations and improve infrastructure in the border regions," he said.
Kyrgyzstan and Uzbekistan intend to increase the volume of their annual trade to $500 million. In 2018, it reached $336 million, up 8% from 2017, said the statement.
According to Abylgaziyev, 96 companies with Kyrgyz investors are operating in Uzbekistan, and 30 of them were formed in 2018. At the same time, more than 200 Kyrgyz-Uzbek joint ventures operate in Kyrgyzstan.
Meanwhile, in the spring of 2018, railway and bus service between Bishkek and Tashkent resumed after a hiatus of several years, and flights between the two capitals have begun to run more frequently.