NUR-SULTAN -- Kazakhstan is about to become a manufacturer of drones as part of an effort to reduce dependence on foreign manufacturers and service providers.
"A long-term contract has been concluded with Israeli company Elbit Systems Ltd." for the assembly, production and maintenance of unmanned aerial vehicles (UAVs), Kazakhstan Engineering (KE), a Kazakh weapon manufacturer, announced on August 3.
KE gained exclusive rights to use the Elbit trademark in Kazakhstan.
"This project will allow us not only to produce UAVs but also to reduce dependence on other countries to repair drones," said Kuanysh Bishimov, chairman of the KE management board, during the signing of the contract. "Additionally, it will enable us to train qualified domestic personnel and create new jobs."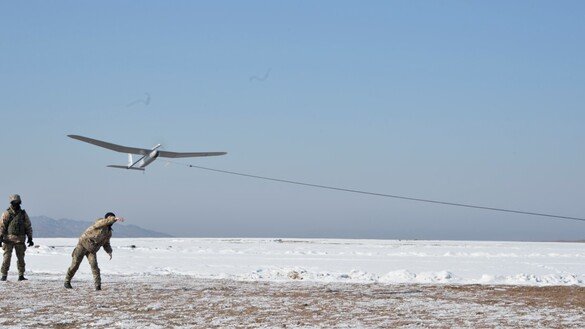 The enterprise will become a major centre for the maintenance, repair and modernisation of drones in Kazakhstan, and exporting them is planned for the future, he said.
The company expects to receive the first components and equipment needed for manufacturing drones before the end of 2019, he added.
Likely drone buyers include the Kazakh police, army, special forces, rescue personnel, farmers and oil and gas firms.
UAVs on guard
Observers give a favourable assessment of the plan to produce and maintain UAVs in Kazakhstan.
"The potential market for consumers of drones in Kazakhstan is large, consisting of security agencies, NGOs and ordinary citizens. Two factors hindering more-active use of drones are the high price of foreign models and the lack of service centres in the country," said Berik Torgumbayev, a Nur-Sultan-based entrepreneur who sells civilian drones, in an interview.
Sending a UAV abroad for repairs "for any, even a minor breakdown, is expensive, time-consuming and very unprofitable", he said.
"Producing drones and components in Kazakhstan and providing maintenance are a big step forward and a huge opportunity for many industries," Torgumbayev said.
He gave some examples of UAV use in Kazakhstan.
"The police used drones during EXPO-2017," said Torgumbayev, referring to the world's fair that Astana (now Nur-Sultan) hosted in 2017. "In some regions of Kazakhstan, UAVs are used to identify idle farmland and to monitor saiga populations."
"Searching for criminals from the air is another possibility for the police," he said.
Kazakh police have utilised drones since 2017 in the Shu Valley to find illegal gatherers of wild-growing cannabis plants.
The Kazakh military is also a regular user. For example, troops used drones to reconnoiter large-scale exercises in Kazakhstan in April and May.
Also in May, Kazakh troops used drones during exercises in Tajikistan.
Drone-using units of the Kazakh ground forces hold exercises annually. During the last such training, which took place in February in Zhambyl Province, military personnel studied aerodynamics, airspace usage rules, conduct of aerial reconnaissance and adjustment of fire.