DUSHANBE -- The United States, Uzbekistan, Tajikistan and Mongolia raised their military co-operation to a new level this month during more than a week-long exercise aimed at ensuring stability in Central Asia.
Regional Co-operation 2019, the multilateral command-post exercise organised by US Central Command (CENTCOM), took place August 5-16 in Dushanbe.
Military specialists from the four countries not only exchanged experience in combating terrorism and drug trafficking during the exercise but also simulated joint actions against weapons of mass destruction. Pakistani military personnel participated as observers.
A total of 200 personnel took part in the exercises, including 15 Tajik military specialists and another group of soldiers and senior- and mid-level officers from Tajikistan, according to the Tajik Ministry of Defence. No exact figures were given for each country.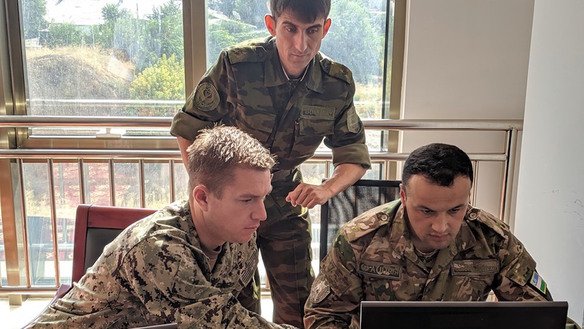 "[We] carried out work in two main areas. [We] performed joint actions to deal with emergencies and to repulse an attack by terrorist groups and to wipe them out," said an anonymous ministry official by phone.
Anwar Ahmadzhonzoda, commander of the Tajik Anti-Radiation, Biological and Chemical Protection Troops, led the exercises.
"It was a good opportunity to improve our soldiers' skills," Defence Ministry spokesperson Ilkhomiddin Muminov said in a phone interview.
This is the second time that the Regional Co-operation exercises have brought together soldiers of the United States, Uzbekistan, Tajikistan and Mongolia.
The drills last year took place September 20-21 in Massachusetts in the United States. Afghan and Kazakh military personnel also participated.
"Regional Co-operation is a staff exercise in which a multistage scenario developed by military experts is implemented. Each side presents its own scenario of how events unfold," said CENTCOM spokesman Lt. Col. Earl Brown.
"The actions are aimed at strengthening border security and combating terrorism and drug trafficking," he said.
"This is an opportunity to strengthen relationships and enhance the professionalism of all participants," Brown said. "These actions made it possible to focus on regional issues related to global peacekeeping, security co-operation, and information exchange during a situation requiring regional efforts."
Challenges and threats
Conducting joint multinational military exercises is part of maintaining stability in Central Asia and a high level of combat readiness.
This is especially important for countries with insecure borders, said Ilkhom Narziyev, a Dushanbe-based analyst of Afghanistan.
"Today Uzbekistan and Tajikistan, which share borders with troubled Afghanistan, face the need to join forces in the fight against new challenges and threats," he said.
The improved relationship of Uzbekistan and Tajikistan (since the death of long-time Uzbek leader Islam Karimov in 2016) "favour co-ordinated efforts", he added.
Troops from Uzbekistan and Tajikistan conducted several exercises in 2018 for the first time since their independence from the Soviet Union.
During large-scale exercises in Sughd Province last August, the defence ministers of the two countries announced their willingness to improve co-operation through regular joint military exercises.
"In conditions where national security challenges and threats and terrorist activity are gaining unprecedented proportions, no single state can confront this threat alone. In this context, joining forces is very important for Central Asian countries," said Tajik Defence Minister Sherali Mirzo in August 2018 during one exercise in Sughd Province with Uzbek armed forces.
"Only through joint efforts, co-operation and co-ordination between military units can we defeat terrorism and drug trafficking," said Uzbek Defence Minister Abdusalom Azizov at the same exercise.
US support
"Exchanging experience with soldiers of a country such as the United States and co-ordinating with the armed forces of other countries participating in peacekeeping operations are not meaningless," said Narziyev, the Tajik analyst.
The United States regularly provides support to Tajikistan's armed forces, border guards and law enforcement agencies to improve border security and help combat terrorism and drug trafficking.
This assistance consists not only in exchanging experience but also in building infrastructure and providing hardware, including for communications and transport.
In 2018, the Defence Ministry's peacekeeping battalion received five J8 jeeps worth $1 million (9.7 million TJS) from the United States.
Since 2009, the United States has allocated $6.5 million (63 million TJS) to the battalion to purchase equipment and machinery. In total, US military assistance to Tajikistan has amounted to more than $155 million (1.5 billion TJS) since 2006.