ALMATY -- More and more Russians are ignoring state-run television for news, a trend also being seen in Central Asia as viewers grow weary of pro-Kremlin media, according to a recent report.
The Moscow-based independent analytical Levada Centre published a report August 1 titled "The Russian Media Landscape 2019" detailing the results of a recent survey on where Russians get their national and international news.
Although television is still the main source of information for the majority of Russians, its audience is waning.
"A decade ago, 94% of Russians got their news from television, but today that figure is 72%. Young people are the least likely of all to get their news from television: 42% (of Russians 25 and under), compared to 93% of the oldest demographic (65 and over)," the report said.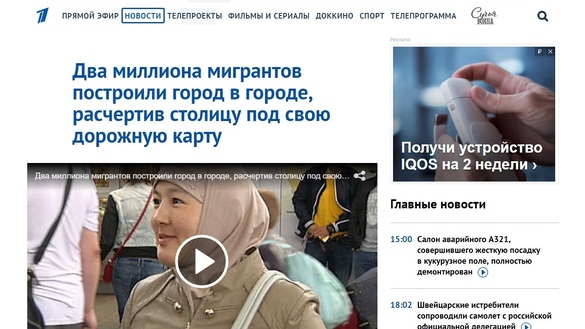 Younger Russians are turning mainly to social networks, not television, for their news, the report found.
In the past few years, the percentage of the population that trusts Russian television as a source of news has been hovering around 55%, compared to almost 80% a decade ago, according to the centre.
Russians' confidence that television would report accurately on certain topics -- first and foremost those related to the economy -- dropped sharply last year, found the Levada Centre.
"Today more than half the population believes that television reporting on the economic situation does not reflect reality," the report said.
At the same time, Russians' confidence in online resources and social networks is rising, according to the study.
The proportion of Russians expressing this sentiment has roughly tripled or quadrupled in the last 10 years and now hovers at about 20% of the population.
Young Russians trust social networks more than television, primarily because they do not watch much television, the Levada Centre said.
Weary of Russian propaganda
Russian state television is also losing influence in Central Asia.
In Kyrgyzstan, the audience for Russian television channels has been shrinking by the year, according to a joint study carried out in March 2017 by the Bishkek-based Pro-kg Centre for Political Technologies in Bishkek and the EL-PIKIR Centre of Public Opinion Study and Forecasting.
One poll of 1,200 residents of 48 Kyrgyz cities found that 72.9% of respondents turn to Kyrgyz national television as their main source of political news.
In contrast, only 17.6% of respondents reported watching Russian television, a 3.2-percentage-point drop from 2015.
This fall is a natural consequence of the goals of the Kremlin-backed television channels and the unpopular approaches they use in Central Asia, say media observers.
Russian television channels are "going overboard" in deploying a propaganda-filled information policy, said Erlan Satybekov, a media analyst in Bishkek.
"Moscow is using Kremlin-controlled TV channels to cast the 'proper' light on its foreign policy, which provokes sharp criticism in other countries," he said.
One of the key focuses of the pro-Kremlin media's information policy is to promote a positive image of Russian President Vladimir Putin as capable of guaranteeing stability and security to Central Asia, Satybekov said.
Disenchanted viewers
Meanwhile, Kremlin-controlled channels are repelling viewers also in Kazakhstan and Uzbekistan.
For example, pro-Kremlin TV presenter Vladimir Solovyov in June sparked indignation among Kazakhs after he suggested on Russia-1 television that Moscow should bomb a biological laboratory in Almaty.
In Uzbekistan, Tashkent blogger Aziz Khakimov has called on Uzbek authorities to actively fight Russian propaganda and ban politically biased programmes altogether.
"Russian propaganda stretches its tentacles toward you and me through TV, the internet and mass media," he posted on Facebook in April 2018. "It succeeds that way. I think that we need to shield our population as much as we can from this extremely destructive, harmful information."
His post received hundreds of positive reactions and comments.
Another Uzbek, Abdurakhmon Obidov of Samarkand, said in an interview that he had stopped watching Russian television after he saw a negative story about Uzbek migrants.
"The Russian media portray us as criminals or, at worst, as savages. And after that they want us to trust them?" he said.