NUR-SULTAN -- Kazakhstan's tourist police force now has units operating in all provinces in the country.
First established in April, the force has six police stations, the latest of which opened on August 16 at the airport in Almaty.
"The tourist police force includes employees who have gone through a thorough hiring process based on a good knowledge of foreign languages, knowledge of our country's laws and history, interpersonal skills and responsiveness," said a statement on the Interior Ministry (MVD)'s website.
Tourist police officers are equipped with body cameras, radios, tablets, vests and other necessary items.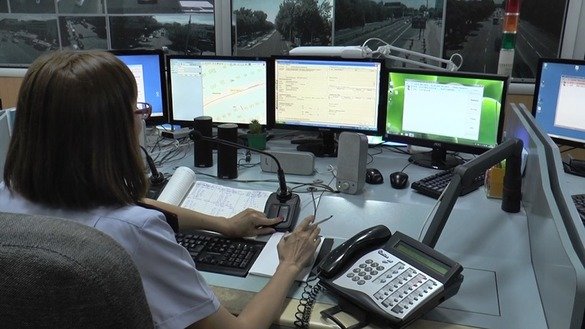 The main task of tourist police officers is to provide advice to tourists and to ensure their safety, and are equipped with body cameras, radios, tablets, vests and other necessary items, according to the ministry.
Rapid assistance
The tourist police have already helped numerous visitors.
In one incident, a tourist from the United Arab Emirates forgot his video camera in a taxi in Almaty, said the Almaty police on Facebook in an August 14 posting.
Tourist police served as interpreters for regular police who quickly tracked down the car and camera and returned the equipment to its owner.
In July, someone stole a motorcycle from a German traveller in Almaty. Before the day had passed, tourist police officers, working together with colleagues from other police departments, arrested a suspect and returned the motorcycle to its owner.
"The tourist police have to meet lofty requirements," said Yerlan Toyymbayev, who works for the MVD's migration service.
"Besides knowing foreign languages, they must work efficiently with other government agencies to solve problems that arise for tourists," Toyymbayev said.
Encouraging tourism
The tourist police force was established as part of a state programme to develop Kazakhstan's tourism industry in 2019-2025.
Kazakhstan is the fourth country in Central Asia to introduce such a unit.
Uzbekistan's tourist police began operating in December 2017. Tajikistan created its tourist police in 2018 shortly after the July 29 slaying of four foreign tourists in Danghara District, an attack claimed by "Islamic State" (IS).
Meanwhile, Kyrgyzstan launched a separate tourist unit last December that operates only in Bishkek so far.
Under Kazakhstan's state programme, tourist police officers are to assist and to mediate for tourists in difficult situations.
The programme also seeks to improve the quality of tourism services, create a climate that favours tourism and improve management of the tourism industry.
For example, tourists from 117 nations have been able to obtain electronic visas for Kazakhstan since January 1 by filling out an online form and paying the consular fee. Business and medical visas for citizens from 23 nations are also available online.
"When we crossed the border, we were told about what the tourist police do and received their contact information," said Gleb Tkachenko, a 39-year-old Ukrainian tourist travelling with his family in southern Kazakhstan.
"It's convenient that we don't have to go to the migration police -- registration happens online," he said, referring to the requirement for foreign nationals to notify the migration police of their presence.
"Kazakhstan has every opportunity to expand tourism. There are many unique historical sites and beautiful nature here, and now there is a special police force that handles the safety of foreign tourists," he said.