A treaty from the 1990s is spotlighting the difficulties Central Asia has in escaping the harmful legacy of Soviet-era environmental abuses.
The Energy Charter Treaty, struck in the 1990s, is meant to boost energy co-operation across borders. Initially it sought to protect fossil fuel investments in developing nations, initially in post-Soviet states in eastern Europe.
Kazakhstan, Kyrgyzstan, Tajikistan, Uzbekistan and Turkmenistan are all members. Russia quit the accord in 2009.
The treaty's provisions allowing companies to sue states over blocked projects have become an obstacle to efforts to use clean energy.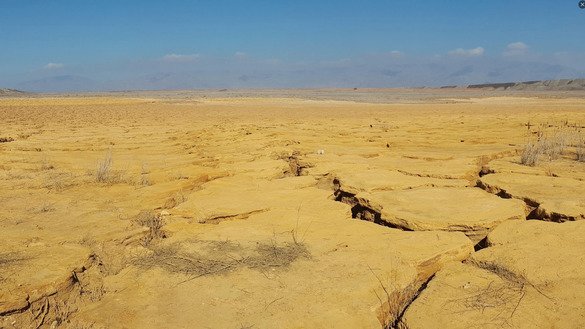 Reforming a treaty with 50 signatory states could take years, observers have warned.
"It's not going to be easy," Carlo Pettinato, a European Commission investment official, said in Brussels, according to an AFP report last week.
Antiquated factories and power plants
That treaty, with its built-in protection for old infrastructure, is hampering Central Asian states trying to clean up their air, land and water. Their antiquated factories and power stations burn up fossil fuels and spew harmful substances into the atmosphere.
Soviet engineers built such facilities because the Kremlin prioritised production statistics, while air pollution or climatic consequences to the local environment were largely ignored.
Old, dirty factories create significant environmental problems in Kyrgyzstan, Bishkek environmentalist Ulan Ismailov said in an interview.
"The level of air pollution in the area where they are situated exceeds the permissible limit several-fold!" said Ismailov. "In light of global warming and the concomitant greenhouse effect, relying on such businesses will create a serious threat to the environment and to public health."
Meanwhile, Kazakhstan and Uzbekistan -- the region's two largest economies -- are still overwhelmingly reliant on fossil-fuel-burning power plants, which release carbon dioxide that traps heat in the atmosphere.
Kazakhstan still depends on the worst offender, coal-burning plants, for almost 80% of its electricity, according to the US Department of Commerce. Water, solar and wind installations provide less than 13% of Kazakhstan's power.
To protect Kazakhstan's energy security, "it's necessary to attract investments in traditional electricity, modernise [expand] plant capacities and build new power stations that use renewable sources of electricity," Arman Kashkinbekov, general director of the Nur-Sultan-based Association for Renewable Electricity of Kazakhstan, said in an interview.
Uzbekistan is almost entirely dependent on hydrocarbons for its electricity. In 2016, the most recent year for which statistics are available, 79.7% of its power came from oil, coal or natural gas, according to the International Energy Agency. Hydro-power accounted for the rest.
About 40% of the power stations built by the Soviet Union, though still operating, have reached the end of their useful life, said Kashkinbekov.
The remaining 60% are not far behind, he added.
Difficulties emerge in agriculture
Agriculture is similarly affected by -- and vulnerable to -- climate change.
Kyrgyz farmers, for example, are seeing hotter summers, colder winters, rainier springs and drier autumns than before, Dmitry Vetoshkin, director of the Bishkek-based environmental NGO Archa Initiative, said last December in an interview.
Such weather makes farming even more difficult in a country that is 93% mountainous.
The South Korea-based Green Climate Fund last December allocated $10 million (699 million KGS) for climate change adaptation activities in Kyrgyzstan.
Agricultural decline has political consequences in the region.
Competition for scarce farmland and water has led to frequent border disputes and violence in the Fergana Valley, the fertile region shared by Kyrgyzstan, Tajikistan and Uzbekistan.
Making the situation even worse, the valley is a hotbed for extremist recruitment.
In an effort to help, the European Union (EU) and the World Bank signed an agreement in May for a new $7.8 million grant to support water and energy security in Central Asia.
Soviet agricultural abuse long ago left behind one of the "planet's worst environmental disasters", as described by the London Telegraph in 2010: the depletion of the Aral Sea. Starting in the 1960s, the Soviet Union drained the Aral Sea of about 90% of its volume, according to Vox.com.
To irrigate Uzbek cotton farms, the Soviets diverted the rivers feeding what was once the world's fourth largest lake.
Russian indifference to radiation's dangers
The Soviet regime and its Russian successor state have provided a poor example of environmental stewardship in yet another sphere, continuing negligent practices with radioactive materials that stretch back decades.
The explosion at the Chernobyl nuclear power plant in Soviet Ukraine in 1986 showered Europe with lethal radiation. In August, during testing of a missile in Arkhangelsk Province, Russia, an explosion killed five members of the Russian Federal Nuclear Centre and released elevated radiation levels.
Also in August, the Kremlin disregarded environmentalists' warnings and launched the world's first floating nuclear reactor on a 5,000km-long journey along the Russian Arctic coast.
In addition, the Kremlin has left Central Asia to cope with an estimated billion tonnes of uranium tailings festering at Soviet-era mines, forcing the region to seek help from the EU.