ALMATY/BISHKEK -- Central Asian citizens are increasingly rejecting Russian-language news as propaganda and turning toward online content in their native languages, according to a recent study.
The Institute for War and Peace Reporting (IWPR), a London-based international organisation working in Central Asia on issues relating to the development of the media and human rights, in Almaty presented the results of a study on the consumption of online news September 9.
The study polled 4,130 internet users in Kazakhstan, Kyrgyzstan, Tajikistan and Uzbekistan from May through June 2019.
"In recent years, the proportion of users of social networks, news sites, messaging apps and smartphone apps has been growing in Central Asia. Against this backdrop, forms of disinformation and manipulation, fake news and 'clickbait' headlines are also multiplying," said the report, which was seen by Caravanserai.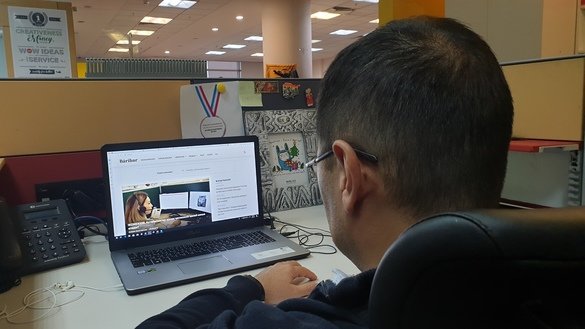 "This is reinforcing our concern about the public's level of news literacy, while the question of how to guarantee balanced, objective and alternative content in the media is at the forefront," it said.
Social networks are the most popular news sources in Central Asia, with 87% of those polled in Uzbekistan and 92% in Kyrgyzstan using such networks for news.
Some 82% of users in Tajikistan and 70% in Uzbekistan use Facebook as a news source. Instagram is used more commonly by users in Kazakhstan and Kyrgyzstan, with 89% and 83% using the platform, respectively.
These sites are followed in popularity by news sites, which are used by 75% of respondents in Kyrgyzstan and 82% in Uzbekistan.
The least used online sources of news in Central Asia are messaging apps, because of the distinctive features of the platform. About 60% of respondents in Uzbekistan said they consumed news mainly through Telegram.
WhatsApp is more widely used in Kazakhstan and Kyrgyzstan, while Telegram and Viber are more prevalent in Tajikistan.
The IWPR report noted a growing demand for online content in Kazakh and Kyrgyz in those countries. Native-language blogs in Tajikistan and Uzbekistan are also popular.
Russian continues to be used in Central Asia, especially in Kazakhstan and Kyrgyzstan, although in recent years it has been losing its status as the younger generation increasingly prefers to communicate in native languages.
Asylbek Baibol-Uulu, 23, of Kant, Kyrgyzstan, considers it "a natural and irreversible process".
"Russians converse in Russian, Chinese converse in Chinese, so why do we need to read and converse in a foreign language? It's abnormal," he said.
"I'm seeing a trend where the older Kyrgyz who grew up in Soviet times are studying and trying to speak Kyrgyz despite problems with the language."
Jazgul Ibraimova, the co-ordinator of the IWPR study, said in an interview that she has witnessed younger generations of Kyrgyz undergo a gradual process of national self-identification, including on a linguistic basis.
A larger-scale study would be needed to confirm this trend, she said.
Russian 'soft power'
Russian television channels are continuing to lose popularity in Kyrgyzstan, where their audiences are shrinking with each passing year, according to a joint study carried out in March 2017 by the Bishkek-based Pro-kg Centre for Political Technologies and the El-PIKIR Centre of Public Opinion Study and Forecasting.
The main reason for this is weariness with the constant barrage of Russian propaganda and false information, said analysts.
Taking notice of the gradual retreat of the Russian language from Central Asia, Moscow has stepped up a "soft power" strategy using education.
Since 2017, Russia has sent teachers to schools in Tajikistan, paying their salaries. These instructors teach children Russian language and literature and other subjects in Russian.
The Kremlin has plans to dispatch Russian teachers to Kyrgyzstan starting in 2019.
Although Russia's Ministry of Education calls its initiative a "humanitarian project", analysts have no doubt that the Kremlin is waging a war for the minds of the younger generation, imposing Russian culture and values.
Local schools do not need Russian teachers, said a source in the Kyrgyz Ministry of Education and Science on the condition of anonymity.
However, it is unpleasant to say no to the Kremlin, which has many ways to exert pressure on Kyrgyzstan, the source said.