AL-HOL CAMP, Syria -- Stabbing guards, stoning aid workers and flying the black "Islamic State" (IS) flag in plain sight: months after the territorial defeat of the group, the threat of its ideology remains very real among the wives and children inside the Al-Hol camp in northeastern Syria.
Swarming around an AFP journalist, women clad in black complained of poor medical assistance, a lack of aid and boiling-hot tents. They also praise the elusive IS leader, Abu Bakr al-Baghdadi, saying they are waiting for orders from their leader.
These women are part of the 70,000 wives, children and family members of IS fighters living inside this Kurdish-run camp.
IS supporters have attacked Kurdish security forces guarding the camp, admitted Umm Suhaib, the unrepentant widow of a militant.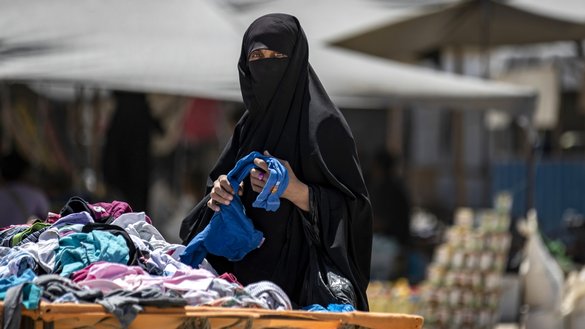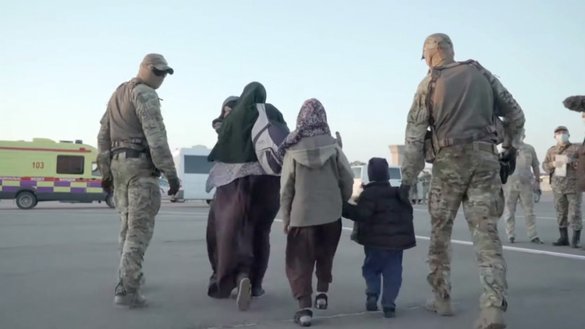 "Two or three times, the Asayesh were stabbed," said the 23-year-old Iraqi mother of three, referring to Kurdish security forces.
The so-called Muhajirat, females who travelled to Syria to join IS, are behind the stabbings, she said.
High risk prisoners
Umm Suhaib said her husband, a Tunisian, died months ago fighting the US-backed Kurdish-led Syrian Democratic Forces (SDF) in Baghouz, the very last bastion of IS in eastern Syria.
In March, the SDF announced the defeat of the so-called "caliphate" -- which IS declared in 2014 over parts of Syria and Iraq in 2014 -- after it expelled the last fighters from the village.
Tens of thousands of people, mostly women and children, were trucked to Kurdish-run camps in northeast Syria during the weeks-long campaign.
In total, about 12,000 foreigners -- 4,000 women and 8,000 children -- are now living in such camps, according to Kurdish authorities.
"We came to the camp only because of al-Baghdadi's orders," said Umm Suhaib.
Surveillance cameras that operate around the clock are omnipresent in Al-Hol, and security is especially tight around a fenced section of the sprawling camp, where foreign women are guarded by Kurdish forces.
Unlike Syrian and Iraqi women who may roam the camp freely, these high-risk prisoners are escorted by armed guards when they want to go to the camp's market or receive aid rations.
"They see us as enemies, and that creates problems," said Amer Ali, the head of the Asayesh force, adding that some women have tried to flee.
In June, a woman from the Al-Roj camp who had been transferred to hospital tried to escape from there but was arrested before she could flee, medical sources at the facility said.
The woman, they said, had removed her black face veil and changed into a white dress to make her getaway.
Lingering threat
Earlier this month, a video shared on social networks showed women clamouring around an IS flag that had been hoisted on an electricity pole in Al-Hol as children chanted "Allahu Akbar" (God is Greatest).
IS wants "to spread its ideology through these women", said Ali, confirming the authenticity of the footage.
The children too are a problem, he said.
"They throw stones at us because their mothers tell them that we killed their fathers and destroyed their houses," Ali said.
Kurdish authorities have repeatedly warned that the children of militants represent a "time bomb" the world urgently needs to defuse.
Without rehabilitation and reintegration, these children could become future "terrorists", they warn.
Sheikhmous Ahmed, a Kurdish official in northeastern Syria, acknowledged the security challenges.
"We do not have the means to stop everything that is happening, but we try to contain these incidents," he said.
IS supporters "remain attached to their ideology, and they will always represent a danger," he warned.
Central Asian repatriation
For their part, Central Asian countries are bringing radicalised citizens home from the Middle East and trying to rehabilitate them.
Most recently, Kyrgyz authorities say they are working to repatriate families of their citizens turned insurgents who were captured or killed in Syria and Iraq.
A Kyrgyz inter-agency working group -- including representatives from the State Committee for National Security, Interior and Foreign ministries and the State Registration Service and headed by Vice Prime Minister Jenish Razakov -- is co-ordinating the operation, the government said in a statement.
A delegation is expected to travel to Baghdad in September, according to the statement. Official statistics show 850 Kyrgyz citizens -- including women and children -- are in combat zones in Syria and Iraq.
Meanwhile, psychologists, doctors, theologians and investigators are working hard to rehabilitate Kazakh women who returned from Syria earlier this year.
The Kazakh government on May 28-31 evacuated 67 women and 171 children from Syria as the final stage of Operation "Jusan" (Bitter Wormwood). The evacuation was the third since the start of the year. In total, 524 Kazakhs -- 137 women, 357 children and 30 men -- have been repatriated.
On May 30, the Uzbek government announced it had carried out Operation Dobro (Good Deed), a humanitarian effort that brought home 156 Uzbek citizens, including 106 children and 48 women. Two men were also part of the evacuation.
Meanwhile, the Tajik government announced on August 1 it had formed a commission to repatriate 48 Tajik women imprisoned in Syria and Iraq, Asia-Plus reported.
The Tajik government earlier on April 30 brought home 84 Tajik children from Iraq. Their mothers were either imprisoned or awaiting trial.