NEW YORK -- The United States on Thursday (September 26) announced new sanctions targeting a Russian smuggling operation in Syria after confirmation of another chemical weapons attack by Syrian President Bashar al-Assad's forces.
The Assad regime used chlorine on May 19 in Latakia Province during its offensive to take back the last major rebel stronghold in nearby Idlib, US Secretary of State Mike Pompeo said.
"The United States will not allow these attacks to go unchallenged, nor will we tolerate those who choose to conceal these atrocities," Pompeo told reporters in New York, where he was taking part in the United Nations (UN) General Assembly.
"The United States will continue to pressure the insidious Assad regime to end the violence directed at Syrian civilians and participate in the UN-led political process," he said.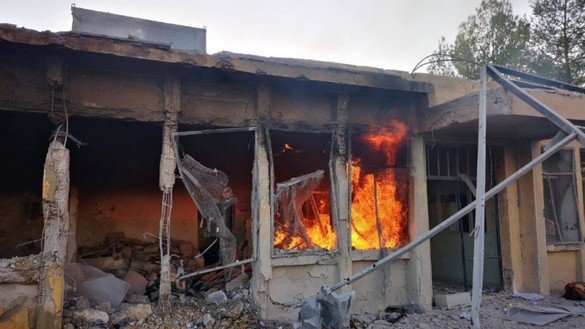 He later took part in a meeting on Syria with his counterparts from France, Germany, Saudi Arabia, Jordan and Egypt, who said in a joint statement: "The use of any chemical weapons in Syria shall not be tolerated."
No independent verification was available of the attack from northwestern Syria, where rights observers say that more than 1,000 people have been killed and 400,000 displaced since the government began its bombardment in April.
The United States and France had both earlier aired suspicions of a chemical bombardment but had held off on making a formal determination, saying more research was needed.
International investigators say Assad has repeatedly used chemical weapons against civilian targets in his brutal quest to win the civil war, in which more than 370,000 people have died.
The US military carried out strikes with 59 cruise missiles in response to a sarin gas bombardment in April 2017 in the rebel-held Idlib town of Khan Sheikhun.
Moscow-based front
The US Treasury Department on Thursday announced sanctions on three individuals, five shipping vessels and a Moscow-based front company for participating in a scheme to move money and fuel to Russian forces supporting al-Assad's regime.
"Assad's despotic regime is under an international spotlight for using chemical weapons and committing atrocities against innocent Syrian civilians and they rely on these types of illicit networks to stay in power," Sigal Mandelker, Treasury under secretary for terrorism and financial intelligence, said in a statement.
The US Federal Bureau of Investigation found that Moscow-based Maritime Assistance LLC was a front for the Russian shipping company Sovfracht-Sovmortrans Group, on which the United States imposed sanctions in September 2016.
After Sovfracht's blacklisting, Maritime Assistance carried out business on its behalf, selling and shipping jet fuel in 2016 and 2017 to Banias, Syria, for use by Russian military aircraft.
"Russia's support of the Assad regime enabled its continued bombing campaigns that destroyed numerous hospitals, schools and public spaces, resulting in civilian deaths," the statement said.
In addition to Maritime Assistance, the Treasury Department on Thursday blacklisted three managers from Sovfracht for their alleged roles in the scheme: Ivan Okorokov, director of Marine Transport, Karen Stepanyan, deputy director, and Ilya Loginov, deputy general director for legal support.
Treasury added five allegedly involved vessels to the list.
The action prohibits US banks from moving money on behalf of the company and individuals, freezing them out of much of the global financial system. The action additionally blocks their access to any US assets.
Continued obstructionism
These new developments come more than a week after Russia and China vetoed a UN Security Council resolution backed by 12 of the 15 member states that called for a ceasefire in war-torn Idlib Province, Syria.
The vote was Russia's 13th veto of a UN resolution since the Syrian conflict erupted in 2011.
Germany, Belgium and Kuwait had led the push for the resolution, noting that half a million Syrians have been displaced in Idlib since government forces opened an offensive four months ago.
They warned that the conflict could become the century's worst humanitarian crisis if the fighting persisted and urged Russia not to veto what they said was a "purely humanitarian" measure.
But following two weeks of negotiations, Russia quashed the text on September 19 after pressing unsuccessfully to include an exception for "anti-terrorist operations".
The failed resolution said that all parties should cease hostilities "to avoid a further deterioration of the already catastrophic humanitarian situation in Idlib Governorate, beginning at noon Damascus time on 21 September".