NUR-SULTAN -- Kazakh security forces are cracking down on illegal drugs this year in their annual Operation Koknar (Poppy).
The operation takes place annually from June to October, when wild cannabis grows and matures. The goal this year is to identify drug transit channels and prevent the collection, processing and distribution of the cannabis of the Shu (Chui) Valley, according to the Kazakh Interior Ministry (MVD).
"To capture drug dealers, police departments in provinces with the most drug activity, such as Zhambyl and Kyzylorda, have been reinforced by additional forces and resources from other provinces," the ministry said in a statement.
"Additionally, in Kyzylorda Province, with the help of the special Sunkar unit's helicopter fleet, we are conducting flights over hard-to-reach and remote places in order to identify fields where cannabis indica is being cultivated illegally," the statement said, referring to a special police unit.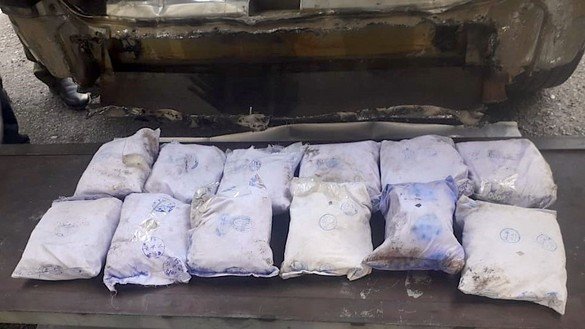 Police have identified 676 drug offences since the start of the operation, according to the MVD. They have also seized 16.7 tonnes of drugs and eliminated 23 cannabis plantations.
"The main fight against drug suppliers is taking place in the Shu Valley, where cannabis grows with a high level of tetrahydrocannabinol (THC)," said Yerkin Kultayev, a social activist and resident of the city of Shu.
"In the valley, several thousand tonnes of psychoactive cannabis grow each year on 140,000 hectares," said Kultayev.
In 2018, Operation Koknar helped police identify more than 1,000 crimes related to drug trafficking and resulted in the seizure of 22 tonnes of drugs and the destruction of 10 tonnes of cannabis plants.
Drug trafficking in Central Asia is often connected to terrorism activities in the region.
Today, it is highly likely that money received from illegal drug trafficking is used to finance terrorism, said Bolatbek Isayev, a Nur-Sultan-based political scientist.
"Crime, drugs and terrorism are often tangled up in a single ball. Terrorists justify their criminal acts by conducting so-called armed jihad and have no qualms about robberies and drug deals," he said.
The proceeds from drug deals can be used to finance terrorism, specifically "with respect to trafficking Afghan drugs across the borders of Central Asian countries and to drugs made from Shu cannabis", said Isayev.
Anti-drug efforts
The recent operation comes amid other anti-drug efforts and arrests of suspected drug dealers.
For example, border troops at the Jibek Joly checkpoint in the Saryagash District of Turkistan Province on September 20 found 12kg of heroin in the car of a 25-year-old Tajik citizen.
In August, officials shut down a trafficking route for supplying synthetic drugs from Russia to Kazakhstan.
Meanwhile, on September 25 the MVD Department to Combat Drug Trafficking announced the launch of a hotline on WhatsApp to allow anyone to report incidents of drug trafficking.
Kazakhstan on July 5 approved a new List of Controlled Narcotic Drugs, Psychotropic Substances and Precursors, adding 89 new drugs and substances.