ALMATY -- Regulations set by the Russian-led Eurasian Customs Union (EACU) that take effect in 2020 will squeeze domestic Kazakh farmers trying to sell milk in domestic markets, while benefiting only Russian producers, observers say.
The EACU countries -- Kazakhstan, Russia, Belarus, Kyrgyzstan and Armenia -- adopted a technical regulation on the safety of milk and dairy products in October 2013. The document took effect January 1, 2014, and established requirements for the quality of milk accepted by processing plants in these five countries.
However, the regulation was delayed until January 2020 in Kazakhstan, which produces 5 million tonnes of milk annually, mostly on family farms, according to the Dairy Union of Kazakhstan.
Half of that amount does not meet the requirements of the EACU technical regulation on microbiological and somatic parametres, according to the Dairy Union.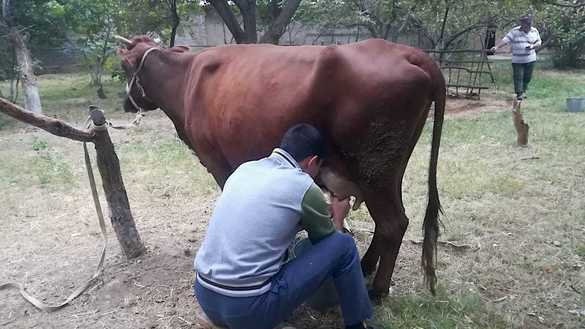 "Cows give good milk, but mistakes occur during the process of milking, storage and delivery, and they reduce its quality," said Vladimir Kozhevnikov, the director of the union. "But there are technologies at processing plants that can bring the milk to a proper condition."
The Dairy Union is concerned that starting next year, processing plants will not be able to accept milk below the regulation's standards even if they can raise its quality.
If they take such milk, "they will have problems with regulatory authorities", said Kozhevnikov.
"Now Kazakh dairy producers will risk losing their local market share," said Dinmuhkamed Aisautov, spokesperson for Almaty-based dairy production company Danone Berkut.
"The milk will still be there, but we will not be able to accept it for processing," he said.
As the new regulations cause a drop in local dairy production, companies from Russia and Belarus will gladly fill the market, Aisautov warned.
"And not all Kazakh dairy companies will be able to withstand such competition; some of them may close, and because they pay taxes, it means that Kazakhstan's budget will lose money," he said.
"Danone, being a local manufacturer that has a plant in Almaty Province, is concerned that the volume of imported [dairy] products is increasing," Aisautov added.
Despite appearances, the new milk regulations are clearly not meant to ensure the safety of dairy products, according to Konstantin Emmerich, director of the Sadovaya-K milk company in Karaganda Province.
After all, plants that purchase milk from small farms carry out their own laboratory tests that establish the quality of milk, its acidity, bacterial contamination and other parametres, said Emmerich.
"If milk is dangerous for consumption, the plants simply stop buying it not only from a particular supplier, but in general from the area from which it came. And plants can resume the purchase of milk when everything is back in order," he said.
Many Kazakhs will be affected by the technical regulations' requirements, said Emmerich.
"In Kazakhstan, 40% of the country's population lives in rural areas, and most of these people earn a living by keeping cows and selling milk," he said.
Russia to take advantage
This is not the first time that EACU regulations have caused problems for local producers in Central Asia, while at the same time benefiting Russian companies.
Kazakhstan's agreement with Moscow in 2018 to raise custom duties on sugar imported from countries outside the EACU led to a massive shortage of sugar in Kazakhstan, threatening the livelihoods of local businesses and harming the nation's citizens.
The lack of imports and of domestic production forced Kazakhstan to buy sugar from Russia.
The Eurasian Economic Union (EEU) ostensibly was meant to help its member states import and export goods without obstacles, but instead, joining the EEU has brought Central Asian countries a number of economic, geopolitical and even social problems, say local economists.
The EACU is the customs union for the EEU.
"The EEU is advantageous only to Russia," Kyrgyz economist Iskender Sharsheyev, who heads the GTS consultancy in Bishkek, said in May 2018.
It is necessary to decide how to fix this situation in the remaining time available, noted Aisautov, the spokesperson for Danone Berkut.
First, it is directly related to the country's food security. Second, the fate of an entire industry hangs in the balance, he said.
"The problem is being addressed both by the state, represented by the Ministry of Agriculture, and local and global non-governmental organisations. For example, the Dairy Union of Kazakhstan and the Food and Agriculture Organisation (FAO) of the United Nations," Aisautov said.
For example, "the FAO not only teaches family farms how to safely produce milk but has also created the 'Smart Sut' (Smart Milk) app that allows dairy farms to find customers," he said.