ASHGABAT -- Russian oligarchs have further entrenched themselves into Turkmenistan's oil and gas industries, diverting profits away from the local economy and putting the country's sovereignty at greater risk.
Earlier this year, after a more than three-year-long Russian boycott of Turkmen gas caused by a "dispute over prices and payments", Turkmen deliveries of gas to Russia resumed, Caravanserai learned from an employee of Gazakdyrysh, a gas delivery firm controlled by the Turkmen gas monopoly Turkmengaz.
The agreement emerged after three visits in six months by Alexei Miller, CEO of Russian gas giant Gazprom, during which he conferred with Turkmen President Gurbanguly Berdymukhamedov and the directors of several gas industry-related government agencies, according to the employee, who requested anonymity.
During the visits, Moscow strong-armed Ashgabat to agree to sell gas on Moscow's terms -- an insultingly low price -- and exports resumed April 15, according to observers in the Turkmen capital.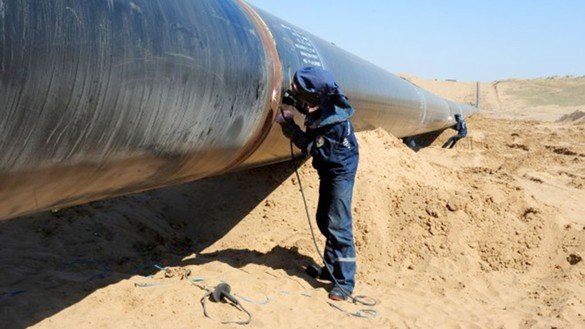 Cronyism and fraud
Now, yet another deal in the oil and gas industry smacks of cronyism and fraud, and benefits Russian oligarchs at the expense of Turkmenistan.
In August, GP Global Equipment, a company registered in Great Britain, Cyprus and Singapore, won a contract to build a gas compressor station in Turkmenistan.
The company is owned by Russian businessman Igor Garankin.
The deal is worth about $150 million to $200 million (526.5 million to 702 million TMT), according to an investigative report published September 10 on the emigre-run Turkmen.news website.
Ashgabat solicited no bids before awarding the contract to GP Global.
The deal never would have happened without years of lobbying by Viktor Khramov, a Turkmen government official, according to Ashgabat analysts.
Khramov's son Denis lives in Moscow.
Khramov is decisive in ensuring lucrative contracts in Turkmenistan for the Russian business elite and the placement within the oil and gas industry of Turkmens useful to those Russian tycoons, a source close to the Turkmen government who requested anonymity told Caravanserai.
The Turkmen government has released nothing about the matter other than an announcement of the contract award to GP Global.
"It's mind-boggling," said a Turkmen bureaucrat who is familiar with the details of oil and gas contracts concluded by the Turkmen government and foreign companies.
'Powerful lobbying'
"The company was registered in Singapore in 2015 [...] and the company's charter capital amounts to only 100 SGD, or about $72," said a former official of Turkmengaz (Turkmen Gas), who requested anonymity to protect his safety.
When such a shady company wins a contract worth millions, it reveals "not only deception and fraud by the company's owners but also powerful lobbying by Khramov", the former official said.
Compressor stations and other complex Turkmen oil and gas facilities used to be built by a firm based in Sumy, Ukraine, he said. However, Russian oligarchs teaming up with Khramov have pushed the Ukrainians out of the market ever since Russia illegally annexed Crimea.
As early as 2007, Garankin's company won a contract worth $136 million (476 million TMT) to build a gas compressor station for Turkmenneft (Turkmen Oil), according to Turkmen.news.
Khramov has aroused the contempt of many government officials in Ashgabat, said the former Turkmengaz executive.
"They call him the henchman of Moscow," he said about Khramov. "A few call him 'Haramov'."
Economic bullying of Central Asian 'allies'
This case of GP Global comes as the Kremlin tries to keep former Soviet Central Asian republics under its thumb economically.
For example, rules imposed by the Russian-dominated Eurasian Economic Union have made it almost impossible for Kazakhstan to export food to Ukraine and other European countries via Russian territory.
"Domestic businesses continue to suffer huge losses due to regular problems with the transit of goods through Russia," said Yevgeny Bolgert, deputy board chairman of the National Chamber of Entrepreneurs (NCE; also known as Atameken) in Nur-Sultan.
That situation continues "despite the official recommendations" coming from the EEU, he told Caravanserai in July.
Russia is also using the EEU to stifle Central Asian companies from selling products that compete with businesses in its home market -- including fresh produce, poultry, oil and gas derivatives, and even candy.
Regulations set by the Russian-led Eurasian Customs Union (EACU) that take effect in 2020 will squeeze domestic Kazakh farmers trying to sell milk in domestic markets, while benefiting only Russian producers.
Russian petrochemical giant Gazprom also used questionable tactics to take over Kyrgyzgaz for a token $1 and false promises to build a tuition-free, state-of-the-art middle school in Bishkek.
In 2018, Gazprom abruptly decided to stop exploring for oil and gas in Tajikistan, ending -- for now -- that country's hopes for oil and gas discoveries.
"Russian companies only pretended to work," Dushanbe-based political scientist Nuriddin Karshiboyev told Caravanserai at the time. "In reality they were here only to prove they were strategic partners."
A genuine strategic partner "doesn't behave this way", he said. "It has to prove that in hard times it's ready to come to our aid."