Speculation over increasing confusion and division within the "Islamic State" (IS) has been rampant ever since IS leader Abu Bakr al-Baghdadi supposedly named a successor in early August.
According to an IS statement on August 8, al-Baghdadi named Iraqi national and senior IS figure Abu Abdullah Qardash, also known as Hajji Abdullah, as his successor.
Iraqi and Arab media have raised the same name, previously reporting that captured IS leader Abu Zeid al-Iraqi had mentioned Qardash's name as a likely al-Baghdadi successor.
The supposed nomination of Qardash, who is of Turkmen origin, is odd, observers say, considering the group's emphasis on al-Baghdadi's lineage as a "Qurayshi", a descendant of the clan from which the Prophet Muhammad hails.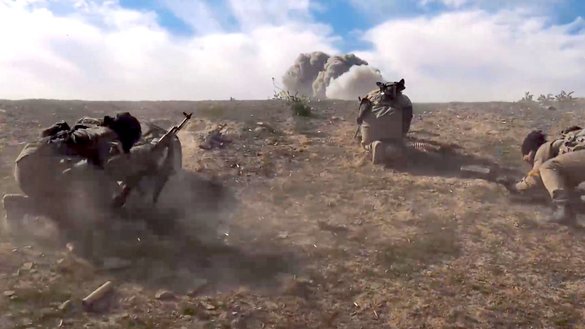 If precedent were to be followed, al-Baghdadi's successor would need to win the acceptance of a sharia body comprised of IS leaders through consultation, rather than appointment.
Meanwhile, there have been reports that al-Baghdadi's health has been deteriorating, and that infighting has been roiling the group, as foreign nationals, particularly Tunisians, attempted to lead a revolt against him.
If the rumours about the naming of a successor are true, it would seem that al-Baghdadi only nominated Qardash because he is loyal to him, said military analyst Safaa al-Aasam.
This move shows "no regard for the conditions that the group itself put in place" to qualify as an IS leader, he said, noting that the decision will shake the faith of al-Baghdadi's commanders, who are likely to question his judgment.
This nomination points to the confusion within IS, al-Aasam said, and serves as a "clear indicator of the chaos within the group's ranks, as there is no central command".
Following the group's military defeat, IS remnants are scattered or in hiding, he said, noting that al-Baghdadi's appointment of a successor, regardless of that person's identity, "will not change the group's fate".
Move might trigger mutiny
Al-Baghdadi's nomination of Qardash would appear to be based primarily on the relationship between the two men, said political scientist Issam al-Fayli.
"Qardash has been a constant companion of al-Baghdadi ever since they were inmates in prison around a decade and a half ago," he told Diyaruna.
But al-Baghdadi "could pay a high price for nominating Qardash, as with this move, the IS leader has demonstrated his distrust of his commanders", he said.
Additionally, because Qardash is Iraqi, this is likely to "reinforce feelings of marginalisation and discrimination among IS commanders, particularly those of foreign origins", he said.
This has the potential to deepen divisions in the group's ranks and "might bring about rebellion and mutiny", al-Fayli said.
Al-Baghdadi has lost his influence within the group's command structure, and the nomination of Qardash could point to his limited options as a result of this loss, security expert Saeed al-Jayashi told Diyaruna.
Furthermore, the "disintegration of the senior leadership of IS" could also have prompted al-Baghdadi to make such a decision, he said.
IS's fugitive leader, "who has made no statement to confirm this nomination, does not have a clear plan or vision to save himself and his group from their sealed fate -- which is either death or arrest", he said.
The group is in a state of crisis and cannot recoup its losses in terms of both fighters and resources, al-Jayashi said.
It is powerless to raise the morale of its fighters, and due to the decimation of its media machine, is unable to quash rumours or speculation, he added.