NUR-SULTAN -- Fourteen Kazakh citizens who fought for "Islamic State" (IS) in Syria face trial in connection with charges of terrorism crimes, Kazakhstan's National Security Committee (KNB) said.
Authorities have completed a criminal investigation into the actions of the detainees whom they sent back to Kazakhstan during Operation Jusan (Bitter Wormwood), the KNB said in a statement on October 17.
Kazakh authorities conducting multiple flights repatriated about 600 Kazakh citizens, including about 400 children, from Syria under the operation, which took place throughout 2019.
The 14 detainees are charged with carrying out terrorist activities, including propaganda and recruitment, as well as other serious crimes, according to the KNB.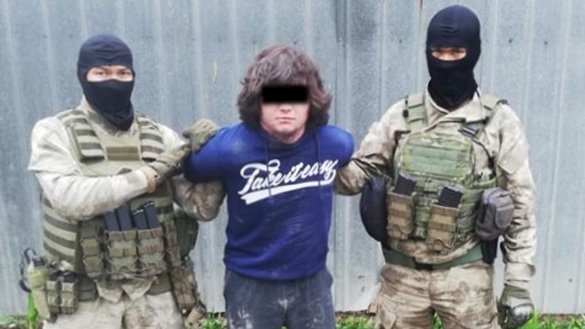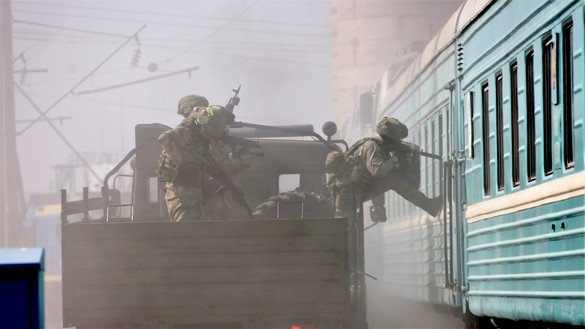 The trial is proceeding inside a jail in Nur-Sultan, and lurid details are already emerging.
One of the 14 defendants, Amanjol Jansengirov, struggled to explain a photo that showed him wielding a rifle and posing with severed human heads, including one under his foot, Fergana News reported Wednesday (October 23).
His commander ordered him to strike the pose, said Jansengirov.
The charges follow the prosecution of 10 men and five women who also were repatriated this year and are now serving prison terms.
Thwarted terrorist attacks
Meanwhile, the KNB said on October 11 that a court had convicted a terrorist who planned to carry out attacks in crowded venues.
The Almaly District Criminal Court of Almaty sentenced A. J. Bitimbayev, a Kazakh citizen, to 10 years in prison for "preparation for an act of terrorism, terrorist propaganda, incitement of religious hatred and illegal possession of firearms", the KNB said.
Bitimbayev initially drew the attention of law enforcement after he was found to be a IS supporter.
A search revealed his intention to carry out terrorist attacks with explosives at shopping malls. He was arrested in April.
Law enforcement agents conducting the search of Bitimbayev's possessions seized firearms, parts for making an improvised explosive device and diagrams of three shopping malls. After committing the attacks, Bitimbayev intended to move to Syria to join the ranks of IS militants, an investigation found.
"We see that terrorist fanatics have no limit to their cruelty and cynicism," said Leila Baimanova, director of Altyn Karpygash (Golden Swallow), a non-governmental organisation (NGO) in Shymkent.
"While earlier they planned and carried out terrorist attacks mainly against law enforcement officers and the military, now a mass murder of innocent civilians was being planned," she said.
Anti-terrorist exercises on the railway
The Railway-Antiterror-2019 security exercises took place in Taraz on October 11, announced the KNB.
The exercises checked the state of the railway facilities' counter-terrorism measures and of their cyber-defences of information systems.
Special forces carried out a mock operation to free hostages and neutralise terrorists in a railway car.
Besides special forces, other agencies took part in the exercises.
Two years ago Kazakhstan tightened security measures on rail and air transport. The KNB and police began to more thoroughly search passengers and baggage with the help of special equipment.
"Certain inconveniences to passengers due to the screening are justified," said Ruslan Seksenbayev, a political scientist from Taraz and director of the Beibit Aspan (Peaceful Sky) NGO.
"You must understand that this is for security," he said. "Only the terrorists know where a strike will be directed -- a school, a plane or a train -- so our law enforcement agencies need to be in full combat readiness."