ALMATY -- China's Belt and Road Initiative (BRI) could potentially lead to Central Asian countries being heavily indebted to Beijing, analysts warn.
Chinese President Xi Jinping in 2013 unveiled the BRI, which is focused on creating an extensive infrastructure network around China to transport Chinese goods.
The project, which includes the construction of highways, railways, seaports and other infrastructure as well as industrial and educational projects financed by China, will give rise to economic prosperity in all the countries involved in the initiative, Beijing claims.
However, the reality shows that the BRI's objectives are focused on China's interests, and more specifically on satisfying domestic energy needs, conquering international markets and increasing exports, among other goals.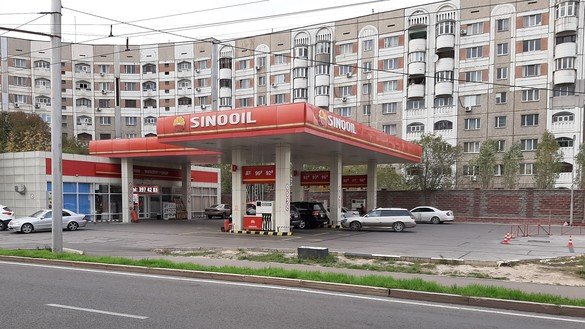 The BRI "is ultimately a vehicle for China's geopolitical ambitions", according to a report by the Centre for a New American Security, a think-tank based in Washington.
"Liabilities for host countries -- loss of control, opacity, debt, dual-use potential, and corruption -- are often strategic assets for Beijing," the report said.
Central Asian countries that have signed onto the project are especially at risk of owing billions of dollars.
Kyrgyzstan, for example, as of July 2019 had a total foreign debt of about $3.8 billion, including $1.7 billion borrowed from the Export-Import Bank of China (Eximbank), according to the Ministry of Finance.
Chinese debt bondage is a genuine threat for Kyrgyzstan, said Iskender Sharsheyev, an economist and director of Global Technology Solutions Co. in Bishkek.
"Even though the Chinese government is aware that the Central Asian countries won't be able to repay the debt, it is nevertheless willing to issue large loans, and at the same time it does not recognise these countries' sovereign right to defend themselves in court and not to execute the obligations of a contract [when unable]," he said.
"If the Central Asian countries can't pay off an accrued debt, mineral deposits... will in all likelihood be transferred to China, which a few countries in the region have already done," Sharsheyev added.
China is lending money to Kyrgyzstan to build roads, energy infrastructure and factories only if the contracts go to Chinese companies, including several that have been involved in scandals.
In Bishkek in early 2018, a power plant that a Chinese company had just modernised broke down. In the aftermath, Bishkek residents went without heat in -20°C weather.
The construction of a 104km-long highway along the north shore of Lake Issyk-Kul has also encountered trouble.
Chinese company Longhai Road and Bridge Corp. won a bid in late 2015 to build the highway. Construction was scheduled to end in 2017, but to date only 80km of the road has been built. In addition, workers are complaining that the company has stopped paying their wages.
Owing China
Tajikistan is another country at risk.
In spring of 2018, it relinquished the Upper Kumarg gold mine in Sughd Province to China, with 50 tonnes of gold reserves, to settle a $330 million debt incurred to modernise the Dushanbe-2 power plant.
Debt bondage is already a genuine concern for Tajikistan, which had a total foreign debt of about $2.9 billion at the beginning of the second half of 2019, about 48% of which is owed to China, according to Tajik Finance Minister Faiziddin Kakhkhorzoda, Radio Free Europe/Radio Liberty's (RFE/RL) Tajik service reported in August.
Dependence on China could put Tajikistan's sovereignty in jeopardy, according to Shokir Khakimov, a legal scholar from Dushanbe.
"Tajikistan's economic and technological potential is insufficient, so the country needs to attract foreign companies," EurAsia Daily reported him as saying in 2018.
"Ultimately, those countries are turning out to be mainly Chinese. The Tajik authorities see any projects proposed by China as attractive," said Khakimov.
"Tajikistan has fallen into debt dependence on Beijing. So the authorities, realising that they can't pay their debts, agreed to China's proposal and transferred a gold mine to it," he said.
Turkmenistan in gas bondage
Meanwhile, China purchases about 80% of Turkmenistan's exports, intensifying the country's dependence on Beijing.
Turkmenistan, which has the fourth-largest gas reserves in the world, supplied China with $4.4 billion worth of natural gas in the first half of 2019 -- a new export record for Turkmenistan.
However, the standard of living in the country is not rising, socioeconomic problems are worsening and even a food shortage afflicts its citizens.
Ashgabat is not sharing details about its arrangement with Beijing, but analysts assert that Turkmenistan is not receiving earnings corresponding with its record exports and that the sale of gas goes toward paying off multibillion-dollar debts owed to Beijing.
Turkmenistan has ended up with only one major buyer -- China -- of its leading export, natural gas, said Andrei Grozin, director of the Department of Central Asia and Kazakhstan at the Moscow-based Institute of CIS Countries.
After taking huge loans from China to prospect and develop Galkynysh, an expansive gas field, Turkmenistan ended up in a vulnerable position, he told the Materik.ru news site in 2018.
"There's no point in hoping that China will write off debts. I don't recall China ever forgiving anyone's loan. That is its position of principle," Grozin said.