DUSHANBE -- Tajik security forces on Wednesday (November 6) killed 15 members of the "Islamic State" (IS) and arrested four others who officials say crossed over from Afghanistan.
The overnight assault on the Ishkobod border post, which lies on the border with Uzbekistan, also left a border guard and a policeman dead, authorities said.
It was the latest bout of militant violence to hit Tajikistan, which has been battling an Islamist insurgency.
It came as the country prepared to celebrate its Constitution Day on Wednesday and with President Emomali Rakhmon on a visit to Europe.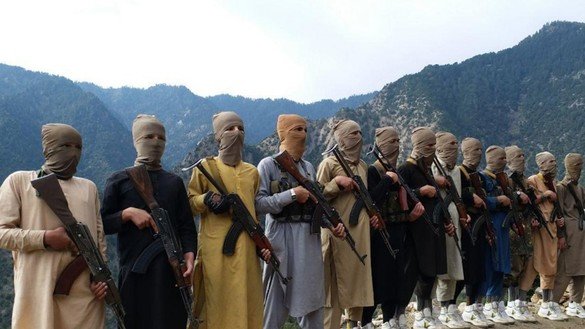 About 20 armed assailants attacked the Ishkobod border post about 50km southwest of Dushanbe at 3.23am, according to the Interior Ministry (MVD).
Clashes erupted and "15 members of the armed criminal group ... were neutralised and four more attackers detained", the ministry said in a statement.
The MVD released photographs showing the bodies of several black-clad men on the ground next to a burned-out vehicle at the scene of the clash, with automatic rifles lying nearby.
Four vehicles the group were using were destroyed, the ministry said.
The captured assailants admitted to crossing into Tajikistan from Afghanistan on Sunday (November 3), according to the border guard service.
"All the attackers are members of the so-called 'Islamic State' terrorist group," the service said in a statement.
IS has not confirmed it was behind the attack.
Authorities have closed all roads in the area and have set armed checkpoints in other parts of the country, including in Dushanbe, Radio Free Europe/Radio Liberty reported.
Rise in Islamist extremism
In recent years Tajikistan has struggled with a rise in Islamist extremism.
More than 1,000 Tajiks joined Islamist fighters in Syria and Iraq in recent years, authorities have said.
The most notorious IS recruit from Tajikistan was Gulmurod Khalimov, who headed the MVD's special forces unit before announcing his defection to IS in a video attributed to the group in 2015.
His whereabouts are unknown. The United States is offering a $3 million (29.1 million TJS) reward for information leading to his capture.
In May, at least 32 people were killed in a prison riot in Tajikistan, including 19 members of IS and several guards.
In July 2018, an attack on foreign bicycling tourists claimed by IS left four dead and two injured.
Tajikistan shares 1,344km of border with Afghanistan, the world's largest producer of opium and heroin.
Incidents on the border frequently include shootouts and kidnappings of Tajiks by Afghan smugglers who then swap them for arrested traffickers.
IS setbacks, shifts
Recent reports suggest IS, with its so-called "caliphate" now gone, appears to be shifting its focus to Afghanistan and other countries close by.
IS was declared defeated in Syria by a coalition of forces including Kurdish militia in March 2019.
In May, IS announced the creation of "Pakistan Province" and claimed that its "Hind Province" branch attacked Indian forces in the Indian-ruled portion of Kashmir.
IS confirmed the death of its leader, Abu Bakr al-Baghdadi, in a statement October 31 and named Abu Ibrahim al-Hashimi al-Quraishi as his successor.
Al-Baghdadi, who had led IS since 2014 and was the world's most wanted man, was killed in a raid by US special forces in Idlib Province, Syria, October 26.