NUR-SULTAN -- Bakhtiyar Ibrayev, persuaded by propaganda disseminated by the "Islamic State" (IS), joined the group in Syria in 2013.
He calls that decision the biggest mistake of his life.
Ibrayev, 34, discusses his path to radicalisation in the documentary "Accusation and Regret". He is presently on trial in connection with charges of terrorism in Syria.
The film, which Kazakhstan's National Security Committee (KNB) posted on YouTube October 30, recounts that in 2007, Ibrayev flew from Kazakhstan to Egypt. In 2008, he followed the path of armed "jihad" to the Waziristan tribal region of Pakistan.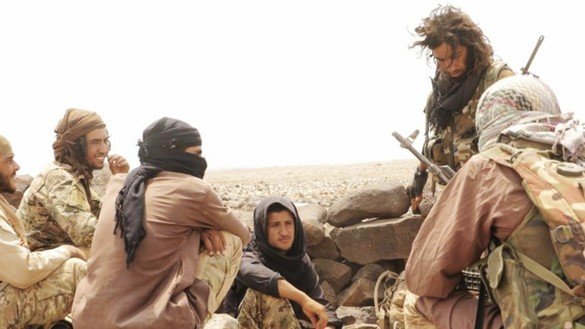 In 2013, he travelled to Syria, where he took part in combat and was injured.
Ibrayev, who went went by the alias Abu Ali in Syria, was captured by Kurdish forces in 2019. Kazakh authorities repatriated him, along with his wife and five children, as part of Operation Jusan (Bitter Wormwood). The humanitarian effort, which included multiple flights between Syria and Kazakhstan in 2019, brought back almost 600 Kazakhs from Syria.
He is one of 29 Jusan returnees who have been tried or are on trial in connection with charges of terrorist activities in Syria.
In the film, Ibrayev describes how in Kazakhstan he was tempted to join the extremist movement.
"At the mosque I was noticing how some young people were praying differently, and I began associating with them," he said. "At their recommendation, I started reading literature from Saudi Arabia ... That's how I gradually ended up in the movement."
'Over time, you start to believe'
He is now convinced that terrorist organisations circulate such literature to recruit youth.
"At the time, propaganda was saying that our Muslim brothers were suffering in the countries where wars were raging and that we needed to help them," Ibrayev added. "Over time, you start to believe that. I was young -- I was 17, and I had a young person's maximalist attitude."
The extremist "indoctrination" continued at an Egyptian school, where he went to study. Ibrayev left Egypt for Pakistan in 2008, believing the promises of propaganda that he would find "a world in which people live under Sharia law".
"When war broke out in Syria, many people started to go there. We didn't find the Sharia that we wanted in Pakistan, and we were hoping to find it in Syria. There was powerful IS propaganda -- we watched their videos," Ibrayev recalls.
In Syria, fighting as part of IS's Kazakh contingent, Ibrayev realised that he "did not want to die" and saw that he "was being used for their [IS's] purposes".
"By the time all of this dawned on me, it was hard to get away," he said. "IS had a security structure. It arrested those who wanted to escape. There were executions."
The United States initiated the evacuations of those who wanted to go home, and Operation Jusan filled him with joy, he said.
Seeking forgiveness
"I regret losing all those years," Ibrayev said. "I hope to return to a normal life ... I hope that society understands that we were being used. I have only one wish: After I get out of prison, I want to return to my loved ones and be worthy of their forgiveness, my mother's forgiveness."
Ibrayev's disillusionment after participating in IS activities is a common sentiment among those who were repatriated as part of Operation Jusan.
In September, the KTK television channel aired an interview with Makhambet Kajipanov, 37, who was sentenced to eight years in prison.
In the interview, Kajipanov says that he hates IS because it made him lose everything he had.
"There is no brotherhood or help there [in Syria under IS]. People are suffering there. They became my No. 1 enemy because they kill people like us. They lied to us," he said.
Dias Rakhmetov, 26, also was repatriated by Operation Jusan. In an interview with Radio Free Europe/Radio Liberty's Kazakh service published in September, he said he gave up his chance at a diplomatic career, for which he had been trained. He called his survival in Syria a miracle.
"I and everyone else who bought into the propaganda videos and went to Syria, we are emotionally unstable people," said Rakhmetov. "They [IS] won't release anyone -- they send people to a military training camp and sign them up for suicide missions. If they saw that someone had doubts, they could put them in prison or execute them."
Rakhmetov is serving a nine-year prison sentence.
Disillusionment, pain, suffering
These stories of radicalisation and the consequences that await those who join the cause of extremists should serve as a powerful lesson for others, said Ruslan Seksenbayev of Taraz, director of the NGO Beibit Aspan (Peaceful Sky).
Captured militants "are showing repentance and sincerely asking society for forgiveness, but they will suffer severe punishment for their crimes", he said.
"Such films need to be shown -- they provide firsthand, very heartfelt accounts of disillusionment," said Seksenbayev. "Pain, suffering, death: that is what awaits those who trade a peaceful life for participation in terrorist groups."
Still, he is heartened to see discussion rather than suppression of the issue, as well as the extensive measures that Kazakhstan is taking "to combat the catastrophe of the 21st century -- terrorism".
"Lately, I've been seeing that journalists, social activists and, of course, the government are taking steps together to fight violent extremism and terrorism," he added.
"In my opinion, in addition to law enforcement measures, the most effective way to clarify religious questions is through the media and through unmediated dialogue between theologians and radically minded laypersons," he added.