ALMATY -- Kazakhstan is accommodating ethnic Kazakhs from China who are fleeing Beijing's repression of ethnic minorities and are crossing the border to find refuge.
The Kazakh government on October 30 granted status as asylum seekers to Kaster Musakhanuly and Murager Alimuly, two ethnic Kazakhs who fled from China, Radio Free Europe/Radio Liberty reported, citing one of their lawyers, Bauyrjan Azanov. The final decision on their applications is pending.
Musakhanuly, 30, and Alimuly, 25, said at a press conference in Almaty on October 14 that they left Emin County, Xinjiang, China, in early October and crossed the border several days later. The men ended up in Zaysan District, East Kazakhstan Province, and from there made their way to Almaty.
The National Security Committee (KNB) arrested the pair after they admitted to illegally crossing the border, putting them at risk of deportation.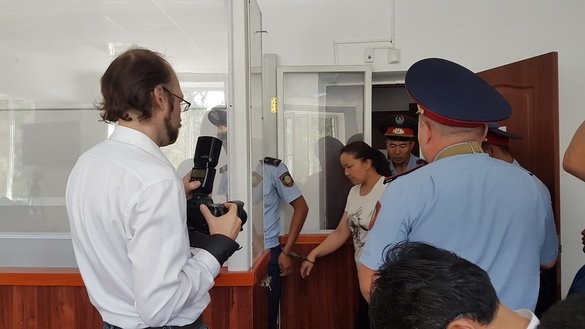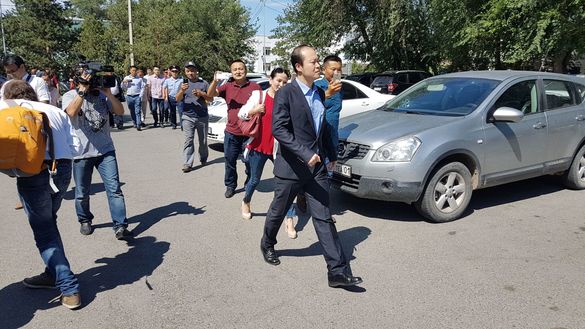 Beijing's persecution of indigenous Turkic-speaking Muslim communities in Xinjiang forced them to flee and leave their families behind, they said.
A million people, mostly of Muslim ethnic minorities, are estimated to be held in Xinjiang internment camps that authorities have called "vocational education centres", AFP reported.
There they are often forced to learn the Chinese national anthem and the Chinese language and study the state ideology. Measures taken in Xinjiang are aimed at combating terrorism and strengthening regional security, says Beijing.
Musakhanuly said that in Xinjiang he was "kept in a camp", where guards beat him. Alimuly also described an atmosphere of fear and humiliation.
Shocking facts from Xinjiang
The case is similar to that of Sayragul Sauytbay, a 42-year-old Chinese citizen who crossed the border into Kazakhstan in 2018 using fake documents.
Sauytbay, an ethnic Kazakh member of the Chinese Communist Party and a kindergarten principal, fled from China to Kazakhstan in April 2018 and was detained by Kazakh authorities.
Chinese authorities accused her of spying for Kazakhstan after her husband and children moved there first. They fired her, seized her documents and launched an investigation against her.
Chinese authorities persecuted her and her life was in danger there, said Sauytbay.
A court in Jarkent last summer handed down a suspended sentence and released her from custody, ruling that Sauytbay was not subject to deportation to China. At the trial, Sauytbay revealed shocking details about the camp where she worked for several months.
The camp, formally called a training centre where Chinese ideology was taught, was a "genuine prison", she said.
It held more than 2,500 ethnic Kazakhs and several similar facilities are situated in the area, she added.
Sauytbay, whom Kazakhstan eventually allowed to seek asylum with her family in Sweden, said migration authorities had told her that granting her asylum would risk angering China, AFP reported.
Landlocked Kazakhstan has described itself as the "buckle" in Beijing's trillion-dollar Belt and Road trade and infrastructure project.
International criticism
China has a repressive policy toward not only Kazakhs but also toward Kyrgyz, said Serikjan Bilash, an Almaty human rights activist who himself moved from China many years ago.
"These two peoples were never particularly religious, but that did not stop China from persecuting them as part of counter-terrorism measures," he said.
Even former residents of China who have received Kazakh citizenship and visited relatives in Xinjiang have been imprisoned there, Bilash added.
The international community regularly criticises Beijing's policies in Xinjiang.
The United States organised a joint event at the United Nations (UN) in Geneva on March 13 to raise awareness of "ongoing and egregious human rights abuses in Xinjiang, where more than one million Uighurs, ethnic Kazakhs, Kyrgyz and members of other Muslim minority groups have been detained since April 2017", according to a US State Department statement.
The United States, along with Canada, Germany, the Netherlands, and the United Kingdom, called on the UN to make these abuses a priority.
A British statement at the UN -- backed by 23 nations -- on October 29 also condemned Beijing's human rights record.
The statement expressed concerns "regarding credible reports of mass detention; efforts to restrict cultural and religious practices; mass surveillance disproportionately targeting ethnic Uighurs; and other human rights violations and abuses."
"The Chinese government should urgently... [refrain] from the arbitrary detention of Uighurs and members of other Muslim communities," it said.