DUSHANBE -- Observers are expressing concern that the Kremlin is using the alleged "Islamic State" (IS) attack in Tajikistan last week to play into the narrative that countries in Central Asia "need" Russian military assistance.
Tajik authorities November 6 said that 15 IS members were killed and five were captured during an attack on a border post with Uzbekistan. Two days later, IS claimed responsibility, saying 10 Tajik soldiers had been killed.
Russia, which maintains a military base in Tajikistan, quickly seized on the news, warning about potential IS incursions from Afghanistan into the region.
IS is setting up a base in Afghanistan to target ex-Soviet countries, Alexander Bortnikov, director of Russia's Federal Security Service (FSB), said November 7.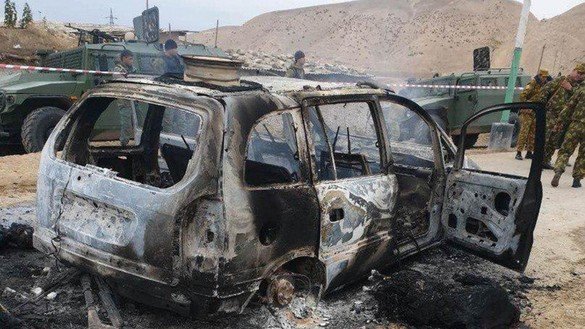 "We are seeing increased activity by IS units in Afghanistan," Bortnikov told a regional security forum in Tashkent, quoted by TASS state news agency.
"Their goal is to create a base to expand into CIS [Commonwealth of Independent States] territory," he said.
IS units in Afghanistan are all part of the IS Khorasan branch (IS-K) and are working in tandem with groups called Jamaat Ansarullah and the East Turkestan Islamic Movement (also known as the Turkistan Islamic Party), he said.
The expansion into the ex-Soviet countries "will be done by militants who are citizens of Central Asian republics and have experience in warfare as members of terrorist groups", Bortnikov said.
Russia has a history of using this type of scaremongering to bolster support for its interests in Central Asia. The timing of the FSB statement suggests more of the same.
Advancing Russian interests
Since 2005, Tajikistan has been guarding its own border with Afghanistan. Formerly, Russian troops helped patrol that frontier.
The Kremlin has not given up the idea of "proving" the need for its troops to return there.
In addition, the 201st Russian Base, which under a 2012 agreement is now entitled to stay in Tajikistan till 2042, is the largest Russian military installation abroad.
Observers of Central Asian-Russian relations see blatant self-interest in the Kremlin's remarks.
"Russia makes such statements in order to strengthen its military presence in Central Asia," said Talgat Ismagambetov, an Almaty-based political scientist.
"Arguments that the terrorist threat from Afghanistan is growing are questionable ... because IS is weak in Afghanistan."
Any attempts by IS to swarm from Afghanistan into Central Asia would run into the Taliban, IS's much stronger rival, and anybody -- Taliban or IS -- trying to conquer Central Asia would "have to fight Russian troops", he said.
"Russia ... is simply scaring its southern partners and trying to lure them into its integration projects," he said. "This message is especially directed at Uzbekistan, which is not part of the Collective Security Organisation or the EEU [Eurasian Economic Union]."
Murat Konokbayev of Bishkek, a former Kyrgyz diplomat, was similarly sceptical of Moscow's intentions toward Central Asia.
In Kyrgyzstan, Russia keeps multiple military bases in the secure north and no base at all in the more restive southern Batken Province, "though Bishkek has requested one from its ally for many years", he said.
Bortnikov's dire warnings about IS preparing to invade Central Asia are "exaggerated", Konokbayev said.
"The militants in Afghanistan ... give no signs of planning to attack [Central Asia]," he said. "This is characteristic rhetoric for Russian security agencies when they want to implement an agenda that serves Moscow."