NUR-SULTAN -- Dozens of analysts, diplomats and politicians from around the world took part this week in a Nur-Sultan meeting of the Astana Club -- a group that focuses on international affairs -- to discuss security in Eurasia.
The meeting Monday-Tuesday (November 11-12) showed that Kazakhstan "is an independent and neutral platform for dialogue, open to all participants in international relations", the Institute of World Economics and Politics (IWEP), which organised the event, said in a statement.
The club has convened annually since 2015, with more than 200 speakers from 40 countries, including the United States, Germany, Great Britain, France, Japan, South Korea and others, having taken part since its inception, IWEP said.
The meeting's headliners included Jonathan Granoff, the president of the US-based Global Security Institute; former Afghan president Hamid Karzai; former Belgian prime minister Yves Leterme; and Dimitri Simes, president of the US think-tank The Centre for the National Interest, among others.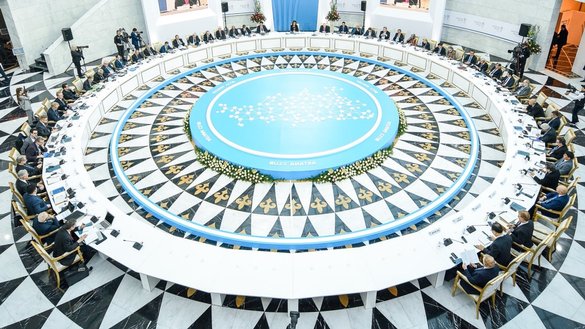 The agenda for this year's meeting included pressing security issues and the strategic future of countries situated in Eurasia.
The Foundation of the First President of Kazakhstan presented IWEP research that ranks the top risks facing Eurasia in 2020.
About 40 specialists and politicians, as well as international institutions and major media outlets, took part in the study. The authors of the study polled more than 1,100 respondents from 70 countries, according to the foundation.
A new surge in terrorism, as well as a wave of aggressive nationalism and populism, were among the main threats.
"Despite the defeat of Daesh [the Islamic State (IS)], terrorist groups are going through a new phase in their development, expanding the geographic reach of their actions," the study said.
"The chimeric product of this dangerous evolution is 'lone wolves.' At the same time, the world is facing extreme occurrences of so-called 'white' [supremacist] terrorism and terrorism by other faiths, whose victims are Muslims and migrants," it said.
Analysts also spoke of the danger of cyber weapons, which terrorists could use to achieve "terrible" consequences.
Nuclear security was another subject during the meeting, with participants discussing the possibility of a new policy document on nuclear disarmament.
"A new agreement must be binding on all parties to the 'club regulatory process', including China. Kazakhstan is ready to mediate between the nuclear powers," the organisers said in a statement, referring to a proposal raised by Nursultan Nazarbayev, the former Kazakh president, during the meeting. It calls for the creation of a Global Alliance of Leaders for a Nuclear-Free World.
"The heating up of hot spots and emergence of new war zones have become a new reality. Global challenges require global collaboration. Security in Central Asia is the key to the sustainability of all trans-Eurasian co-operation," the Astana Club said in a statement on its website.
Kazakhstan -- a global mediator
During the meeting, Danilo Turk, former president of Slovenia, noted "Kazakhstan's great experience in initiating processes" such as creating nuclear-weapon-free zones.
Kazakhstan's foreign policy displays a capacity for effective integration, mutually beneficial co-operation and creation of international alliances, emphasised Dariga Nazarbayeva, chairwoman of the Senate.
"Once again, Kazakhstan is acting as an initiator and mediator in solving global, international problems and threats," said Yernar Beisaliyev, a Nur-Sultan-based political scientist.
"A serious study was conducted with a large representative sample. It revealed a number of major threats to our countries. And one of them is terrorism, which despite [IS's] decline, continues to be a big headache," he said.
Residents of Kazakhstan are hopeful that international events like this will help solve security issues in the region.
"I'm proud that such a big event -- a meeting of prominent world politicians -- took place in our capital," said Aisulu Aijanova, a 54-year-old resident of Nur-Sultan.
"I hope they find a solution to pressing issues such as terrorism. We, ordinary Kazakhs, follow the news and fear problems that may arise," she said.
"We want to live in an independent country, free from extremism, in harmony with neighbouring countries, and not in fear of terrorism and wars," she added.