BEIRUT, Lebanon -- Russian air strikes on Sunday (November 17) killed nine civilians in the Syrian province of Idlib, while the Kremlin's territorial expansion is being met with violent opposition in other parts of the country.
Five of the victims died in the village of Al-Malaja in southern Idlib Province while the other four were killed in raids on the town of Saraqeb in the east, according to the Syrian Observatory for Human Rights.
A number of people were wounded, some seriously, the monitor's head Rami Abdel Rahman told AFP, though he was unable to say how many.
The Idlib region, home to about three million people including many displaced by Syria's eight-year-old civil war, is one of the last holdouts of opposition to forces of Syrian President Bashar al-Assad.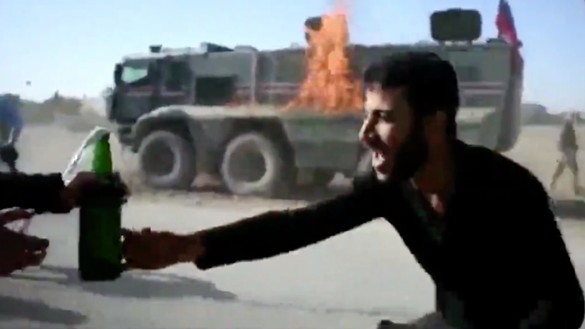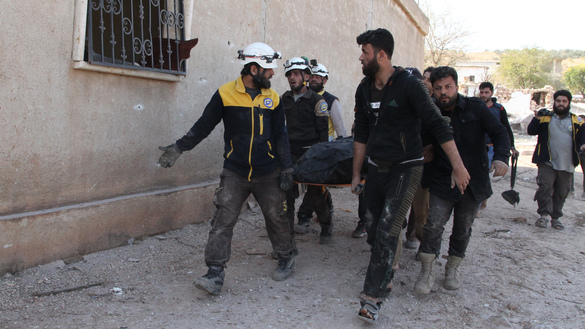 A ceasefire announced by Russia has largely held since late August.
But the Observatory says 48 civilians -- including 16 children -- have been killed in Russian air strikes on the region since the start of November.
Syria's conflict has killed 370,000 people and displaced millions since beginning in 2011 with the brutal repression of anti-Assad protests.
Syrians rise up against Russia
Russian military operations have resulted in more than 6,500 civilians' deaths, the Syrian Network for Human Rights said in its 40-page report issued September 30, the fourth anniversary of Russia's military intervention in the Syrian conflict.
The Kremlin's deadly operations aimed at expanding Russia's territorial occupation of Syria have been met with fierce and angry resistance from locals.
In the newest sign of growing unrest, a video posted on social media Monday (November 18) shows local Syrians hurling Molotov cocktails and rocks at Russian military vehicles patrolling areas the Kremlin is attempting to occupy.
A number of local media outlets and social-media users in Syria also posted videos of residents pelting Russian troops with stones on November 6.
Videos and pictures show angry residents of Kobane, Syria, throwing large stones at several convoys of Russian vehicles.
In one scene, several dozen civilians managed to stop two Russian armoured vehicles and some of them climbed onto one of the cars with Russian military police insignia, a video released by local news outlet Anha showed.
Similar incidents have since occurred, including locals attack Russian military vehicles in al-Muabbadah on November 8.
There is also new evidence that Russian warplanes deliberately bombed hospitals in Syria to undermine the Syrian opposition.
Meanwhile, Western nations have continued to urge Russia and Syria to halt their attacks on civilians.