ASHGABAT -- As Turkmen citizens who have joined the "Islamic State" (IS) terrorist group continue to be captured abroad, concern is growing that Turkmenistan needs to do more to address the causes of radicalisation in the country, observers say.
Turkey is extraditing six Turkmen citizens detained for belonging to IS to their home country, Turkish newspaper Hurriyet reported on November 13.
Turkmenistan is on the list of countries whose citizens have been arrested in Turkey as IS fighters, according to Hurriyet. The list includes Uzbekistan, Tajikistan, Kazakhstan, Afghanistan, Russia and Iran.
A total of 959 detainees are subject to extradition from Turkey, of whom 82 are citizens of Uzbekistan, 23 from Kyrgyzstan, 21 from Tajikistan and 10 citizens of Kazakhstan, the report said.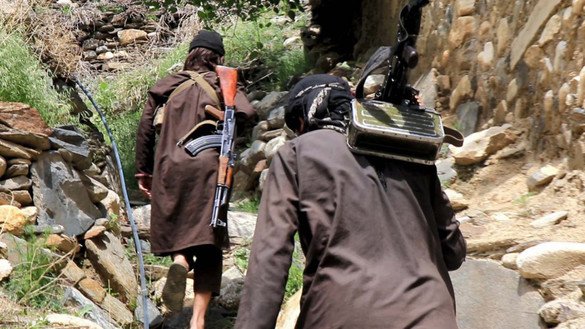 According to the list, the largest number of those fighters who joined IS -- 99 people -- were citizens of Russia.
The IS members' detention is the result of 1,201 operations conducted by Turkish security agencies since the beginning of 2019, Hurriyet reported.
"They [IS members] will be extradited to their own countries by the end of this year," the newspaper wrote.
Some of the IS militants were captured during the fighting in Syria, while others were caught while trying to flee coalition strikes or while trying to illegally cross from Syria into Turkey, reported Radio Free Europe/Radio Liberty (RFE/RL)'s Turkmen service, citing Turkish media. It did not specify how those captured in Syria ended up in Turkish hands.
Deported IS members imprisoned in Turkmenistan face severe punishment, according to Halyk, an officer at the Turkmen Interior Ministry (MVD)'s Penitentiary Service, whose last name and position cannot be given for his protection.
They will be placed in a special area of Ovadan Depe prison, where one section is reserved for convicts who adhere to Wahhabism and other extremist versions of Islam, he said in an interview.
Ashgabat's official position
Turkmen leaders have said that the country opposes terrorism and supports the global community's efforts to create effective international mechanisms to combat this threat.
"We stand for the full implementation of the UN Global Counter-Terrorism Strategy," President Gurbanguly Berdymukhamedov said on October 25 at the XVIIIth Summit of the Non-Aligned Movement in Baku, local media reported.
The government has not done enough to address the root causes of radicalisation in the country, said Ykhlas A., an employee of the 6th Department for Combating Organised Crime and Terrorism of the Turkmen MVD.
"In order to recover from alcohol or drug addiction, it is psychologically important for the patient say publicly that he or she is sick. This also applies to the fight against extremism," said Ykhlas, citing other Central Asian countries as examples.
"Look, our neighbours in the region openly talk about their compatriots who joined IS," he added. "They are taking measures to return militants' wives and children to their homeland and to help them forget the past and start a new life. We either keep silent or deny the obvious. And this is not good."
In 2019, media including RFE/RL's Turkmen service, Reuters and the pro-Kurdish Euphrates News Agency reported that Turkmen citizens were identified among IS militants in Syria.
The exact number of Turkmen nationals who have joined IS and other terrorist groups is not public. The government blocks information on the participation of Turkmen in conflicts abroad as well as on individuals accused of recruiting for IS.
No one can deny that a significant number of Turkmen citizens have succumbed to radicalisation and that it is time for the government to more aggressively tackle the issue and eradicate the conditions and factors that push citizens to join extremist outfits, say observers in Ashgabat.
Social roots of terrorism
All crime has social roots, said Ykhlas of the MVD, a specialist in fighting organised crime and terrorism.
"Most Turkmens adhere to moderate Islam. They are not fanatics. If someone succumbs to the influence of radicalism, it is not for ideological reasons but rather economic reasons," he said.
Ashgabat-based political analyst Perkhat Rejepov agrees.
Unemployment, inflation and depreciation of the Turkmen manat are just some of the issues tempting Turkmens to seek work abroad, where they find themselves targeted by militant groups for recruitment, he said.
"Imagine a young man comes to Turkey to earn $7 to $10 [24.6 to 35.1 TMT] a day for many hours of grunt work, but a recruiter there offers him $50, $100, $1,000 [175.5, 351, 3,510 TMT] to participate in hostilities or for a one-time terrorist act. Do you think he can resist the temptation to earn a lot and quickly? I think not," said Rejepov.
"There were videos on the internet in which the detained Turkmen citizens admitted that they did not become jihadists for Islam's sake but rather in order to improve their material well-being," he added.
On September 4, RFE/RL's Turkmen service reported that over the past 10 years, almost 1.9 million Turkmen citizens have left the country to work or study abroad.
"They say that every family has a black sheep. Among so many citizens who have left in search of the means to live, there will certainly be someone who cannot resist the temptation," Rejepov said.
About 400 Turkmen citizens were part of IS in Syria and Iraq in 2017, according to the Soufan Group, a US-based think-tank.