BISHKEK -- Russian energy giant Gazprom is being sued over its ownership of a state-of-the-art middle school in Bishkek by a human rights group, which claims that handing over state educational institutions to private entities is unlawful.
The school, which Gazprom built and opened this year, was initially on city hall's balance sheet. Later, it transferred ownership to Gazprom.
Our Right, a Bishkek-based NGO, November 15 sued to challenge the transfer of the public school to the Russian company.
Gazprom gained control of the school in violation of the law, said Our Right spokeswoman Svetlana Antropova.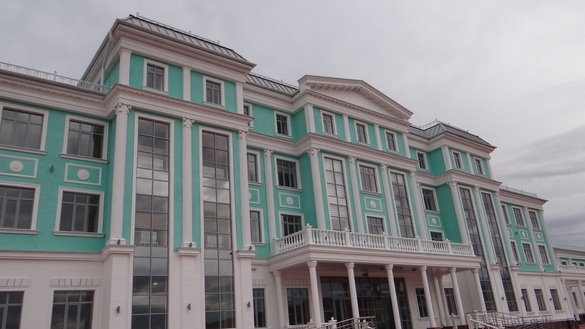 "Transfer of the school to Gazprom had to be put up for public discussion, which was not done," Antropova said.
"Municipal property, which this school is, belongs to the local community, that is, the citizens of Kyrgyzstan living in Bishkek. The school should not even be charging tuition."
Middle class shut out
The so-called Gazprom school in Bishkek was at the epicentre of a scandal before it opened.
The utility promised locals it would build an ultra-modern public secondary school, where disabled children as well as children from low-income, socially disadvantaged families would be able to study without facing a tuition charge.
Gazprom made the promise after acquiring a 100% stake in Kyrgyzstan's largest gas supplier Kyrgyzgaz in 2013 for the token sum of $1.
In exchange, the Russian energy giant pledged to modernise and renovate Kyrgyzstan's gas infrastructure over five years. In addition, Gazprom was supposed to build sports facilities and schools in the Central Asian republic.
The Gazprom school opened its doors this school year.
The new educational institution has 33 modern classrooms, computer rooms, a multimedia library, laboratory, auditorium, 350-seat cafeteria, two gymnasiums, two indoor swimming pools and outdoor sports fields.
Bishkek's city hall, in turn, allocated a 3.5-hectare site for the school and even built an asphalt road to the school.
However, in the summer it became clear that parents would have to pay for all these facilities and that even Kyrgyzstan's middle class could not afford the price.
The monthly tuition at the Gazprom school is 22,000 KGS ($315). In Kyrgyzstan, according to official statistics, the average monthly salary in 2018 was 16,415 KGS ($235).
Locals, who eagerly anticipated the school's completion in order to send their children, were shocked and called Gazprom's policy a "fraud against society".
Gazprom intended to make money from the school from the start, said Anara Dautaliyeva, a Bishkek-based rights activist who heads the NGO Taza Tabigat (Pure Nature).
"Ordinary people, for whom public amenities such as schools should be built, were deceived by Gazprom and deprived of the fundamental opportunity to attend school," she said. Gazprom took advantage of the Kyrgyz government's pliability in order to impose its decision, she said.
Screening out children with disabilities
Gazprom's reluctance to fulfil explicit and previously agreed-to commitments -- such as providing free tuition for disabled children -- has also spurred anger among residents and human rights activists.
Gazprom was supposed to set aside 20% of the school's slots for children with disabilities.
The State Committee for National Security (GKNB) is investigating the school's process for admitting children with medical conditions, said Dautaliyeva.
It is highly likely that the selection process involved corruption and bribery, said Dautaliyeva.
Gazprom apparently has used various pretexts to deny admission to children with medical conditions.
Baktygul Chynybayeva, a Bishkek-based activist and freelance reporter for RFE/RL, posted on Facebook what she said was an approved list of requirements for admission of disabled children to the school.
The list creates several barriers that make it possible to screen out children with medical conditions, including the need to collect about 10 different documents, as well as very specific requirements for existing conditions.
In particular, the list requires that children must have "the skills to care for themselves," "be able to move about on their own" and "not require an attendant at school".
Another requirement, "Item 10", denies admission to children with intellectual and physiological disorders, epilepsy and nervous system disorders.
The last item on the list decisively buries the hopes of parents who wanted to send their children with medical conditions to the "socially oriented" school: "Children are enrolled only within the established quotas per classroom, according to the open spaces provided."
Thus, not all children, even those who are able to satisfy the criteria, will be lucky enough to get into the school as the open spaces are limited. This restriction creates the conditions for corruption in the selection of children from disadvantaged categories, Chynybayeva wrote on Facebook.
"Moms of special children initially jumped for joy and ran to get documents. When they went to school and came across these provisions, they cried," she said in the post.
"Item 10 clearly discriminates against children with disabilities! What kind of inclusion is that? Why are they being so cagey? Why raise hopes if this is a school for the 'elite' who have money? Gazprom gets a failing grade!" Chynybayeva wrote.
"The worst thing in this situation is that they trampled on the rights and hopes of mothers who have to raise children with medical conditions," she added.
[Aibek Saidykulov from Bishkek contributed for this report.]