NUR-SULTAN -- Russia is using administrative tools to keep Kazakh entrepreneurs and their products from entering its market, according to Atameken, the National Chamber of Entrepreneurs of Kazakhstan.
As a result, Moscow is flouting key principles of the Eurasian Economic Union (EEU), which it leads.
"We need to acknowledge the existence of so-called oral instructions about not allowing Kazakh products into retail chains in [Russia's] border regions," the business news site Lsm.kz November 18 quoted the Nur-Sultan-based business alliance as stating.
Repeated restrictions on Kazakh products
The barriers and restrictions from the Russian side are "hard to document", but the anecdotal evidence is clear, Atameken said.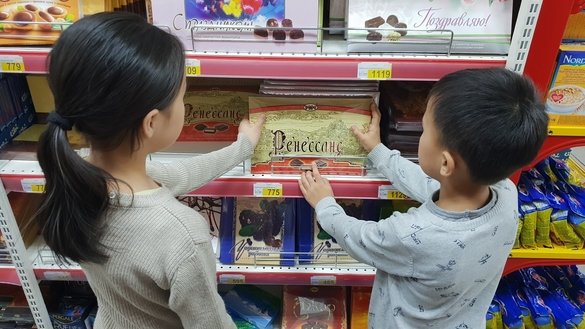 For one thing, Russia discriminates against Kazakh entrepreneurs when conducting government procurement, according to representatives of the chamber.
Russian government agencies generally give unfounded preference to their own country's producers, according to Atameken.
For example, Rosselkhoznadzor, the Russian agricultural regulatory body, has repeatedly placed restrictions on dairy products and frozen uncooked food from Kazakhstan.
Furthermore, Russian authorities have not offered convincing justifications for these restrictions and in some cases used unfounded claims to justify their actions, according to Atameken.
"Rosselkhoznadzor said that E. coli was allegedly found in Kazakh milk," Atameken said. "However, an analysis of the product done in laboratories in Kazakhstan and even in Omsk, Russia, did not uncover anything of the sort."
Aset Nurtayev, an entrepreneur from Kostanay, 170km from the Russian border, said that Russian customs agents regularly do not let his dairy products through, providing various excuses.
"They demand a separate certificate of origin in addition to the standard documents, and I don't have time to get it because I have a perishable good," Nurtayev said. "But even if I show one, without fail they come up with something else."
Russia's protectionist policy
A series of recurring events shows just how systematic Russia's protectionist policy is.
The Kazakh news site Informburo reported in September that Rosselkhoznadzor sent Kazakhstan's Ministry of Agriculture a letter saying that "unstated trace DNA levels" had been found in meat products delivered to Moscow by the Kazakh company Becker & K.
At a meeting with members of the Eurasian Economic Commission (EEC), which settles disputes between EEU member countries, Becker & K CEO Almaz Tubekov pointed out that although his company abides by technical regulations, during the past three years it has run up against administrative obstacles in Russia.
Russian authorities "with excessive strictness monitor all food coming from the EEU, both at the border and during inspections in stores", he said.
"We perceive protectionism from Rosselkhoznadzor," he added.
In February, Konstantin Fedorets, CEO of Rakhat, a leading Kazakh candy maker, told reporters in Almaty that Russian businesses are constantly involving Rakhat in lawsuits, while the regulatory bodies routinely seize the company's products.
"Russia prefers to act from a position of strength everywhere, including in retail," he said at the time.
More recently, Kazakh President Kassym-Jomart Tokayev personally raised the issue of Russia's unfriendly policies toward trade partners.
"Out of a desire to protect the positions of [Russian] manufacturers ... various inspections are introduced, along with additional requirements at the regional level, implicit orders and so on," he said October 1 at a meeting of the Supreme Eurasian Economic Council in Yerevan.
"Such practices are unacceptable and conflict with the principles of our integration," he said.
Entrepreneurs question functionality of EEU
Moscow is able to avoid accountability because the orders not to admit Kazakh goods come from provincial governments, said Jibek Ajibayeva, vice president of the Kazakh Association of Trade Enterprises.
"As long as the governors give such orders, the EEU will not function," she said.
"Early on, our entrepreneurs were apprehensive about participating in the EEU," she said.
"Russia co-ordinates the EEU, and we can see the result," Ajibayeva said. "The EEU shouldn't have older and younger brothers; we should all be partners with the same rights."
It is essential to revamp all the technical standards and laboratory analysis methods that Rosselkhoznadzor implements, she said.
However, even such steps might not solve the problem.
When Kazakhstan's Ministry of Trade and Integration and business associations go through the EEC to promote solutions to remove barriers, "Russia either ignores them or interprets them as they wish to their own advantage", Lsm.kz reported November 18.
Atameken has complained that EEC decisions to eliminate hurdles on the Russian side are either blocked or not fully implemented, added Lsm.kz.
'How can we survive?'
Kazakhstan does not inhibit the import of Russian goods, a point backed up by the abundance of Russian products in local retail chains, said Nurtayev the dairy entrepreneur.
"We as Kazakh entrepreneurs are placed in a difficult situation when we can't compete with Russian companies either in Russia, because they don't let us into the market, or in Kazakhstan, where they 'dump' their merchandise [purposely selling at a loss]," he said. "How can we survive?"
It is time for the Kazakh government to consider introducing tit-for-tat measures against its northern neighbour in order to protect the domestic market and its producers, he suggested.