ASHGABAT -- A meeting between Turkmen and European Union (EU) officials last week ended with a pledge that the EU remains focused on co-operation with Turkmenistan on various matters, including security.
EU Special Representative for Central Asia Peter Burian conferred with Turkmen officials in Ashgabat November 20-21.
The conferees paid special attention to maintenance of economic growth, stability and security in the region, the Turkmen Foreign Ministry said in a statement November 21.
During the talks, Burian noted the geopolitical significance of EU-Turkmen co-operation.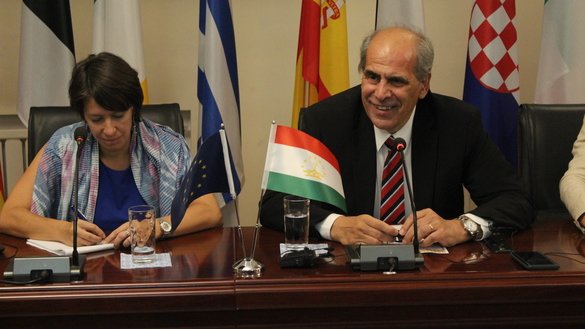 Turkmenistan is one of three Central Asian states that border Afghanistan and is facing growing issues related to returning members of the "Islamic State" (IS) from the Middle East, and how to deal with radicalisation among its population.
Turkmenistan is also a potential exporter of natural gas to EU countries, yet has met stiff opposition to its energy ambitions and subterfuge by the Kremlin.
The conferees pointed to Turkmenistan's development of friendly relations with all EU countries as part of its "Open Door" policy.
Turkmen participants included Deputy Foreign Minister Vepa Khajiyev.
Participants noted the high level of co-operation between Turkmenistan and the EU. Besides human rights and dialogue between their parliaments, they discussed energy, transport, the environment and other spheres.
Since 2003, the EU has aided Turkmenistan's border security through the Border Management Programme for Central Asia (BOMCA). The aid included a workshop in Ashgabat earlier in 2019 that trained 18 border guards from four Central Asian countries, including Turkmenistan.