DUSHANBE -- Tajikistan fell 24 places in the 2019 edition of the annual Global Terrorism Index (GTI). Among 163 countries, it ranks as the 50th worst affected by terrorism. Afghanistan finished in first place, meaning it was the country worst hit by terrorism in 2018.
The Institute for Economics & Peace (IEP), a think-tank based in Sydney, Australia, released the GTI Wednesday (November 20).
In the new GTI, Tajikistan, though its standing worsened from the previous year, is listed as having a low terrorism threat.
The report attributes Tajikistan's fall in the rankings mostly to a November 2018 riot at a prison in Khujand that took at least 27 lives. An "Islamic State" (IS)-affiliated inmate started the riot, according to an unverifiable claim by Amaq, IS's propaganda agency.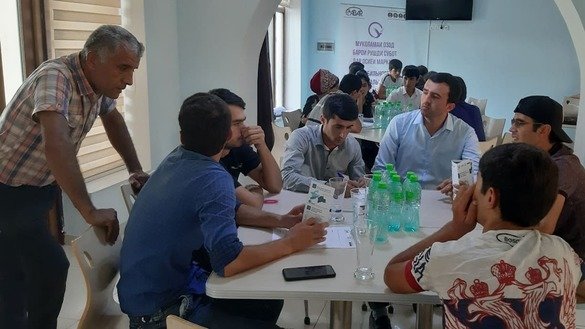 IS also took responsibility for the murder of four foreign bicyclists in Danghara District in July 2018.
Earlier this month, Tajik authorities on November 6 said that 15 IS members were killed and five were captured during an attack on a border post with Uzbekistan.
Only post-Soviet state to slip on GTI
This year's edition is the seventh edition of the GTI. It analyses terrorism trends extending from 1970 through 2018.
Nine of 12 countries in Russia and Eurasia saw their GTI rankings improve in the GTI. Two had no change. Only Tajikistan lost standing.
In contrast, Kazakhstan has had no recorded terrorist incident for two years.
The GTI reported four consecutive years of reduced deaths from terrorism. They peaked at 33,555 in 2014, plummeting to 15,952 in 2018.
Fighting radicalisation
Aware of its security challenges, Tajikistan is working to defeat extremism, both with the help of other Central Asian states and of NGOs.
In October, Kazakh and Tajik forces participated in joint exercises in Tajikistan. They involved a hypothetical scenario in which organised groups of smugglers breached the Tajik border from Afghanistan and began a battle with border troops.
Meanwhile, the London-based Institute of War and Peace Reporting is conducting training in Tajikistan to help activists reach residents, especially youth, who are at risk of joining terrorist outfits. The "Stability in Central Asia through an Open Dialogue" project began in August 2018 and is set to run until March 2020.