NUR-SULTAN -- Researchers in Central Asia recently published two studies on radicalisation and violent extremism in the region.
The studies, both published in July, were backed by the European Union as part of the project "Contributing to stability and peace in Central Asia through media literacy, improved reporting and regional co-operation", Internews in Kazakhstan reported November 18.
Search for Common Ground, an international non-profit organisation, conducted one of the studies, called "Information Flows and Radicalisation Leading to Violent Extremism in Central Asia".
The aim of the study was to identify and analyse the local drivers of extremist sympathies, pertinent information flows and trusted sources of information.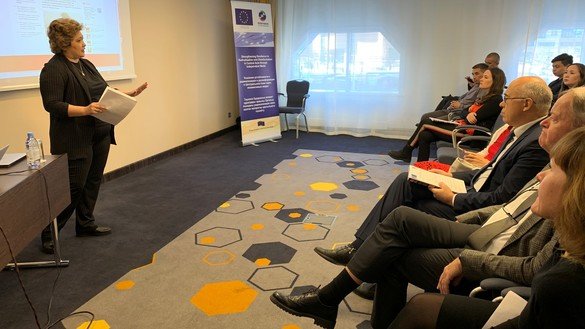 The study was carried out in several stages.
Researchers first analysed available and accessible documents, reports and media material. They then held 201 interviews -- 46 interviews with specialists and 155 interviews with ordinary respondents, most of which were youth, women and labour migrants. A series of surveys also took place in Kazakhstan, Kyrgyzstan and Tajikistan.
"Central Asia, having contributed a large number of recruits to the fighting in Syria in Iraq, became the locus of sustained concern for threats of radicalisation, violent extremism and terrorism," said the study.
"The return of fighters back to their home region, radicalisation of new people and activation of new groups ... remain salient threats for the region," it said.
The study noted the difficulties of researching Uzbekistan and Turkmenistan, for which it could "propose observations ... only to a limited extent".
The study found three main drivers of extremist sympathies: political, economic and ideological.
Political drivers include injustice at the hands of government agencies, ethnic discrimination and oppressive regimes.
Economic drivers include unemployment, debt, poverty and a desire to get rich quick.
Ideological reasons include a resentment of modern values and a desire for a singularly just and true life and for reward in a perceived afterlife.
Violent extremism in Central Asia
Meanwhile, the Civil Initiative on Internet Policy, a Kyrgyz non-governmental organisation, and The SecDev Group, a Canadian consultancy, recently published their own study on violent extremism in Central Asia.
The authors of the study conducted a review of terrorist groups, laws of Central Asian countries and law enforcement practices to combat violent extremism online.
"Judicial transparency in cases involving terrorism and extremism is poor in the Central Asian countries ... Statistical data and information on prosecutions, convictions, and judicial decisions on extremism are often unavailable," said the study.
Extremist groups are adapting their tactics on social media in response to increased policing, the study found.
"We found very few pages openly calling for violent extremism," it read.
"Instead, narratives and content on identified accounts and pages actively promote both meta-narratives of Muslim oppression and encrypted chats and channels on closed social media, usually Telegram."
Specific suggestions
"Extensive studies that lasted several months have been conducted. This is a colossal work, the results of which will benefit both the future Internews projects and the work of government agencies and civic groups of Central Asian countries," said Murat Argimbayev, a theologian from Shymkent.
He highlighted the value of specific recommendations for the subsequent fight against radicalisation and violent extremism, which were reflected in the findings.
Based on the results of the studies, journalists are urged to undergo training on sensitive topics related to religion, he said.
"Recommendations are given to government agencies: to identify target groups precisely when conducting preventive work and to conduct media literacy training," Argimbayev said.
"There are useful instructions for researchers and for aid organisations. Everyone who works in the field of countering violent extremism "should have a look at these studies and draw appropriate conclusions", he said.
"Also, the studies indicate the need for more-effective blocking of illegal content, involvement of local communities in the implementation of projects and appropriate education of the public," Argimbayev said.
"All these measures, implemented together, will lead to a sustainable positive result."