ASHGABAT -- More Turkmens are cutting off access to Russian state-controlled TV channels -- often used to promulgate the Kremlin's ideology -- amid a transition to digital broadcasting.
The urban population in multi-storey apartment buildings has stopped using satellite dishes at the request of local authorities who consider them to be a blight on Turkmen cities, said a technical support manager for Turkmentelecom, the state telecom firm.
"The total number of individual satellite dishes on residential rooftops and facades cannot be counted," said the manager, who spoke on the condition of anonymity and chose to use the name Azat.
"Each person installed them in his [or her] own way, which is why they really spoiled the architectural look of cities," he added.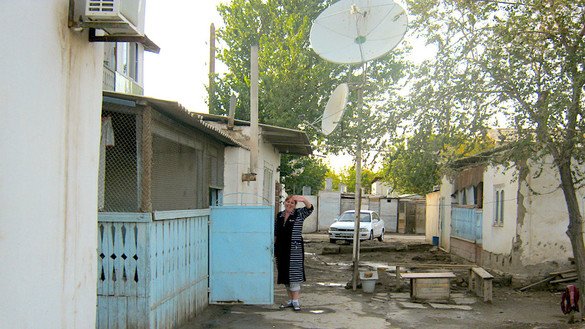 As Russian channels transition to digital signals, rural residents -- who make up more than 50% of Turkmenistan's citizens -- are losing the ability to watch Russian TV.
Russian TV channels were disconnected in the last 10 days of October, some rural residents of Turkmenistan have said.
Bairamgeldi Araznepesov, a resident of Köneürgench District in northern Turkmenistan, confirmed that Russian TV channels can no longer be accessed in his area.
"Our satellite antennas no longer receive Channel 1 or Russia 1," he said.
Currently, a satellite dish lets its user watch only local Turkmen channels and some Uzbek and Turkish channels, Azat said.
Faces of propaganda
Some Turkmen citizens are content that Russian TV channels and TV programmes are no longer available via a satellite dish.
Sona Omarova, a resident of Bayramali in the south, said she is happy she will no longer have to see the "faces of the Kremlin's propaganda" on the screen, referring to Russian political talk-show hosts.
"We are already tired of their bias and open hostility when broadcasting programmes about Ukraine and its problems, as if Russia had no problems of its own," she said.
"In my opinion, it's better to remain in an information vacuum than to see their faces and listen to the same thing every day," she added.
Other residents said that Russian TV channels will not be missed as they show too much violence.
Still, some Turkmen citizens regret the loss of TV channels.
Araznepesov is upset that he can no longer watch some TV films as well as matches of the qualifying round of the European Football Championship. He also is dismayed that access to news outside Turkmenistan has been restricted by the loss of the channels.
"We basically lost access to information," he said.
Switching to cable TV
Azat, the manager at Turkmentelecom, lauded the moves by cities to eliminate satellite dishes.
"Nowhere in the world will you find as many satellite dishes as we have," he said.
The population began buying and installing the TV receivers en masse in the mid-1990s, when the government stopped relaying foreign TV channels.
Most families in the country have at least two dish antennas -- one to receive the TV signal from the Russian satellite Yamal, and the other to capture a signal from the European satellite HotBird, said Azat.
Installing them allowed Turkmens to watch or hear hundreds of TV and radio channels from around the world for free, including radio broadcasts from Radio Free Europe/Radio Liberty's Turkmen service.
The fight against satellite receivers began in 2007 after President Gurbanguly Berdymukhamedov came to power. The campaign to remove them, which began in the capital, is now reaching all major provincial cities.
"Instead of free satellite TV, our Turkmentelecom offers the population a paid cable TV package including ... Uzbek and Turkish channels. People are happy to pay and connect to cable," Azat said.
Setting up cable TV costs 50 TMT ($14.25), and a monthly subscription is 10 TMT ($2.85), said Omarova the Bayramali resident.
"The prices are quite affordable for the vast majority of the population," she said.