BISHKEK -- Kazakhstan and Kyrgyzstan last month agreed to bolster military co-operation between the two countries, notably in enhancing the combat readiness of their respective air forces.
Both countries grapple with a number of shared security challenges that increased military co-operation could assuage. They still host Russian forces at multiple installations 28 years after the fall of the Soviet Union. Hundreds of their radicalised citizens joined "Islamic State" (IS) in Syria and Iraq and are returning or trying to return home by various means. Attempts by returnees to commit terrorist acts in their homelands are a continuing concern.
The Kyrgyz general staff and Kazakh Defence Ministry signed an agreement on November 27 to facilitate landing rights for and the maintenance and protection of military aircraft at airfields of both countries.
The document was one of several agreements signed during an official visit by a Kazakh delegation, headed by President Kassym-Jomart Tokayev, to the Kyrgyz capital of Bishkek.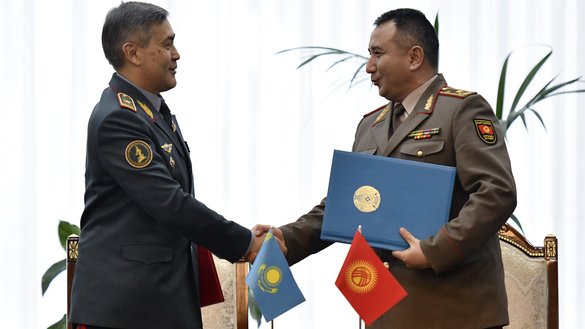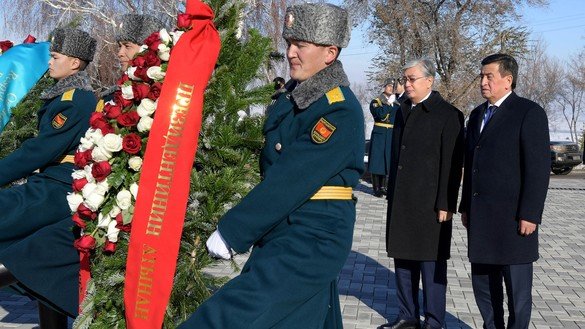 Tokayev conferred with Kyrgyz President Sooronbay Jeenbekov on security and other matters. In addition, a meeting of the Supreme Interstate Council of the two countries took place.
Other agreements reached between the two countries during the visit include the signing of the Comprehensive Co-operation Programme for the next three years along with an accord to construct a border bridge.
The participants also concluded agreements in other matters including migration, health care, logistics and efforts to combat economic crimes.
Joint military exercises, concern with counter-terrorism
Still, the strengthening of military co-operation was the highlight of the summit.
"The agreement aims to increase the combat readiness of the air forces of Kyrgyzstan and Kazakhstan," said a Kyrgyz serviceman from Bishkek who spoke on the condition of anonymity. "It is about conducting exercises and providing airfields with all the necessary equipment."
The accord covers a range of measures related to technical support including the free provision of data, radio and lighting systems as well as of parking for airplanes and helicopters, he added.
"The agreement is being adopted for a specific term, and then automatically renewed if there are no disagreements at that point," the serviceman said.
The two militaries have worked with each other and with US forces on sharpening their counter-terrorism abilities.
In 2019, Kazakhstan and Kyrgyzstan held several joint exercises, including anti-terror exercises that took place on the shore of Lake Issyk-Kul in Kyrgyzstan in September.
In addition, on June 17, the Steppe Eagle exercise took place at the Illisky Training Centre in Kazakhstan. Under the leadership of the US Army, soldiers of Central Asian countries honed their skills in joint operations.
In May, Kazakhstan entered into an agreement with Kyrgyzstan to co-operate in military intelligence.
Increased co-operation between their armed forces is an important step to ensuring the continuing security of both countries, said Yernar Beisaliyev, a Nur-Sultan-based political scientist.
"It is worth noting that in April this year, a similar agreement was signed between Kazakhstan and Uzbekistan," he said. "The countries of Central Asia increasingly understand the importance of joining forces to potentially counteract external adversaries or terrorist gangs."
'Shared history, shared calamities'
A shared historic trauma sent the two presidents to a Bishkek site.
They laid wreaths at the Ata-Beyit (Grave of Our Fathers) Memorial Complex to honour the Kazakhs and Kyrgyz who staged an uprising in 1916 and were killed by tsarist Russian forces.
"There are no contradictions between the two fraternal peoples," emphasised Tokayev in a conversation with his Kyrgyz counterpart.
In turn, Jeenbekov expressed hope that the meeting "will bring the relations of our countries to a qualitative new level".
"Shared history and shared calamities strengthen the friendship of our peoples and will help in choosing allies," said Beisaliyev the analyst, noting the symbolism of laying flowers in memory of those who were killed in 1916.
Trade between Kyrgyzstan and Kazakhstan has been growing in recent years, said Beisaliyev.
"Any problems that inevitably arise between neighbours are being resolved. We can only welcome expanded co-operation between our countries and the establishment of mutually beneficial relations with Kyrgyzstan, our important partner in Central Asia," he said.