NUR-SULTAN -- The Kazakh government's effort to repatriate and reintegrate Kazakh children returning from Syrian and Iraq "is an example to the whole world", according to the International Committee of the Red Cross (ICRC).
The ICRC sent a letter to Kazakh President Kassym-Jomart Tokayev in connection with the successful evacuation of Kazakh children, the presidential press office said in a statement December 6.
"Following on from the success of Operation Jusan [Bitter Wormwood], Kazakhstan has set an example to the world on how to handle this challenging issue," ICRC President Peter Maurer wrote.
Jusan was a Kazakh effort throughout 2019 that repatriated almost 600 radicalised Kazakhs stranded in Syria after the collapse of "Islamic State" (IS).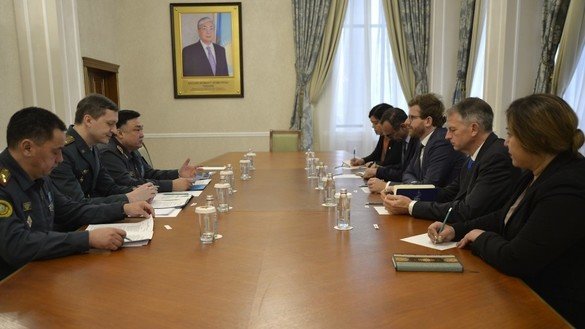 More than 100 Kazakhs, including 40 men and their 65 wives and children, are still in Syria and Iraq with terrorist groups, AKIPress.com reported Thursday (December 12), quoting National Security Committee (KNB) official Sergey Shveikin.
In the letter, Maurer called for more co-operation between Kazakhstan and the ICRC on repatriation and reintegration, family reunification, and on psychological support for returnees.
He also proposed a meeting in Kazakhstan with officials from other countries of the region who are faced with similar repatriation problems "to exchange experiences around this challenging question".
Specialists work with repatriated children
Kazakhstan repatriated 14 Kazakh children -- eight girls and six boys -- from Iraq on November 27. The oldest child is 13 years old, while the youngest is almost 2. Their mothers, citizens of Kazakhstan, are serving life sentences in Iraqi prisons for participating in terrorist activities.
"The humanitarian action was carried out by the Foreign Ministry at the request of mothers and relatives of the children in close co-operation with a number of government agencies, domestic non-governmental organisations and international organisations," the Kazakh Foreign Ministry said on November 28.
The children are undergoing rehabilitation, with 30 specialists including psychologists, educators and doctors working with them. They will be handed over to relatives living in Kazakhstan in coming days.
These repatriated children have never attended school and cannot read, write or count, Kazakh newspaper Liter reported on December 9.
They spent most of their lives in "Islamic State" (IS) militant camps; then they were held in prisons in Iraq. Their mothers are Kazakh citizens from cities including Kaskelen, Turkistan, Aktau and Karaganda, the statement said.
Medics gave each repatriated child two genetic exams, said Arujan Sain, Kazakh ombudsperson for children's rights.
The first analysis proved to Iraqi authorities that the children were Kazakhs. The second round of testing took place in Kazakhstan, to ensure that the children would go to their relatives.
"Children have no place in war ... It was very hard for the children to part with their mothers," Sain wrote on Instagram about the evacuation. "At the airport grandmothers, grandfathers, uncles and aunts were waiting for the children! They hugged, kissed and held them tight. It was as if they didn't believe that this was happening -- for so long they have searched and waited for them, worked hard to bring them back."
Kazakhs support government efforts
Kazakh citizens expressed their support for the repatriation efforts.
"It's just mega cool to carry out such an operation,", one person wrote in the comment area of Sain's Instagram post. "A worthy deed," "thanks to everyone involved in the evacuation," others commented.
In addition to the repatriation of children from Iraq, more than 400 Kazakh children were evacuated from Syria during the three stages of Operation Jusan.
"Thanks to everyone who participated in the evacuation of our children from Syria and Iraq," Leila Baimanova of Shymkent, chairwoman of Altyn Karpygash (Golden Swallow), a non-governmental organisation, said in an interview.
"This is a great victory and a lot of work by our diplomats and law enforcement officials," she added. "Every effort must be made to return the children to a peaceful life. I am very glad that the government is making these efforts."
Baimanova noted the importance of continued co-operation between Kazakhstan and the ICRC.
"The Red Cross provides assistance to victims of armed conflicts around the world," she said. "They can help both at the stage of repatriation and in the subsequent rehabilitation of Kazakhs, especially of children."
"What a wonderful proposal [by the ICRC] to hold a meeting in Nur-Sultan, where Kazakhstan will share its experience in the repatriation of children from Iraqi prisons," Baimanova said. "Other Central Asian countries should repatriate their young compatriots."
She added that the United Nations is interested in learning about the experience of Kazakhstan in how it is repatriating its citizens, and emphasised that "all this contributes to a positive image of our country."
Joint activities
The first staff negotiations between the Kazakh Defence Ministry and the ICRC took place in Nur-Sultan on November 25. Co-operation between them is based on a memorandum of understanding signed in 2016. They annually adopt plans for joint activities.
"The emphasis in co-operation of the Defence Ministry of Kazakhstan and the international organisation is on the training of Kazakh military personnel in international humanitarian law, including the protection of civilians in peacekeeping operations," the Defence Ministry said in a statement November 25.
"Another aspect is first-aid training for medics and other personnel of Kazakh armed forces."