ALMATY -- The region's countries have bolstered their policy of confronting various security challenges and are implementing several initiatives.
Death of 'Islamic State''s leader
"Islamic State" (IS)'s elusive leader, Abu Bakr al-Baghdadi, was killed along with several other IS militants in October during a night raid by US special forces in northwestern Syria.
On October 27, al-Baghdadi was cornered in a tunnel and then activated a suicide belt, killing himself and his three children.
World leaders and analysts reacted positively to the terrorist leader's death, calling the event a new milestone in the long struggle with IS.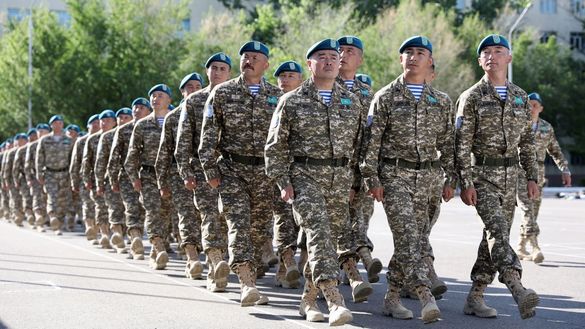 However, it may bring mixed consequences for Central Asia. The obvious advantages of decapitating the source of the main terrorist threat to the region notwithstanding, new challenges may emerge.
Militants are looking for new bridgeheads and may turn their attention to Central Asia, where "there are too many favourable factors", said Murat Telibekov, a Muslim civic leader from Almaty.
Forced repatriation from Syria
Meanwhile, Central Asian authorities this year launched an operation to return their citizens from Syria and Iraq.
Most of the repatriated were women and children who were in the countries involuntarily, but local security services' subsequent investigations revealed that there were also militants who fought for IS.
As part of Operation Jusan (Bitter Wormwood), Kazakhstan this year returned about 600 Kazakhs, including about 400 children, from Syria in several planeloads.
It was important for the country to save Kazakh children first and then to determine each returnee's degree of guilt upon his or her repatriation, said Kazakh National Security Committee (KNB) reservist Col. Amanjol Urazbayev, chairman of the NGO Counter-Terrorism Committee of Kazakhstan.
In October, Uzbekistan announced the repatriation of 64 children from Iraq, where their mothers are serving prison sentences "as members of terrorist organisations".
In late May, Tashkent announced that 156 of its citizens had been brought back from the Middle East. Tajikistan, in turn, evacuated 84 children from Iraq in April.
Kyrgyzstan also announced its intentions to return its citizens from Syria and Iraq, where, according to official figures, about 850 Kyrgyz citizens remain, including women and children.
Bloody incident on Tajik border
In November, Tajik security forces said they killed 15 IS fighters and detained four other suspects who, according to officials, crossed over from Afghanistan and attacked the Ishkobod border post situated on the frontier with Uzbekistan, killing a border guard and police officer. However, accounts vary on the details of the battle.
The attack was the latest outburst of violence by militants in Tajikistan. The country shares a 1,344km-long border with Afghanistan, the world's leading producer of opium and heroin. Border incidents often include shootings and abductions of Tajiks by Afghan smugglers, who then exchange them for detained drug dealers.
This incident confirmed again that the Afghan threat to the region remains serious, even though IS has lost strength.
Central Asia, Afghanistan co-operate to strengthen security
Central Asian states, three of which border Afghanistan, have strengthened their policies to ensure stability in their neighbour so that its problems do not become troubles for the entire region.
They placed a crucial bet on expanding economic co-operation.
In August, Almaty hosted the "Afghanistan: New Trade Horizons" business forum. At the event, 72 Afghan companies producing spices, nuts, dried fruits, carpets, clothes, gemstones and jewelry presented their merchandise.
"Kazakhstan takes an active part in stabilising Afghanistan, so in recent years it has allocated more than $70 million in humanitarian assistance, including the education of youth from Afghanistan in Kazakh universities and the delivery of food, clothing and essential goods, as well as the construction of infrastructure in Afghanistan," said Yerlan Iskakov, director of the Almaty office of the Kazakh Foreign Ministry, in August.
In 2018, trade between Kazakhstan and Afghanistan amounted to $795 million.
"Central Asia is a great opportunity for Afghan businesses to open new markets for their products," which in turn "will improve the welfare of ordinary people in Afghanistan," said Christopher Edwards, US Agency for International Development (USAID) regional mission director for Central Asia, in August.
The Afghan issue was a priority in several high-level regional meetings in 2019.
Enhancing regional security and trade was identified as a top priority at a meeting of Central Asian leaders in Tashkent.
Uzbek President Shavkat Mirziyoyev, Kyrgyz President Sooronbay Jeenbekov, Tajik President Emomali Rahmon, Turkmen President Gurbanguly Berdymukhamedov and Nursultan Nazarbayev, the former Kazakh president, participated in the high-level talks on November 29.
Plans include involving Afghanistan in regional trade agreements and establishing economic and infrastructure projects to advance the peace process, according to the Uzbek Foreign Ministry.
For cybersecurity reasons
The fight against growing threats online intensified this year in the region.
In September, Turkmenistan adopted a new law on cyber-security to ensure cyber-protection for all public and private sector communication systems that process Turkmen computer data and that its national and local governments use.
Kazakhstan, in turn, is closely monitoring the internet and suppressing terrorist propaganda.
According to its Ministry of Information and Social Development, in the first half of 2019, authorities identified 45,000 items on the Kaznet (Kazakh-language part of the internet), 90% of which contained terrorist propaganda. In the past three years, 167 Kazakhs have been convicted of online terrorist and extremist propaganda.
Meanwhile, Tajikistan held exercises in August to prevent the use of the internet for terrorist purposes.
Stepping up counter-terrorism efforts in response to greater militant use of technology is essential, said Ilkhomiddin Atoyev, deputy director of the Tajik State Communications Service, in August.
Steppe Eagle 2019 exercises
In June, Central Asian countries and the United States held the Steppe Eagle 2019 military exercises in Kazakhstan. In addition to the United States, the United Kingdom, Tajikistan, and Kyrgyzstan participated in the exercises. Turkey and Uzbekistan participated as observers.
These exercises help the military to ensure the effectiveness of "peacekeeping operations and corresponding tactics, techniques and procedures for detachments at the brigade level, and are intended for training" the ground forces of the United States and Kazakhstan, according to a statement by US Central Command (CENTCOM).
The annual Steppe Eagle exercises have occurred since 2003 and are aimed at improving peacekeeping paratroopers' all-around skills. The training has been part of NATO's Partnership for Peace since 2012.
Western countries trust Kazakhstan and its armed forces and therefore actively involve Nur-Sultan in international missions to ensure security and stability in the world, said Kazbek Beisebayaev of Almaty, a political analyst with 18 years of experience in the Kazakh Foreign Ministry.
Kazakhstan's peacekeeping potential
Kazakhstan this year expanded its participation in peacekeeping projects and security co-operation with the United Nations (UN).
In January, the Kazakh Partnership for Peace Training Centre (KAZCENT) received a certificate from the UN for training peacekeepers from around the world, the Kazakh Foreign Ministry announced.
In March, the Kazakh military, which completed a peacekeeping mission in Lebanon as part of the UN Interim Force, received UN medals honouring its work "In the Service of Peace."
Before 2018, Kazakhstan could send only military observers to UN peacekeeping missions, said Georgy Dubovtsev, a Nur-Sultan-based military analyst and chief researcher at the Kazakhstan Institute for Strategic Studies.
Now the country is directly involved in them.
"We hope that in the near future, in addition to soldiers, civilians and police officers from our country will also work in conflict zones. This will benefit Kazakhstan's international credibility," Dubovtsev emphasised in July.