The European Union (EU) on Sunday (December 29) called on Russia and its Syrian regime ally to halt "indiscriminate" military attacks on civilians.
Pick-up trucks carrying mattresses, clothes and house-hold appliances ferried entire families out of southern Syrian province of Idlib, where two weeks of heightened Russian and Syria regime bombardment has displaced 235,000 people.
Since mid-December, regime forces and their Russian allies have heightened bombardment on the southern edge of the final major opposition-held pocket of Syria, eight years into the country's devastating war.
"The escalation of violence in the Northwest of Syria by the Syrian regime and its allies must cease," the EU said in a statement by a spokesperson for Josep Borrell, the EU's top-ranking diplomat, which noted that air strikes and shelling had led to "countless civilian deaths".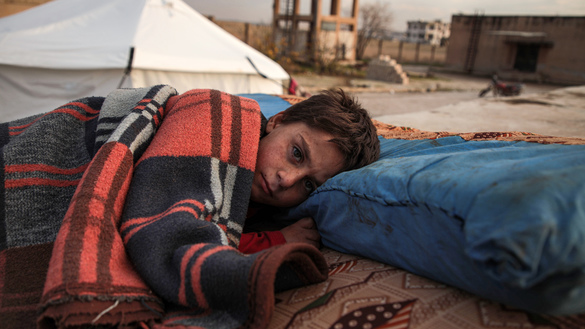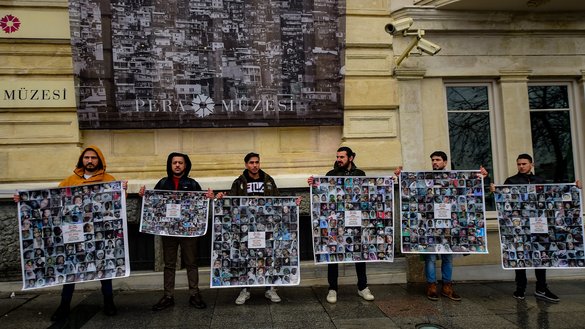 "All parties have the obligation to protect civilians. The regime and its allies must cease indiscriminate military attacks and respect international humanitarian law," the statement said.
The latest violence in the Idlib region has killed scores of civilians, despite an August ceasefire deal and international calls for a de-escalation.
More than 235,000 people fled the area between December 12 and 25, mostly from the beleaguered city of Maaret al-Numan, which has been left "almost empty", according to the United Nations (UN)'s humanitarian co-ordination agency OCHA.
OCHA spokesman David Swanson said Friday (December 27) that more than 80% of those who have fled southern Idlib this month are women and children.
"I can't live in the camps," said Umm Abdo, a mother of five who recently arrived in a displacement camp in Dana, north of Idlib's provincial capital.
"The rain is very strong, and we need heating... clothes, and food," she said, her tired eyes showing through her veil.
Exacerbating vulnerabilities
The Idlib region hosts some three million people, including many displaced by years of violence in other parts of Syria.
It is dominated by the group Hayat Tahrir al-Sham, whose chief last week urged its fighters and allied rebels to head to the front lines and battle "the Russian occupiers".
The mass displacement could not come at a worse time, with heavy rainfall flooding squalid camps for the displaced.
"Being forced to move in winter months exacerbates existing vulnerabilities, particularly of the women, children, elderly, people with disabilities and other vulnerable groups," OCHA said.
Since mid-December, the fighting has killed nearly 80 civilians, according to the Syrian Observatory for Human Rights war monitor.
The escalation has forced aid groups to suspend operations in the area, exasperating already dire humanitarian conditions, OCHA said.
Idlib's residents mainly depend on critical cross-border aid, which came under threat last week after Russia and China vetoed a UN Security Council resolution that would have extended such deliveries for a year.
The move raised fears that vital UN-funded aid could stop entering Idlib from January unless an alternative agreement is reached.
The Damascus regime, which now controls 70% of Syria, has repeatedly vowed to take back the region.
Backed by Moscow, Damascus launched a blistering offensive against Idlib in April, killing around 1,000 civilians and displacing more than 400,000 people.
Despite a ceasefire announced in August, the bombardment has continued, prompting Turkey this week to press for a fresh ceasefire deal during talks in Moscow.
France on December 24 called for an "immediate de-escalation", warning of deteriorating humanitarian conditions.
The war in Syria has killed more than 370,000 people and displaced millions since it began with anti-government demonstrations brutally crushed by security forces.
Pattern of attacks
Western nations have continued to urge Moscow and Damascus to halt their attacks on civilians.
The US State Department on November 8 said that attacks in the northwestern area over the previous two days had struck a school and a maternity hospital, killing 12 people.
"The latest reported incidents reflect a well-documented pattern of attacks against civilians and infrastructure by Russian and Syrian forces," said State Department spokeswoman Morgan Ortagus at the time.
"We urge Russia and the [Bashar al-]Assad regime to resolve this conflict through the UN-facilitated political process and to stop waging war in civilian areas," she said.
Russian military operations have resulted in 6,686 civilian deaths since 2015, the Syrian Network for Human Rights said in a report issued September 30, the fourth anniversary of Russia's military intervention in the Syrian conflict.
Among those dead are 1,928 children and 908 women, according to evidence collected by Syrian activists on the ground.
The report documents 236 instances in which Russian forces used the internationally banned cluster bomb to carry out attacks, along with 125 instances of incendiary weapon use.
These findings contradict misleading statements and media reports issued by or on behalf of Russian authorities, which claim that Russia is engaged solely in killing terrorists and assisting the Syrian people, the report said.
There is also new evidence that Russian warplanes deliberately bombed hospitals in Syria in May to undermine the Syrian opposition.
Syrians rise up against Russian forces
The Kremlin's deadly operations aimed at expanding Russia's territorial occupation of Syria have been met with fierce and angry resistance from locals.
In one of the most intense signs of the growing unrest, a video posted on social media in mid-November showed local Syrians hurling Molotov cocktails and rocks at Russian military vehicles patrolling areas the Kremlin is attempting to occupy.
A number of local media outlets and social-media users in Syria also posted videos of residents pelting Russian troops with stones in early November.
Videos and pictures show angry residents of Kobane, Syria, throwing large stones at several convoys of Russian vehicles.
In one scene, several dozen civilians managed to stop two Russian armoured vehicles and some of them climbed onto one of the cars with Russian military police insignia, a video released by local news outlet Anha showed.
Similar incidents have occurred elsewhere in Syria, including locals attacking Russian military vehicles in al-Muabbadah on November 8.