BAGHDAD -- The killing of Maj. Gen. Qasem Soleimani, commander of the Quds Force of Iran's Islamic Revolutionary Guard Corps (IRGC), by a US drone Friday (January 3) marks a pivotal moment in Tehran's decades-long campaign to sow militancy and discord in the Middle East and beyond.
Early Friday, a volley of missiles hit Baghdad's international airport, striking a convoy belonging to Hashed al-Shaabi, an Iraqi paramilitary force with close ties to Iran. Soleimani -- who was considered one of Iran's most powerful figures -- was travelling in one of the vehicles.
Just a few hours later, both Hashed and the IRGC, which was designated a terrorist organisation last April following decades of hostile acts worldwide by the group, confirmed the commander's death.
The US Defence Department said Soleimani had been "actively developing plans to attack American diplomats and service members in Iraq and throughout the region".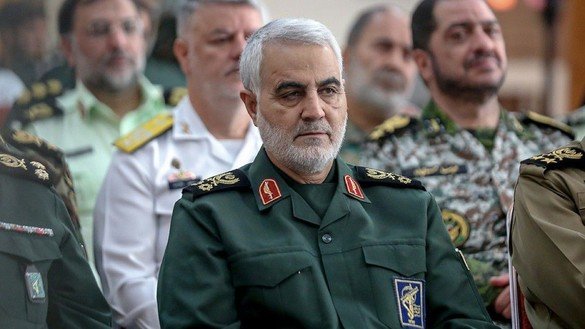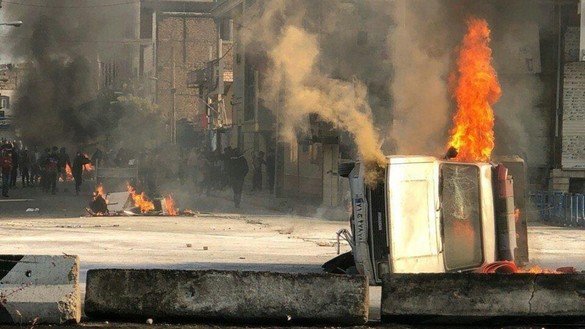 It said it took "decisive defensive action to protect US personnel abroad by killing Qasem Soleimani".
US Secretary of State Mike Pompeo, speaking with CNN on Friday, said Soleimani "was actively plotting in the region to take actions -- a big action, as he described it -- that would have put dozens if not hundreds of American lives at risk".
"We know it was imminent," Pompeo said of Soleimani's plot.
Earlier on Thursday (January 2) US Defence Secretary Mark Esper warned that the United States would not hesitate to take "preemptive action" if it had information attacks were being planned.
Last week's killing of an American contractor in a rocket attack on a base in Kirkuk by a pro-Iranian group meant "the game had changed", said Esper.
Addressing the Iranian leadership, Esper continued, "Attacks against us will be met with responses in the time, manner, and place of our choosing. We urge the Iranian regime to end their malign activities."
A threat to the region
The Quds Force, bearing the Arabic name for Jerusalem, specialises in foreign missions, providing training, funding and weapons to extremist groups, including Lebanon's Hizbullah and the Palestinian group Hamas.
Soleimani and his Quds Force have been pivotal in support of Syrian regime forces in that country's civil war.
In its quest to expand its regional influence and establish dominance, the Quds Force has been recruiting Afghan, Pakistani, Iraqi and Yemeni youth to fight for its interests in Syria.
This strategy is evidenced by the Fatemiyoun Division, a unit that recruited about 50,000 Afghan refugees between 2013 and 2017 to fight in Syria, and the Zainabiyoun Brigade, whose Pakistani elements receive IRGC training and weapons before Iran transports them to Syria to fight alongside other IRGC-affiliated factions and the Syrian regime.
"Soleimani was an asset for Iran's national interests, while he was a threat to the region. He was one of proxy wars master-mind in the region. Fatimyon, Zainabyon, Haidaryon and Hussainyon are his creation in recent years," tweeted Rahmatullah Nabil, former director of the National Directorate of Security (NDS).
The IRGC has been linked to many terrorist events in the Middle East and beyond over the past several decades, including the Khobar Towers bombing in Saudi Arabia in 1996, the 1994 suicide bombing of an Argentine Jewish community centre in Buenos Aires, and the 1983 truck bombing of the US Marines barracks in Beirut.
Last straw
A mob attack on the US embassy in Baghdad in late December, which Soleimani reportedly orchestrated, was the latest in a long string of anti-US provocations in 2019.
On December 27, an Iraqi militia under the direction of Soleimani's Quds Force fired a barrage of rockets at US military personnel, resulting in the death of one American civilian and injuries to four American service members, as well as to two Iraqi military personnel.
Over the last few months Iranian-backed Shia militias have repeatedly attacked bases hosting American forces in Iraq, including attacks on December 9, December 5, December 3, and November 9.
In September, a number of missiles, largely believed to be Iranian, struck Saudi Arabia's largest oil fields, temporarily crippling the country oil production and export.
Last July, an Iranian drone threatened a US warship near the Strait of Hormuz after IRGC naval forces illegally seized a British tanker.
On June 20, the IRGC shot down a US drone over the strait.
During the summer, the IRGC repeatedly imperilled tankers near the strait. On June 13, the Kokuka Courageous and the Front Altair came under attack in the Gulf of Oman. The US military later released footage it said showed an Iranian patrol boat removing an "unexploded limpet mine" from one of the vessels.
Problems at home
Despite Soleimani's vaunted image across the Middle East, his decisions and actions have greatly contributed to Iran's isolation and the imposition of sanctions that have devastated its economy.
They come amid a rising climate of domestic dissatisfaction toward and criticism of Soleimani's performance of his duties outside the country.
Leaders of Iran's reformist movement and hard-liners alike are said to be disturbed by the way the IRGC's leadership has been handling foreign affairs, saying it exposes their country to further isolation and economic crises.
In a message aired on state TV, Iranian Supreme Leader Ali Khamenei in 2019 called the economic difficulties Iranians are facing the main and most urgent problem of the country.
Iranian authorities are carrying out a "vicious crackdown" in the wake of anti-government protests relating to the economic crisis that started in November, arresting thousands of protesters, journalists, human rights activists and students.
Iranian politicians expressed mistrust in field reports that Soleimani sent to senior officials, which they described as "misleading" and based upon "a wrong strategy".
Soleimani's actions also sparked ire among the Iranian people following the IRGC's widely unpopular decision to bring in Iran-aligned Iraqi militias to help it suppress dissent in flood-afflicted areas over the summer.
Soleimani directed armed groups who operate more like "gangs" and carry out specific operations, "taking advantage of the turmoil in the countries in which they operate", said Iranian political analyst Ali Narimani in December.
Those groups sow discord in neighbouring countries and threaten their security, he said, pointing out that their actions keep Iran "at war with its Gulf neighbours".
The actions of Soleimani's Quds Force "have brought sanctions upon Iran and the Iranian people that have made the social and economic situation more difficult", he added.