While 27 members of the United Nations (UN) issued statements condemning the attack last week on the US embassy in Baghdad by pro-Iranian demonstrators, Russia and China remained silent.
The demonstrators, most of them members of Iran-backed Iraqi militias, stormed the embassy December 31, setting fire to part of it before obeying their own leaders' calls on January 1 to disperse.
Russian and Chinese silence undermined the Security Council, said the US mission to the UN Monday (January 6).
"Not allowing the United Nations Security Council to issue the most basic of statements underscoring the inviolability of diplomatic and consular premises once again calls the council's credibility into question," the US statement said.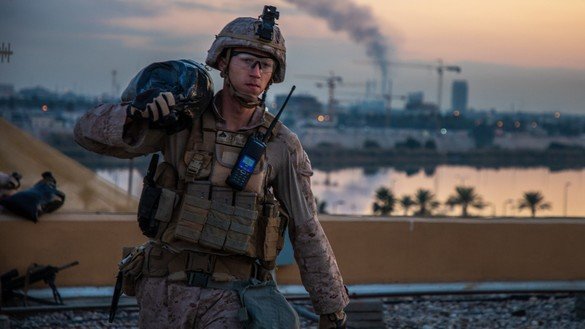 Voicing support for the 1961 Vienna convention that protects diplomatic missions "should not be controversial or warrant courage", said Washington.
"As we have demonstrated, we will not tolerate attacks on US personnel and facilities and will respond decisively to protect our interests, citizens and allies," it added.
The attack on the Baghdad embassy in late December was orchestrated by Maj. Gen. Qasem Soleimani, commander of the Quds Force of Iran's Islamic Revolutionary Guard Corps (IRGC).
According to new reports, Soleimani met with a number of leaders of Tehran-backed Iraqi militia groups in mid-October when mass protests against Tehran's growing influence in Iraq were gaining momentum, putting the Islamic Republic in an unwelcome spotlight.
Soleimani told the assembled commanders to form a new militia group of low-profile paramilitaries who could carry out attacks against US interests in Iraq.
In response to the attack on the embassy, a US drone killed Soleimani on January 3.
Iranian escalations
NATO chief Jens Stoltenberg on Monday told Tehran to avoid "further violence and provocations" as tensions mount in the Middle East after Soleimani's death.
The drone strike was a US decision, emphasised Stoltenberg, adding that the other 28 NATO members had repeated their long-standing concerns about destabilising Iranian activities in the Middle East.
Asked twice whether any member states criticised the US strike, Stoltenberg stressed their unity and their concern about Iranian behaviour.
"We have recently seen an escalation by Iran, including the strike on a Saudi energy facility [in September], and the shoot-down of an American drone [in June]," Stoltenberg said.
"At our meeting today, Allies called for restraint and de-escalation. A new conflict would be in no one's interest, so Iran must refrain from further violence and provocations."
NATO maintains a 500-strong mission in Iraq, preparing local forces to take on "Islamic State" (IS) extremists, but its core training activities have now been suspended until the security situation improves, Stoltenberg said.
"It is important now... to use diplomatic channels and to make clear that it is also in the interest of Iran and in particular in the interest of Iraq to take the path of sobriety and not the path of escalation," said European Commission President Ursula von der Leyen on Monday.
France to Iran: Don't retaliate
France's foreign minister Monday urged Tehran not to retaliate over the killing of Soleimani.
"It is essential that Iran renounce any reprisals or retaliations," Jean-Yves Le Drian told BFM television, adding, "There is still a place for diplomacy, fortunately."
Any counter-strikes against the United States would jeopardise the viability of the coalition fighting IS in Iraq and Syria, said Le Drian, terming the battle against IS the region's priority.
He also urged Tehran to refrain from further steps to undo the 2015 accord curtailing its nuclear activities, ahead of an emergency meeting by EU foreign ministers on the Iran crisis this week.
The Iranian regime January 5 said it would abandon its nuclear commitments and would forego the "limit on the number of centrifuges".