NUR-SULTAN -- Kazakhstan is continuing to improve the religious literacy of its population through religious literacy courses, lectures and personal conversations.
Some 120,000 Kazakhs took part in such events last year, according to the Spiritual Administration of Muslims of Kazakhstan (DUMK).
Over the same period, DUMK imams answered 14,000 questions that Kazakhs posed to them via social networks, phone, email and regular mail, the DUMK reported December 24.
About 50,000 adults -- 33,000 men and 17,000 women -- completed religious literacy courses in mosques across the country. Another 20,000 boys and 10,000 girls took part in summer religious literacy courses for children.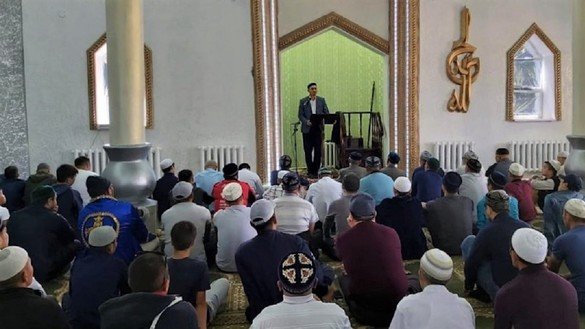 The DUMK also distributed about 25,000 books and brochures, featuring titles such as "What Young People Should Know", "The Personality of a Muslim" and "Islam and Family Values", it noted.
"One of the main areas of work of the Spiritual Administration of Muslims of Kazakhstan is to conduct high-quality, modern outreach and preaching among the population to increase religious literacy," the DUMK said in a statement on December 20.
The DUMK conducted lectures before and after daily prayers at all Kazakh mosques. It held outreach meetings in prisons, schools and government agencies.
For those who needed more-serious outreach, the DUMK organised about 2,500 personal meetings and conversations.
At the same time, it posted about 2,000 messages on religious literacy and against radicalisation on social networks.
Co-operation against radicalism
Meanwhile, Kazakh government agencies and the DUMK are conducting joint work aimed at seizing extremist materials and at providing accurate information on religious issues, according to the Ministry of Information and Social Development.
"It's important to understand that Kazakhstan is a secular state. In other words, religion is separate from the state," said Nurbek Mukhametov, a theologian and outreach group member from Turkistan Province.
"But there are shared objectives: increasing the religious literacy of the population" as well as "warning people about the 'contagion' of terrorism and violent extremism"" he said.
"And here the spiritual directorate is doing its work, and government agencies are doing their work. They are co-operating for the sake of our security," he said.
Mukhametov is confident that the DUMK is making a major contribution toward preventing violent extremism.
"People who come to a mosque trust the imams. They are more likely to believe them than ordinary lecturers," Mukhametov said.
"And when an imam conveys the meaning of the teachings, talks about the Koran and Hadith and explains that there are those who hide behind Islam and lie when they call for violence, then a person's eyes are opened and he is already immune to radical movements," he added.
International partnerships
Over the last year, the DUMK also developed partnerships with the spiritual directorates of Kyrgyzstan and Uzbekistan to bolster joint efforts and better prevent extremism in the region.
DUMK Chairman Supreme Mufti Serikbay kazhy Oraz met last April 22 with a Kyrgyz delegation led by Mufti Maksat haji Toktomushev in Nur-Sultan.
The muftis of the two countries exchanged views on the importance of adopting fatwas on general religious issues and on the importance of celebrating religious holidays on the same day.
Earlier, last April 18 in Nur-Sultan, Oraz and the mufti of Uzbekistan, Usmonkhon Alimov, talked about the projects implemented as part of the memorandum of mutual co-operation between the religious administrations of Kazakhstan and Uzbekistan.