NUR-SULTAN -- The United States and Kazakhstan have inked an Open Skies agreement to facilitate air transportation between the two countries, the US State Department said in a statement this week.
US Ambassador to Kazakhstan William H. Moser and Kazakh Minister of Industry and Infrastructure Development Beibut Atamkulov on December 30, 2019, signed the Air Transport Agreement in Nur-Sultan.
The agreement establishes a civil aviation relationship consistent with the US Open Skies international aviation policy, according to the statement on Monday (January 6).
Unlimited flights between Kazakhstan and the United States, as well as many other advantages provided by the signed agreement, will promote tourism and trade.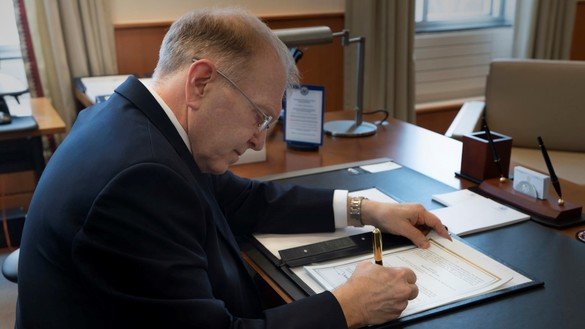 "This agreement with Kazakhstan will further expand our strong economic and commercial partnership as well as promote people-to-people ties. It will create new opportunities for airlines, travel companies, and customers," the statement said.
The agreement is the first under which Kazakhstan will abide by "Open Sky" principles recommended by the International Civil Aviation Organisation (ICAO), said the Kazakh Ministry of Industry and Infrastructure Development.
The move provides big opportunities for carriers planning to fly between Kazakhstan and the United States, it said.
An indication of trust
The agreement establishes the legal foundation for nonstop regular flights between the two countries and will contribute to the further development of the strategic partnership between Kazakhstan and the United States, officials said.
"An important aspect of the Open Skies agreement is the strengthening of ties -- both economic ties and the ties between the peoples of the United States and Kazakhstan," said Sean Boda, a spokesman for the US embassy in Nur-Sultan.
"I believe that this agreement will contribute to the rapid expansion of commercial activity and prosperity in our countries," said Boda.
"The signed agreement is an indication of the trust between the United States and Kazakhstan, and a good contribution to the future of the expanding relationship," said Ruslan Seksenbayev, a political scientist from Taraz.
"From the experience of other countries, we can say that the conclusion of an open skies agreement leads to an expansion of civil aviation. Both the business sector and ordinary citizens benefit," said Seksenbayev.
"In this regard, high hopes rest on US Secretary of State Michael Pompeo's imminent arrival in Kazakhstan, which has been temporarily postponed because of the situation in Iraq and the Middle East," said Seksenbayev, referring to a trip that was originally planned for early January.
Getting closer
Kazakhs who have business, educational and other ties with the United States are very pleased about the new agreement.
"I have been waiting for this moment since January of last year, when preparations for an agreement between the United States and Kazakhstan on the launch of nonstop flights were first announced," said Nur-Sultan-based businessman Berik Torgumbayev.
"A nonstop flight to New York, planned to be launched first, is very cool. Now the United States is getting closer for us," he said.
Currently, flying from Nur-Sultan to New York requires a layover in Moscow, which is very inconvenient because of the "huge loss of time and the bad attitude toward Asians at the Russian airport", said Torgumbayev.
"We eagerly anticipate the launch of the first nonstop flights. My nephew is studying in the United States as part of Kazakhstan's Bolashak Programme. He is from Almaty," said Shymkent resident Bibigul Boranbayeva, referring to a scholarship that is awarded to high-performing students from Kazakhstan to study abroad.
"We are pleased to expand relations between our countries. The world is becoming more open for us," she said.
US-Kazakh co-operation in 2019
Last year was a significant year for US-Kazakh relations. Here are a few highlights:
Deputy Kazakh Foreign Minister Yerzhan Ashikbayev and US Principal Deputy Assistant Secretary of State for South and Central Asian Affairs Alice Wells gathered on December 5 in Washington to discuss their countries' burgeoning strategic partnership.
At that meeting, the US State Department hailed Kazakhstan's successes in counter-terrorism and in "the repatriation and reintegration of nearly 600 Kazakh citizens from Syria", a reference to Operation Jusan (Bitter Wormwood).
In an October visit to Nur-Sultan, US State Department Co-ordinator for Counterterrorism and Ambassador Nathan A. Sales also praised "Kazakhstan's groundbreaking work" in rehabilitating and reintegrating returnees.
In June, Kazakhstan hosted Operation Steppe Eagle 19, a multinational exercise that brought in troops from Great Britain, India, Kyrgyzstan, Tajikistan, Turkey, Uzbekistan and the United States. Steppe Eagle has taken place annually since 2003.