ALMATY -- A new documentary reveals some of the horrors faced by Kazakh women who left their country to be with their husbands in war-torn Syria.
"Jusan Isi" tells the story of four women who moved with their families to Syria, where their spouses had joined the "Islamic State" (IS) insurgency.
The film became possible through a grant from the United States Institute of Peace, PeaceTech Lab (an international NGO based in Washington), and the Almaty-based MediaNet International Centre for Journalism at the end of 2019 by Kazakh journalist Juldyz Toleu.
As part of Operation Jusan, Kazakhstan last year returned about 600 Kazakhs, including about 400 children, from Syria in several planeloads.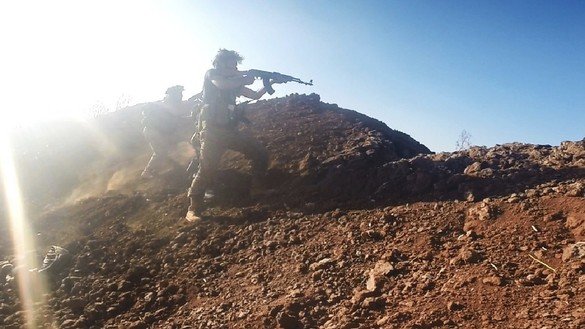 In search of female subjects for the film, now posted on YouTube, Toleu traveled to Karaganda, Satbayev and Jezkazgan.
"I also conducted my search through social networks and wrote to the National Security Committee (KNB), asking for help," Toleu said. The KNB approved potential interviews with Kazakh female returnees, but most of them refused to meet with her.
"Some changed their minds [after initial consent]; some had relatives that forbade it," she said.
Of the 15 women who responded to the journalist's request, she was able to speak with and film only four of them for the 40-minute-long documentary.
Rimma, Aiganym, Aygerim
The film's first subject is Rimma, who lives in Karaganda and is raising her children -- three boys and a girl -- alone. She gave birth to two of the children in Kazakhstan before she left for Syria, where she travelled with her husband in 2013 and gave birth to two more.
At that time, Rimma was 21. She lived with her family in Syria for almost seven years and returned to Kazakhstan in Operation Jusan-3. In addition to the death of her husband in Syria, she said she endured hunger and cruelty.
Rimma says in the film said she never would have gone to Syria if not for her husband's deception.
Another Kazakh returnee is Aiganym, who is also from Karaganda.
In 2015, when she was 23 and had just recently given birth to a child, she yielded to her husband and left her homeland with her baby and traveled through Turkey to Syria, where she lived for three years.
"When the famine began, food was very expensive: a kilogramme of meat cost $50 [19,000 KZT]; a kilogramme of persimmon was also $50," she recalled. "Those who did not have money ate grass. We ate like livestock. Sometimes I had to go out for food during bombings. A lot of children starved to death. Absolutely nobody shared food."
At that time, IS began to imprison and shoot people who did not want to fight for the militant group, she said.
"We realised there was no Islamic state. There was no Sharia there. They burned people alive. We became like cannon fodder," Aiganym said.
In Syria, her husband was killed and her child fell ill and died. She says she was saved when she -- along with several other women -- surrendered to the Kurds. Aiganym was repatriated as part of Operation Jusan-3.
Aygerim, another of the women interviewed in the film, left Kazakhstan with her husband and newborn child in 2015 when she was 20. Her husband, who had watched propaganda videos about the war in Syria, decided to travel there and join IS fighters.
"I said that I would follow him," she said. In Syria, she gave birth to a daughter.
In Syria, Aygerim lost her husband and children during a bombing campaign. She also was repatriated as part of Operation Jusan-2.
'Sorry they left this country'
Within three months of returning to Kazakhstan, the women underwent rehabilitation in Aktau. They are meeting with theologians once or twice a month.
"They really are sorry that they departed to that country [Syria]," Toleu said. "And now they are trying to displace their grief from the death of husbands and children. For example, one woman laughed constantly during the filming. This is a defensive reaction ... to forget the tragedy she experienced."
The women now wear headscarves, while they used to wear niqabs, Toleu said, adding that they attend mosques and hope to get married again.
"These women move around the city freely," Toleu said. "Parents and relatives have accepted them. Before the filming, the women were afraid that when the film was shown to a wide audience, their friends would learn about their life in Syria. After the film's showing, I contacted them and learned that they had encountered no problems with society."
The documentary was shown at universities at the end of 2019 and was followed by discussions with students.
"I held the showing of the film in Karaganda, Satbayev, and Jezkazgan. These are the cities from which the most residents -- several hundred young people -- left for Syria," Toleu said.
Many youth have watched the movie, and the film has more than 1,200 views so far on YouTube.
Miras Abdurakhmanov, 20, a student at the Shymkent Social Pedagogical University, is one of them. The film helps viewers understand the real threat of terrorism, he said.
"The best way to protect yourself from these propagandists is fact-checking," he said.
Abdurakhmanov is sympathetic to women who have returned from war zones. If there is an opportunity to save them, then it must be taken, he said.
During the discussions, "the older generation and teachers proved to be opposed to the women's return -- they said they should have been left in Syria or sent to prison," Toleu said. "Young people were very understanding. Students believed it was very proper that the state brought these people back."
Aliya Moldabayeva, 22, who studies at Turan University in Almaty, cannot understand those who oppose the return of "these poor women" to Kazakhstan.
"First, everyone has the right to make a mistake," she said. "They made this mistake. Others get something else wrong. We need to learn to forgive each other."
"Secondly, our country is their home as well as yours and mine," she added. "And having seen that terrible life and the war, they will appreciate our peaceful Kazakhstan even more."