ALMATY -- An acclaimed Kazakh filmmaker said he is "in shock" after a Russian state agency that backed his award-winning movie demanded he reimburse a portion of its funding.
The agency faulted him for releasing the film later than planned.
The Cinema Foundation of Russia (CFR), a government agency focused on financing films made in Russia, demanded that Kazakh director Sergey Dvortsevoy pay €100,000 ($110,000) for releasing his film "Ayka" four years later than the planned deadline, AFP reported January 20.
The filmmakers received 28 million RUB ($454,600) from the CFR, just over a quarter of its budget, AFP said.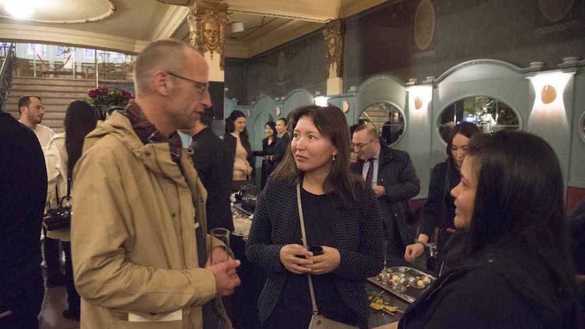 Dvortsevoy contends that the film was delayed by a lack of natural snow for the movie's winter scenes. The film's "quasi-documentary style does not allow the use of fake snow", he told AFP.
"I'm in shock; this is auteur cinema, and our receipts can't cover such a huge fine," he said.
"Ayka" is a low-budget drama by Dvortsevoy about a Kyrgyz woman who is a migrant worker in Moscow.
In the film, she struggles to survive in Russia and is forced to abandon her newly born child at the hospital but then later seeks to find him again.
The film is based on the statistic that migrant workers from Kyrgyzstan left behind 248 babies in Moscow maternity wards in 2010, AFP said.
Awarded at Cannes
"Ayka" stars Samal Yeslyamova, a Kazakh who won the Palme d'Or for best actress at the 71st Cannes International Film Festival in 2018.
Dvortsevoy, who hails from Shymkent, directed "Tulpan", which clinched the Un Certain Regard Prize at Cannes, along with nine top prizes at international film festivals worldwide.
"Ayka" was the first film he produced.
The movie was not widely distributed in Russia. Slightly more than 8,000 viewers attended screenings, while ticket sales brought in about $39,000, AFP reported, citing official statistics.
Representatives of Kazakhstan's film industry expressed bewilderment at the fine.
Mukhtar Janabai, a former technical director at Sataifilm, a leading Kazakh film studio, said that he is not aware of a similar case in Kazakhstan where a foundation that financed a film demanded a refund.
"When you're making films, you run up against many cases of force majeure that can push back the release date. It's common," Janabay said.
Executives in the Russian film industry are intentionally putting pressure on the creators of a Central Asian film because the movie has won success on the world stage, said Almaty film critic Nurtay Albayev.
"They view professionals from Central Asia as upstarts, and ... they don't like when natives of the region, which the Russians consider their 'backyard', thrive at something," Albayev said.