NUR-SULTAN -- The Kazakh government is taking a number of steps to restore inter-ethnic harmony in Zhambyl Province.
Deadly clashes February 7 in Masanchi village, Kordai District, left 10 people dead and caused widespread property damage. The brawls pitted ethnic Kazakhs against members of the Dungan minority. The immediate spark was a traffic accident, said the Kazakh Interior Ministry (MVD), according to Radio Free Europe/Radio Liberty (RFE/RL).
The fighting caused about 4,500 Kazakhs, mostly Dungans, to flee to neighbouring Kyrgyzstan, Kyrgyz officials told RFE/RL.
President Kassym-Jomart Tokayev ordered the firings of Zhambyl Governor Askar Myrzakhmetov, Deputy Zhambyl Governor Slushash Kurmanbekova, Kordai District Governor Bolatbek Baitole, Zhambyl police chief Arman Orazliyev and Kordai District police chief Azamat Aikhimbekov, Tokayev's press office said Monday (February 10).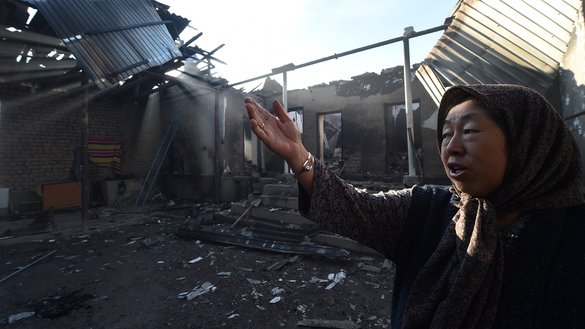 Authorities took other steps over the weekend.
They included arresting a man suspected of posting a video of the traffic accident and ensuing dispute online, as well as promising compensation for the families of those killed and the restoration of damaged and destroyed houses, according to RFE/RL.
A government commission is on the ground in Kordai District to investigate.
It was also reported that the first shipment of humanitarian aid from the Kazakh government arrived Sunday night for those who had been left homeless.
In Kyrgyzstan, Dungans were seen handing out food and offering medical assistance to those who had crossed the Kazakh border.
About 120,000 Dungans (ethnic Chinese Muslims) live in Kazakhstan and Kyrgyzstan. Their ancestors fled a 19th-century Chinese crackdown after a Dungan revolt.