NUR-SULTAN -- A non-governmental organisation (NGO) made up of veterans from the country's security forces is teaching Kazakh schoolchildren how to respond during potential terror threats.
URAN, an NGO founded in June 2019, plans to run training sessions for schoolchildren across the country by the end of this year.
The director of the organisation is Fayzolla Kamenov, a reservist colonel and special forces combat officer of the National Security Committee (KNB). Among other founders of the organisation is Amanjol Urazbayev, the chairman of the national NGO Counter-Terrorism Committee of Kazakhstan (KTK).
On January 26, URAN employees who have participated in counter-terrorism operations in the past organised a training at Lycee No. 1 in Kostanay, Tobolinfo reported.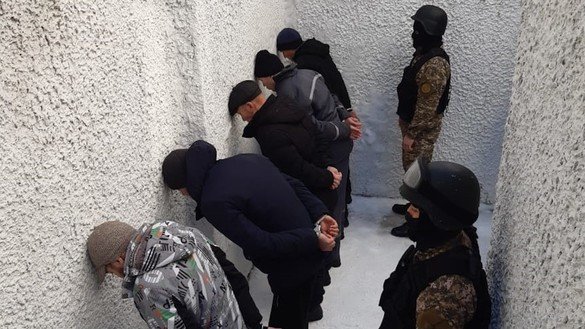 The trainer was Sergey Reshetnikov, a reservist lieutenant colonel and KNB special forces officer. For several hours, children in grades 6-7 learned about proper actions in the event of a terrorist attack.
In December, a similar training for schoolchildren took place in a school in Nur-Sultan.
URAN offers on its social media sites some of its instructions on how schoolchildren and school officials should react in the event of a terrorist attack.
"If a gunman bursts into school, it is necessary to move away from him to the maximum possible safe distance. You must not run in a straight line. If schoolchildren are in a confined space at the time of the attack, it is necessary to close access to the premises, move away from the entrance and, drawing minimum attention to yourself, report the attack to emergency services," reads one of URAN's messages posted on Facebook.
Threat remains elevated
The training programme comes as the threat of terrorist attacks in the country continues to be elevated, and as dozens of Kazakh citizens remain in the ranks of terrorist organisations in Syria, Iraq and Afghanistan, according to the KNB.
On January 27, the KNB detained five men in Taraz and Karaganda, accusing them of preparing to attack crowded public areas.
Meanwhile, a report last December found that thousands of Kazakh facilities, such as educational facilities and cultural buildings, lack protection from terror threats.
Because of these conditions, it is very important to work with schoolchildren to prevent youth radicalisation across the country, according to Kazakh analysts.
"Young people are seeking authority figures; they do not have enough life experience of their own yet," said Aleksei Juravov, a veteran of the armed forces from Shymkent. "Veterans of the armed forces, law enforcement agencies and special forces can be such authority figures for young people."
"We need to talk with schoolchildren and students. This will serve as a good impetus for the formation of their immunity to radicalism," he added.
In Kazakhstan, more veterans of security forces are engaging in activities to help society after retiring, he noted.
For example, employees of URAN have been conducting free self-defence workshops for women since last December.
"Helping your country and finding your place in civilian life are a worthy cause for veterans," Juravov said.